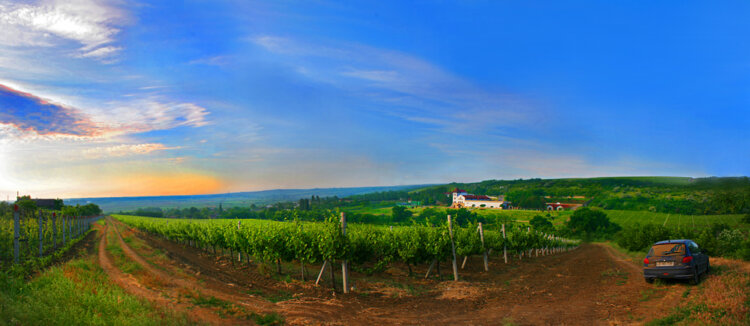 Ever heard of Moldovan wines? Probably not, and Debbie MacDougall wants to change that.
Based in the Washington, D.C. area, MacDougall has spent her career in development work; and now, she is trying to save a country—yes, an entire country—by encouraging American wine drinkers to become wine philanthropists with her grassroots campaign, "Meet Moldova. Who Knew?"
"How do you become a wine philanthropist?," you might ask. Easy. Simply by drinking the little-known Moldovan wines. "We want people to tell others they did something of consequence while drinking a glass of wine; and, also tell people about a country they may never have heard of," says MacDougall of her philanthropic campaign.
In Eastern Europe, small, land-locked and lodged between Romania to the West and Ukraine to the North and East, Moldova is wine country. In fact, one in four Moldovans are in the wine industry.
"If you ask any Moldovan about their wine, they light up," says MacDougall. "And, literally everywhere you look are vineyards." In fact, Moldova, which is the size of Maryland, holds the world record for the largest density of vineyards in the world. Award-winning wine writer, Blake Gray (of The Gray Report) calls Moldova the Sonoma County of the former Soviet Union.
But, despite a wine tradition that pre-dates the Romans, most in the West have no idea that many of the country's vineyards make award-winning wines. For centuries Moldova made the wines that were the favorites of the czars of Russia. 75- to 90-percent of its wine exports went to Russia and other Soviet states.
Until recently.
In what is believed to have been a retaliatory move after the ex-Soviet state voted for membership in the European Union (EU), in 2103 Russian President Vladimir Putin placed an embargo on Moldovan wines. Moldova had been absorbed into the Soviet Bloc after World War II. The 2013 embargo followed a less encompassing but nonetheless damaging embargo in 2006.
They sent Moldova into an economic tailspin. Because so many young people leave to look for work and never return, Moldova has been called "the Fastest Shrinking Country in the World." It's Europe's poorest country.
As Moldova reeled and looked to the West for help, MacDougall immediately understood that traditional U.S. and U.N. strategies weren't going to work in the tiny country. After 20 years traveling to 75 countries, many remote, with the Office of Foreign Disaster, Peace Corps and the United States Agency for International Development (USAID), MacDougall spent a decade as the Chief Operations Officer of a crisis communications firm. "I saw we needed a new model to help emerging countries speak to the West because with the existing system there is no one person carrying a country's flag saying, 'It's our job not to bail and to launch these products of consequence into the global marketplace.' "
So, MacDougall became that person.
Through "Meet Moldova. Who Knew?" MacDougall's approach is, "a good offense is your best defense." "The fact that people don't know Moldova is the message … that's the campaign. We make them curious. 'What is Moldova? Who knew they had wine, exceptional wines?' There is no reason the campaign can't work. We just have to get the word out."
She believes American wine drinkers will rally. "Instead of picking up a bottle of wine from a traditional EU country, we're suggesting that people try an award-winning bottle of wine from an emerging country and do social good," MacDougall says. She's confident Millennials, especially, will come out en force. "It's an opportunity to 'corkscrew' Putin," MacDougall says, laughing. "A lot of young millennials are into supporting anti-Putin groups."
The grassroots campaign is about giving Moldova a fair shot in the global economy for their biggest product. "It's a matter of national pride," MacDougall says. "They know their wines are amazing and they are not asking for a handout." But they also don't have the budgets of other countries whose wines are well known. The EU spends $378-million a year on their wine promotion for all their member countries—Spain, Italy, France, Germany—and Moldova doesn't receive any of that funding. "How is Moldova supposed to get its voice out when they don't have that kind of financial backing?" MacDougall asks.
But MacDougall isn't working with a big budget either. In fact, she's sunk thousands of her own into the campaign which is social media-based and relies on a small core of volunteers who are drumming up excitement for Moldova's wines. They kicked off their campaign last year with the hashtag #WinePhilanthropist and a shout out to Heini Zachariassen, CEO of Vivino, who is the campaign's first official #WinePhilanthropist.
Rather than promoting all Moldovan wines, the campaign's strategy launched with the promotion of the country's "strongest" vineyard, Purcari Winery, which has been making wines since 1827. In fact, one of its labels is nicknamed "The Queen's Wine" because it's a known favorite of the Queen of England. As part of the strategy to introduce Moldova to the West, in 2013 the vineyard entered a Western wine competition, "and something remarkable happened," says MacDougall. At the Decanter World Wine Awards Purcari ended up winning more wine awards than any winery in Germany, Hungary and America. "It's a superhero story. You don't come from no existence—they'd never done a western competition before—in terms of the global wine market and land in London with so many awards.." Wine experts believe it's the soil in Moldova that helps make their wines so exceptional. Like many top vineyards, they also use French oak and follow strict wine production—no hydrogen peroxide allowed, no tap water.
Since the "Meet Moldova. Who Knew?" campaign began, Purcari has gone public, opening on the Romanian Stock Exchange; their accounting is done by one of the big accounting four, PMG, "and they are really leading the way to show the Moldovans, this is the way we can do it."
MacDougall, who admits to knowing very little about wine, says "Meet Moldova. Who Knew?" is a pilot program for a new way to approach development work in emerging countries. "You have to be able to hold a country's hand from the branding, PR, logistics and development, all at the same time." MacDougall plans to use her template to launch products of consequence in other emerging countries.