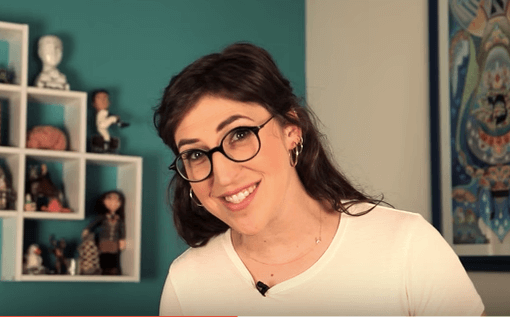 Delightful songs and a beautiful, wide-eyed little redheaded mermaid who wants so much to be part of the human world. A father who wants her to stick to her own kind. A crab with phenomenal musical and rhyming talents. "The Little Mermaid" is a film that has been beloved by children and adults of all ages for decades. Since Mayim had never seen it, she sat down for a viewing to see what all the fuss is about. And those of you who read her review of "Frozen" a few years ago will probably not be surprised to learn that for Mayim, the plot of this movie presented more than a few problems. Watch the video to get the full low-down from Mayim. 🙂
By the way, GN Editor Esther K. has mixed feelings about the film, but sees a few more positive elements: 
"Of course, the 'giving up your voice" thing is a HUGE problem that I never enjoyed or related to, and the prince is nothing more than a pretty boy who falls in love with a woman who doesn't talk, another experience that I never experienced or related to. But I'm more forgiving of the work as a Disney interpretation – perhaps more than I should be –  because there are certain ways in which Ariel felt emotionally truthful and admirably brave to me. She's supposed to be 16 – she's questing for knowledge beyond her experience, she's rebellious against her father's kingly expectations of her, and takes her future into her own hands. All of those are acts of self-individuation. But to expect her to make all the right choices at 16 – especially when she's craving something beyond what she perceives to be the limits of her world – is unrealistic.  This doesn't really excuse the "shut up and look pretty and a man will propose" narrative, but I don't think the movie is without merit.
I'm also surprised Mayim didn't say anything about the music…with a few minor misses, the soundtrack is great, and I remember the younger me finding the lyrics of "Part of Your World" both moving and hilarious. (Honestly, I also loved Frozen for the most part too, and Mayim certainly did NOT.)
But believe me, I DO see the problems in this movie and most princess movies, and try to include counter-programming – that enforces self-confidence and assertion that using their voices is a good thing – for my nieces and other young girls and women in my life whenever I can. I think that Disney movies can be one influence as long as they're not the only cultural influence. OK, thanks for listening, GrokNation!"
Craving more information about "The Little Mermaid"?