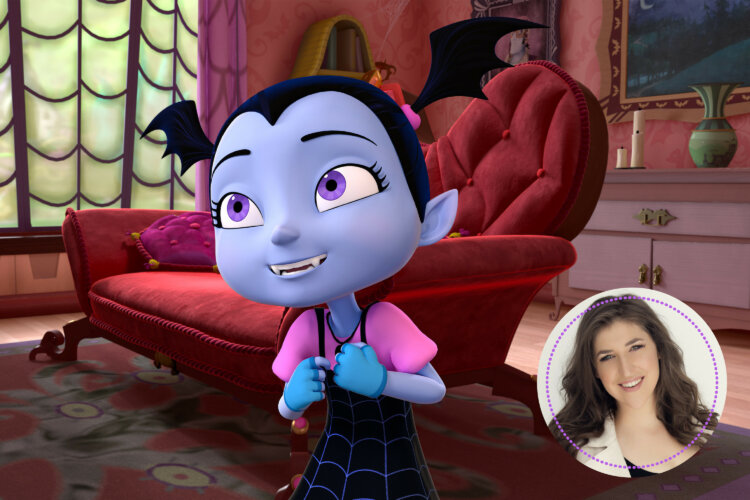 Big Bang Theory fans with kids might soon recognize a familiar voice on another TV channel. Our own Mayim Bialik will be lending her voice to a character on the Disney Junior animated series Vampirina.
Vampirina is based on the popular children's book series Vampirina Ballerina. A blend of family storytelling and music, the kids' show tells the story of a young vampire who's a new kid in town thanks to her family's move from Transylvania to Pennsylvania. Isabella Crovetti voices the titular role of Vampirina "Vee" Huntley with James Van Der Beek as her dad, Boris, and Lauren Graham as her mom, Oxana.
Yesterday, Mayim stepped into the recording studio to voice the character of Dr. Jem Geodopolis, who is the head of the Pennsylvania Geological Society. She visits Vampirina's school to present her with an award for her science project. We haven't seen the character yet, but we're told Dr. Jem is "supportive and encouraging of all young science enthusiasts and is known as the greatest rock star in town!" That sounds like someone we know!
Here's an image of Mayim in the studio recording her lines as Dr. Jem…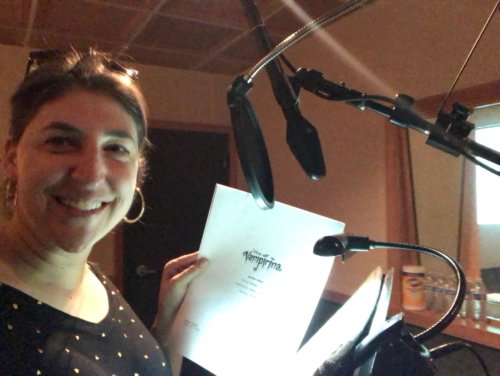 "I got to play a nerdy studious type—which I love," Mayim says of the role. "They wanted a gravelly voice, which is easy to do for this gravelly voiced lady!"
Be sure to return to Grok Nation for more details as we'll be exclusively unveiling what her character looks like (and when you can catch her episode)!