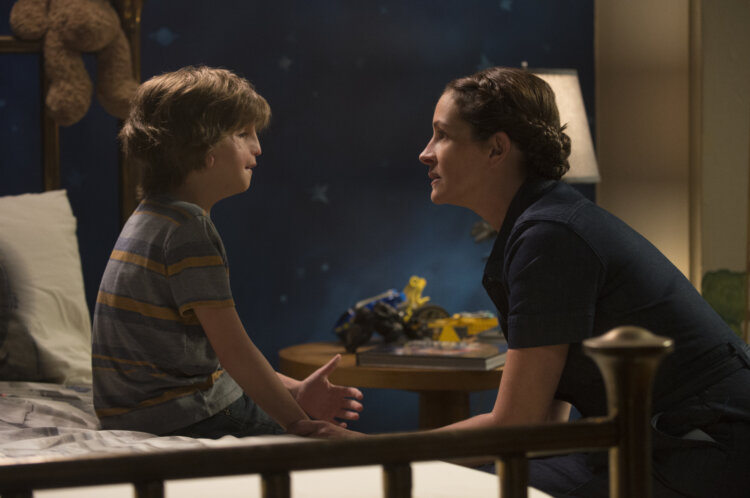 I am a working mom. My kids are homeschooled by their dad and I, like most working divorced parents, do my best to keep up with what my kids are doing in their studies with their dad and in the small groups of other homeschoolers whom they attend classes with.
They have a book club they attend and they love it. They read interesting challenging important books like To Kill A Mockingbird and more modern books that speak to their experience such as Wonder, by R.J. Palacio. Wonder follows the life and loved ones of an 11-year-old boy named August who was born with significant facial deformities.
Given my work schedule, I don't read the books along with them, but they told me how much they enjoyed the book. As someone who is highly sensitive and prone to crying, I was somewhat relieved I did not have to read it. My younger son who is only 9 said he liked it very much and did not find it upsetting; my 12-year-old felt very mature to not be "as emotional" as his mama.
So, I dodged that bullet.
Until the movie came out. The movie adaptation stars Julia Roberts, Owen Wilson, Mandy Patinkin (in a lovely cameo) and 11-year-old Jacob Tremblay in layers and layers of special effects make-up.
The boys wanted to watch the movie since they read the book (I generally like them to read something before they see the movie!). I did not want to watch the movie because I was afraid I would cry the whole time. And so I set up to do some needlepoint (not kidding; I do needlepoint) while they watched. I soon dropped my needlepoint because I could not take my eyes off of this movie.
The boy is a previously homeschooled kid transitioning to public school. As the mother of homeschooled children, that interested me. The movie, like the book, is told from the points of view of several characters. So the same scenes are shown several times with each individual's perspective. Really clever and kind of sophisticated for what I had somewhat dismissed as a "kid's book." My boys loved explaining to me the story-telling arc and they felt so proud of themselves for knowing something mama didn't know about this book and movie.
The acting in the movie is quite good; I mean, Julia Roberts could read  a phone book and I would be pretty darn interested. August has a sister whose life revolves around the needs of her brother and the exploration of her identity as one of "the sister of…" struck a deep chord with me. My brother was often known in relation to me. My older son is often thought of in relation to his younger brother who has more sensitivities than he does. He and I took note of how much August's sister felt her own identity slipping away sometimes. Big stuff.
I cried less than I thought I would, but indeed, this is a moving and touching portrait of a child trying to fit in, a family trying to make adjustments without turning their lives upside down, and the universal pursuit of compassion and friendship.
What a delightful surprise it was for my sons to turn me on to this story. I highly recommend Wonder for any family, but especially for families looking to open up healthy conversations about what 'special' means, where we all fit in, and how the love of a parent – a mother especially – grows exponentially whenever it needs to.