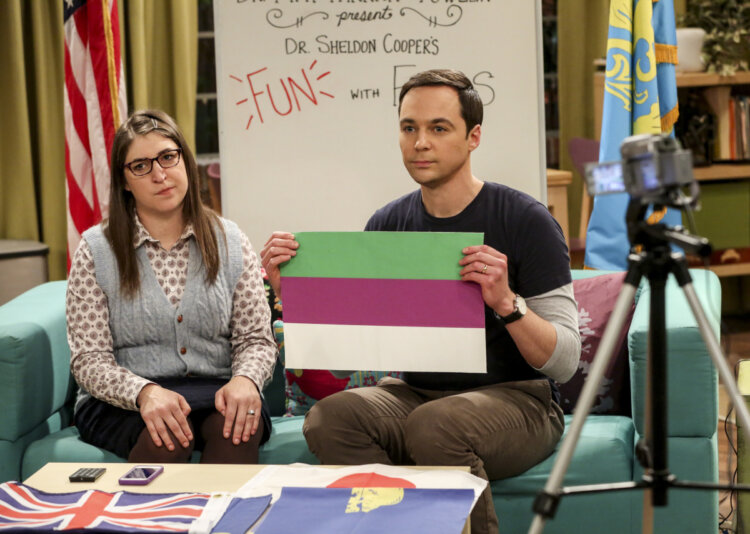 SAMWISE GAMGEE was on The Big Bang Theory!!! Yes, folks. Sean Astin, a wonderful accomplished actor, played a physicist in tonight's episode, "The Confirmation Polarization," and it was incredible. I was so excited to see this man in person since I so love him in the Lord of the Rings movies. I gushed, truly. I didn't take a selfie with him, and now I'm kicking myself for trying to play it cool.
I actually know his brother, Mackenzie, from my brief stint on the final two episodes of The Facts of Life, and he said his brother remembered me—which blew my mind. Sean is so genuine and kind and just seems like a really normal nice nice guy. He was a delight. He even told some stories about his mother, Patty Duke, who played Helen Keller opposite Anne Bancroft in The Miracle Worker (if you have not seen it, you absolutely need to). It was such a thrill to have Sean on our show!
"The Confirmation Polarization" had another incredible guest star: Kal Penn, who has been an inspiration for Kunal Nayyar for years. Seeing that friendship blossom (sorry, it's the best word for this situation!) was so lovely. Kunal's Instagram post about it made me tear up. Kal is very close with Jenna von Oy who played Six on Blossom, and it was so neat to meet him after hearing so much about him. Also playing a physicist, Kal was wonderful to work with; so funny, so flexible, and also such a down to earth nice person.
In the episode, Kal and Sean's characters are physicists from Chicago who proved Amy and Sheldon's asymmetry theory to be true, which is great news until they want Amy kicked off the Nobel nomination.
I wasn't so sure about the line Amy says to Sheldon when he asks if she's sure she's okay being left out of the application. She says, "I just want you to be happy." That's something one usually says when breaking up with someone! I decided to make a choice as an actor. I think this is Amy's love for Sheldon coming out in the most altruistic way. I chose to insert a bit of trepidation as I said it; maybe Amy does want more. Who could blame her?
The episode also features a very tender scene between Amy and Sheldon, which we pre-taped the day before our live taping. Originally, Sheldon's "ticking" was him sighing and on the day of the taping, our producers decided to have us re-film it with Sheldon making a ticking sound. What do you think!? Did they make the right decision!?
No one knows where this Nobel Prize plot is going to go…is Amy really okay with being left out of the award application? Is she resentful? Will they win the prize? Then what!? I honestly don't know but hopefully we will all find out soon.
Now before we go, here's a fun fact from the episode: The "hot dog spaghetti dinner" was vegan. I was nibbling on veggie dogs. After the scene ended, I ate all of the veggie hot dogs because they are delicious.