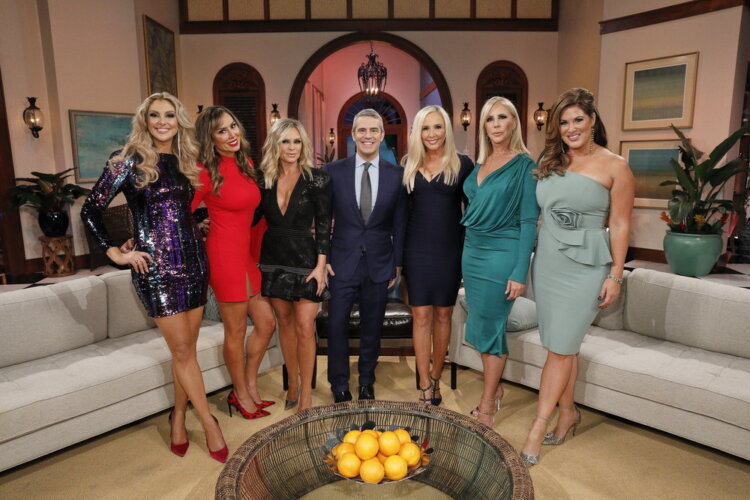 My mom watches a lot of reality TV. I do not watch any reality TV except for one show featuring make-UNDERS from England called 100% Hotter. Aside from that one show, I don't really understand the appeal. So I wanted to find out what my mother's motivation is for watching The Real Housewives franchise (Beverly Hills, New Jersey, she watches them all!). I found out more than I bargained for…
MAYIM BIALIK: Okay, Ma. So, tell me about The Real Housewives shows.
BEVERLY BIALIK: You're in the homes and lives of these people with a lot of money and a lot of drama in their lives. There's a lot of screaming, violence, tables overturned. Drugs, rehab. Plastic surgery. There are people who are bipolar. They're all spending too much money and living way above their means.
MAYIM: That sounds intense. So why do you watch these shows?
BEV: For me, the Housewives came at a time when I needed entertainment after my husband passed away. I couldn't watch movies or Netflix because that's something we used to do together, so I needed something different, other than the vintage movies I watch on AMC. The Real Housewives shows are extremely entertaining. It's exciting because you never know what's going to happen. Cakes fly into people's faces, people fall off stiletto heels and slide on the cake frosting. It's almost like an action film. They run down streets pulling each other's wigs off. You see it all.
There's great fashion. Everyone is always well dressed and there is a lot of competition among the women. They talk about sex games. [I DECIDE NOT TO ASK FOR MORE DETAIL.] There's an Israeli woman married to Boy George's manager and they have a lot of drama.
The women are always trying to be independent even though the husbands are multi billionaires. The women start clothing lines and maintain independence backed by their husband's money. It can be inspiring when the women break away and try and forge a real life for themselves away from the group and/or their husbands. This usually comes after a divorce and then you see their journey.
These people do all the things you think about but may not have done yourself. They take fabulous trips. I see Turks and Caicos and a lot of faraway places I've never been. They fly first class; you see them almost drown in a boat—there's always drama! It's like a modern soap opera for women.
MAYIM: Do you ever feel icky when you watch these shows?
BEV: Sometimes I feel disgust. I'm disgusted by the accumulation of things and the obsession with money. Their values are not mine, and I don't feel those are values America should be striving for. I can look back from a senior perspective, and I'm not going to get into those kinds of situations.
I sometimes worry that the women are just being mocked. It's sad. It's a sisterhood, but it's conflicted. And if they don't have an interesting story line, they don't come back.
And no one is a housewife, by the way. The title is a misnomer!
—
What I learned from talking to my mom about her love for the Real Housewives shows is that it helps her escape from uncomfortable feelings in a way other things don't. My mom has dedicated a tremendous amount of time, energy, and money toward healing from the loss of her best friend and life partner whom she was with since she was 16 years old. She deserves a break. And these shows give her that.
She is a fashionable woman. She likes to see fashion. She is an adventurous woman. She likes to see others having adventures. She is both a liberated woman and a woman who was in a very old-fashioned relationship for 53 years; she likes to see other women struggling to find their place.
I get it more now. I'm glad I sat down and asked my mom about her love for these shows. Instead of the judgment I previously had, I now have more information, more compassion, and more insight. I still refuse to watch with her, but now I won't tease her about it… as much.