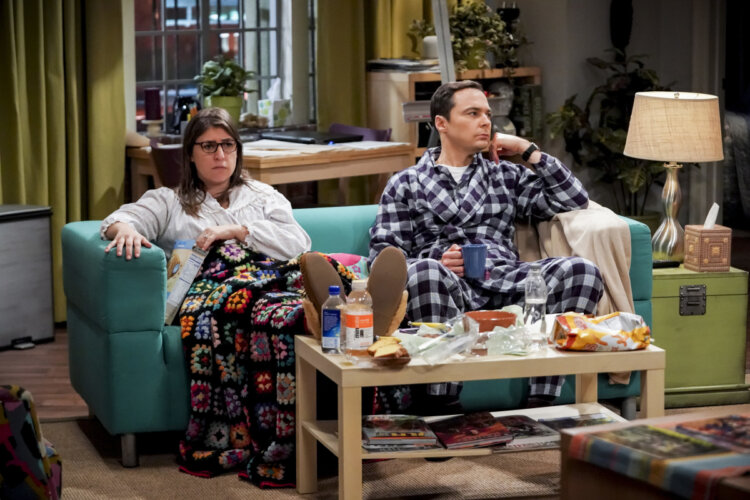 We're in the home stretch here, folks. We have less than 10 episodes left of The Big Bang Theory.
I keep getting asked, "How does it feel?" Well, it feels like a lot of things…
Denial. I think I've been in denial about it ending. I think we all have to some extent. Not REALLY thinking about it. Not letting my mind truly entertain "what happens next." It's been vague. 20 episodes left. 18 episodes left. 13 left. 10 left. 9 left. I see the articles and the social media posts. I cognitively understand what's happening, but emotionally, I've pushed it away to a large extent.
Anger. Why does it have to end? Whose FAULT is it? (As if it's someone's fault.) That doesn't make sense. I have anger. But it's also so vague and unspecific.
Bargaining. I am so lucky to be in this situation. I love my job and my job loves me. It's amazing… so… maybe we could have kept it going!? Maybe there will be a spin-off? Maybe maybe maybe. Maybe the fans will revolt and everything will turn around? That's my fear of what's next talking, I think.
Depression. It's sad when things end. We have been doing this show, the seven of us, for almost a decade, as Melissa Rauch and I started appearing in season 3. The show is in its 12th season. Not many shows achieve that. It's a huge milestone for television and for us personally. And it's sad to lose touch with not only the cast but our crew and wonderful staff who make this show run. It's sad.
Acceptance. It's time. We had an amazing run. This is my second time on a long running show and that's truly unbelievable. All things must end—even the good things. It's a shift. And we are shifting. I have more of my life to live. I have sons who are 10 and 13. I have a screenplay I wrote, which I hope to direct. I have projects I am proud to be producing in hopes that they can see the light of day. It's over. I have to be in acceptance of what is instead of lamenting what was and fearing what comes next.
Anyone who's lost someone recognizes these emotions as the stages of grief. In 1969, psychiatrist Elisabeth Kubler-Ross identified these five stages.
This is not to say that The Big Bang Theory ending feels like losing someone you love. It simply is a biological fact that our brains hold emotions uniquely but also in conglomerates of experiences. And the end of something so long-standing, so enduring, so meaningful, and so containing triggers memories of other significant loss.
This is not a linear process, this grief thing, and the end of TBBT has reminded me how deep and insidious grief can be. I've not only been grieving the end of this phase of my career and life; I have been reminded of the loss of my father, my marriage, my ex boyfriend, my beloved cat, Esau. My brother-in-law, my youth, my grandparents.
And so here we are. Entering the final few episodes of The Big Bang Theory. I don't know what these scripts will hold. I don't want to know. I'm just going to show up every day and see what our wonderful writers have in store for us.
I'll act as if it's the first time I've played this character. I'll recite my lines as if I have forever to play this character. I will, indeed, dance like no one's watching, even though millions of people will be tuning in to see how our show unfolds and ultimately ends.
Grief does not give us time off from life. There are still so many things to do to keep life going in the midst of grief. And we will be doing them until our time is up. Stay tuned.