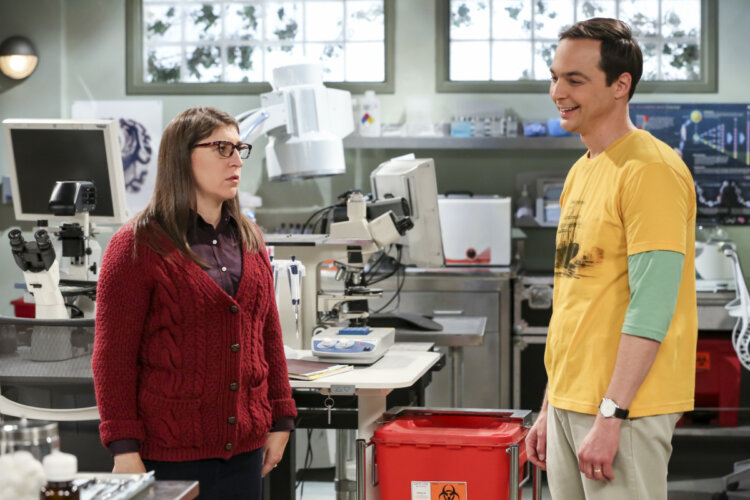 Any episode where I get to do science-y stuff is always so fun for me, and you may have noticed that happened in this week's episode. "The Planetarium Collision" features Amy in her lab doing a sensory deprivation experiment.
We have a physics consultant on our show, UCLA Professor David Saltzberg, who is responsible for all of the physics equations you see everywhere and all of the fact checking needed for our show. When it comes to Amy's lab, I sometimes chime in. I know a little bit about an EEG, which we also have Amy using in this week's episode. I suggested some brain wave images on the screen as Amy hooks up her subject, and I think it looks really good.
Just a little behind-the-scenes tidbit for you: The "sensory deprivation helmet" was a bicycle helmet with a hard cardboard octagon type thing built around it. It was hot glued together and was pretty delicate. Luckily, the actor I have to put it on is not claustrophobic. I don't love enclosed helmets, but I only had to wear it a little bit!
During this episode, we also dealt with some interesting aspects of being a woman in science. Even though it is brief and spoken about in jest, Sheldon hints at the "male culture" of academia—or possibly even society—where he feigns disbelief that decisions would be made about women's careers by men behind closed doors. It happens! Sheldon also mansplains mansplaining in one of my favorite Sheldon moments ever. And, yes, mansplaining and male culture of academia still goes on; I know you know it does! I am glad our writers (the females in particular) are not afraid to take on these issues even in small doses.
I should also note that it was the holiday of Sukkot when we filmed that episode. Fun fact: I walked to synagogue the morning we filmed that episode and shook the lulav and etrog (the ceremonial ritual willow, palm, and myrtle leaves and citroen fruit we take in our hands for the holiday). The contrast between my "real life," which involves ancient ritual practices some days, and my "work life," which involves filming in front of a live studio audience, is on some days more extreme than others!
Before I go, I wanted to point out a small item you may or may not have noticed in the background this season. Just as our cast and crew began filming for season 12, we found out that one of our biggest Big Bang Theory superfans had passed away. His name was Joe Steiger; he got to visit our set and he even wrote for Grok Nation once. He lived with muscular dystrophy and was an incredibly positive guy. He was a huge inspiration to all of us, so we sneaked this thumbs up figure onto set in his honor so he's with us in our final season. 
Well, that's all for "The Planetarium Collision." What did you think of the episode? I'd love to hear in the comments below.
Be sure to come back next week when I recap our final Halloween episode. Amy's costumes are hilarious, and I can't wait for you to see them!