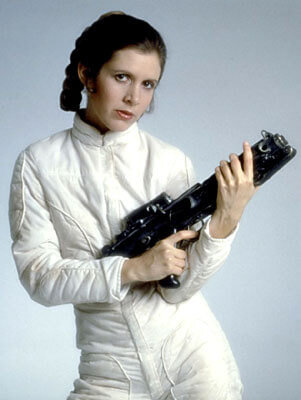 When I first saw Carrie Fisher on screen, she was a small figure in a white robe, leaning over a robot, the most memorable visual thing about her was her grand earmuff hairdo (not to be confused with a Grand Moff Tarkin, which is something else). In her first moments, she uses a blaster (cool), runs in her white space dress (um, ok) and gets hit by a stun blast and falls (oh well). She became a prisoner, in apparent need of rescuing, but a defiant one with an intermittently patrician accent, even during her incarceration.
But as the Star Wars narrative moved forward, we learned more about Leia – a princess, but also a senator; a leader of the rebellion; and damn well capable of rescuing herself.  "This is some rescue…" and "Someone's got to save our skins!" One could argue that Han and the gang provided the distraction, but Leia rescued her own damn self and everyone else. Consider the following scene and how unexcited she is about the rescue– she only gets up and goes when Luke mentions Ben Kenobi. (Watch the scene here.)
Leia's sweet smile barely masked the strength of her sarcasm, and her reliance on herself. And to top it all off, she was a brunette. All due respect to Snow White and her dwarfs, but this brown-haired badass was a princess worth believing in. And those of us who did believe Leia was more than just a princess were rewarded with the knowledge that by 2015's "The Force Awakens," our princess had officially become the General she'd always been. We were so proud. (Great article about how we need General Leia today is here on the Establishment.)
But here are five more things I want to highlight, to show that she wasn't just my – or the world's –  princess/general, and that there's more to Carrie Fisher than that metal bikini that all the boys (and some of the girls) like to talk about.
She comes from a showbiz family. Carrie was the daughter of actor/singer Eddie Fisher and actress/singer/dancer Debbie Reynolds. Her parents famously split when when Carrie was 2, and Eddie left Debbie for Elizabeth Taylor. Carrie later ended up caring for her father; in this Fresh Air interview, recorded a few weeks before her death, interviewer Terry Gross asked Carrie if she resented her father for leaving them and then having to take care of him, and she said, "No, I didn't. I wanted a relationship with him, and that was the one that was available so I took it." Postcards from the Edge, though a work of fiction, is largely based on Carrie's relationship with her mother. But in the Fresh Air interview, Carrie noted that "There are very few women from her generation who worked like that, who just kept a career going all her life and raised children and had horrible relationships and lost all her money and got it back again. I mean, she's had an amazing life, and she's someone to admire." Reynolds had spent the past year struggling with illness, so in the acknowledgements of Carrie's last book, The Princess Diarist, she wrote: "For my mother – for being too stubborn and thoughtful to die. I love you, but that whole emergency, almost dying thing, wasn't funny. Don't even THINK about doing it again in any form." (Reynolds also died this past weekend, about a day after Carrie. The whole thing is beyond sad.)
She overcame addiction and emerged a fierce and even funnier female. Check out her early late-night interviews in support of the Star Wars films and you'll be disappointed: there's none of the independent Leia we knew or the fierce Carrie we'd come to know. Giving up the addictions that dulled her and embracing her true voice is, undoubtedly, helping her to endure as an icon beyond an earmuff hairdo and a metal bikini. (Watch her roast of George Lucas at the AFI tribute in 2009 for a sense of it.)
She struggled with bipolar disorder, openly and loudly and with a sense of humor. This quote is from her memoir, Wishful Drinking: "One of the things that baffles me (and there are quite a few) is how there can be so much lingering stigma with regards to mental illness, specifically bipolar disorder. In my opinion, living with manic depression takes a tremendous amount of balls. Not unlike a tour of Afghanistan (though the bombs and bullets, in this case, come from the inside). At times, being bipolar can be an all-consuming challenge, requiring a lot of stamina and even more courage, so if you're living with this illness and functioning at all, it's something to be proud of, not ashamed of. They should issue medals along with the steady stream of medication." Check out this brief moment from her one-woman show with the same title, "Wishful Drinking." (And if you need help with bipolar disorder or any other mental illness, please visit NAMI.org.)
She stole the show in "When Harry Met Sally." True, a faked orgasm in a deli gets all the press, but Carrie Fisher's Marie is a comedic highlight. Marie's lines are forever funny and stand up to repeated (and repeated) viewings, with credit jointly due to writer Nora Ephron and Carrie's impeccable delivery. There's "you're right, you're right, I know you're right," there's "I don't happen to find him attractive but you might," and the four-way call scene is a must-see. (Great article on this subject here in Bustle.) I can only hope that Nora was there to greet Carrie in sassy feminist writer Heaven and that the two are now working on a grand opus of comedy and truth that I'll hopefully be able to get tickets for when I arrive (hopefully not for many decades).
She was a fantastic, hilarious and insightful writer/truth-teller. Plain about her addiction, the insane expectations of Hollywood and the challenges of family and fame, she managed to keep her sense of humor throughout. "I think in my mouth, so I don't lie," she said. She was known for mining her own life for content and emerging with memorable lines like "If my life wasn't funny, it would just be true, and that is unacceptable," "Celebrity is just obscurity biding its time," and "Youth and beauty are not accomplishments. They're the temporary happy byproducts of time and/or DNA. Don't hold your breath for either." A must-see is this 2015 interview with ABC News – almost every line is laughter-inducing.
She was about fierce love. This is from Shockaholic: "I don't hate hardly ever, and when I love, I love for miles and miles. A love so big it should either be outlawed or it should have a capital and its own currency."
And maybe that's our goal for the new year, one of the many lessons we can take from the galaxy of wisdom that this woman shared with us in her too-short time on this planet with us: to aspire to fill this world with an immense love, even bigger than the love that so many had for this princess-turned-general-turned-icon.
May the Force of her "Fierce" be with us, always.