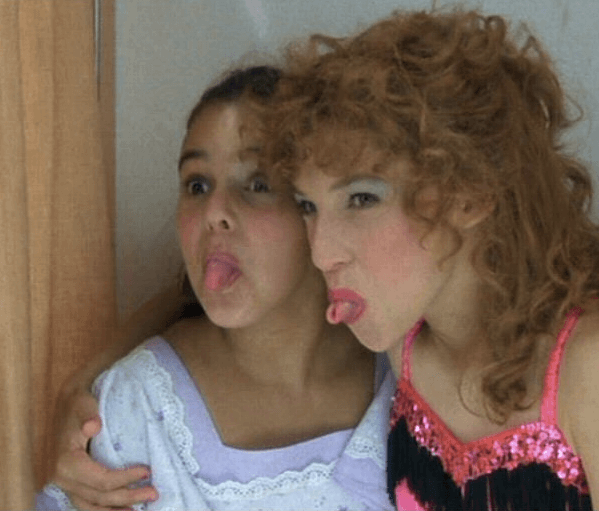 After nearly 20 years apart, I had lunch with Marcie Leeds, who—as a child—had played the young Barbara Hershey to my young Bette Midler in the movie Beaches. Although I went on to star in Blossom, and ultimately college and graduate school, before coming back to acting, Marcie took a different path. Interestingly, science was also involved in shaping her as she became an adult, a fact which we discussed over lunch as well. I wanted to give Grok Nation readers insight into what Marcie has been up to, so I interviewed her! Read our chat below…
MAYIM: When we had lunch last week, we caught up after almost 20 years of not seeing each other—wow! I wanted to share with our readers some of the incredible things you've done since Beaches. What stands out when you think about our time filming Beaches?
MARCIE: You're gonna laugh, but do you remember you always had a bigger area to change in your dressing room than I did? So my brother and I were always with you in your dressing room, and I remember you used to do the best Michael Jackson impression… the voice, the dancing. That was the best memory: just laughing in your dressing room.
That's amazing! Next question: We were 13 when the movie came out, and after, you did some more acting, but then there was actually a moment when you made the decision to leave the industry. Can you talk about the factors that influenced that decision?
After Beaches, I did an episode of Parenthood [the short-lived 1990 iteration of the movie of the same name, not the 2010 reboot] with Leonardo DiCaprio. That was the first time I had kissed anyone and it was actually really heavy and weird for me, so I decided that having to deal with stuff like that was not what I wanted to do. I decided after that to leave acting.
Additionally, the pressures in school at that age involved me wanting to be part of school and sports more; those are things I didn't get to do when I was younger because I was always working and auditioning for parts. At that point, because of Beaches, I was in higher demand in the acting world and I was getting more phone calls for projects and things like that and I kept telling my dad, "No, I'm done."
You decided to become a doctor and you eventually went to medical school in the Caribbean after struggling to get into a college in the U.S. When did you get interested in medicine? I think it's so neat that we both got into science!
In high school one day we had an AP biology teacher sub for our class. He took us into a cadaver lab and showed us the cadaver and that was pretty much the day that I realized I needed to do medicine! I wasn't sure how to go about it because I didn't know much about it—no one in my family is in the medical profession at all.
So as a surgeon, what is your life like? Where do you work? What kind of surgery do you most routinely do? And what do you enjoy about your job?
I'm starting a new practice in Chandler, Arizona, which is a suburb of Phoenix. The practice will consist of mostly abdominal surgery: gall bladder, liver, stomach, small intestine, large intestine and appendix and also hernias. We also do a lot of cancer surgery and robotics surgery as well, which is a new up-and-coming technique that a lot of surgeons are doing.
We change so much from the time that we're 12 to even when we're 15 or 18. When I look at you now, I wouldn't necessarily connect you with your younger you if I didn't know. Do you ever get recognized?
Every once in a while I'll get someone who says I look really familiar, but I don't know if that's just coincidence. But unless I tell them about Beaches, they wouldn't guess I was in that movie. In medical school, I never told anyone about my "former life" for fear of people misconstruing why I brought up the subject. In residency we were required to do a talk in our fifth year about what our lives were like before medical school. So that's where I eventually unloaded that information, and the chair of the department came up to me and said he was so floored and had no idea!

It's really interesting to think of you as someone who potentially could have had, would have had, a very different public life as an actor. Do you ever feel like you want people to know what your former life was like or do you feel kind of good where you're at?
I feel good where I'm at. I love what I do; I don't regret my decision to leave acting. The grass is always greener I guess, but actually being where I am now has truly been quite a feat in itself and I cannot honestly believe that I am a surgeon and that this is my life. This was not handed to me on a silver platter at all. This was definitely something I had to climb into and take the time to gain the respect and work hard for.
You had an exceptional opportunity several years ago to perform surgery and care for Congresswoman Gabrielle Giffords the day she was shot. Can you talk about that? Are you allowed to?!
I can't tell you the specifics, but I can tell you what happened that day and everything leading up to that. On the day Congresswoman Giffords was visiting Tucson, Arizona, I was coming on call Saturday morning to be the senior resident on the trauma service that day: Jan. 8, 2011.
Basically, we were simply told that we were going to get 10 gunshot wound victims and they did not know the stability, the vital signs or what had happened. We only had seven rooms for trauma patients, so we ended up closing the ER, and they started shifting the patients that were coming into the ER so that we had more resources.
The EMTs brought in the first victim: a 9-year old girl that they had talked about on the news. She didn't look like she was going to survive, but when children come in, we do whatever it takes to try and revive them. So they brought her in first and we tried… but it was futile. She ended up dying.
I was informed that Congresswoman Giffords had been doing a visit and someone had opened fire. They then brought in a woman dressed in a black dress with this huge thing over her head. They said, "This is the congresswoman—she has a gunshot wound to the head."
And we started resuscitating her, I started asking her if she could move certain limbs and all she was doing was grunting. She couldn't speak. Congresswoman Giffords and the young girl were the two most critical. Everybody else had gunshot wounds, but they were all stable and manageable. We ended up doing a bunch of cases that day because penetrating wounds to the chest or abdomen require exploration, so those people required surgery.
Wow. So that was one day of your life as a surgeon.
That was one very long day of my life. And for the next two weeks of my life, it was my job to check on her every day, and it was such a circus between the press and the cops and the Secret Service. She had 10 people outside her room at any given moment. So I'd go in at 4 o'clock in the morning when there was nobody there, and I'd see her and do an exam. Her husband was always by her bed, and we would chat about how she was doing.
That's unbelievable, to have been a part of that. You're an inspiration to so many women and to so many men as well for being in your field and it's so special knowing where you came from and being part of that. Thank you so much for sharing this with us!
Mayim and Marcie also made a video recreating their iconic opening scene from the movie Beaches. Get ready to laugh. Watch it HERE.