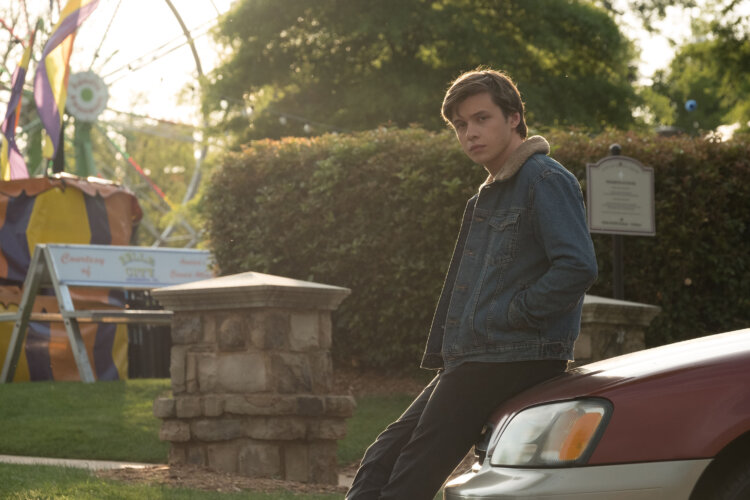 In an awards season already adorned with a gay love story, Love, Simon had its work carved out for it. A March release date is essentially film code for "not an awards contender," so as I sat down, as a gay man, to take in Fox's coming-out-and-of-age story, I expected it to be something akin to a Buzzfeed article using GIFs to list all the great, wonderful things that happen when you come out. And I was wrong.
To be clear, Love, Simon, starring Nick Robinson, Jennifer Garner, Josh Duhamel, and Katherine Langford (Thirteen Reasons Why), is absolutely as saccharine as it appears to be in trailers, but in between the moments of sweetness is a bitter nuance that hadn't yet found its way into the young adult canon—a first love slightly soured by the fear that society forbids it. In the changing world that we live in, coming out for a 17-year-old like Simon becomes a bit easier every day. But the film captures the protagonist's question: Why is it fair that a gay kid even has to come out at all?
Love, Simon follows its protagonist through his own realizations that he is, in fact, gay. After another student at school posts an anonymous message on a school-wide secret site, Simon grabs the kid's email and begins sending messages back and forth with him. The film really soars when it captures the excitement and fear of truly falling in love for the first time. For so many gay men and women, the inability to practice (and fail) at flirting makes those adolescent years even more awkward.
The scramble to identify who you are while keeping it from the public eye is quite possibly what makes Love, Simon so poignant. And when Simon's big secret does bubble to the surface, it's paralleled against the embarrassment of another (straight) character's proclamation of love. While one admission feels like the cringeworthy finale to a second act of a John Hughes film, Simon's story feels like there's more on the line.
Though Robinson's portrayal of Simon anchors the film, the truly dazzling moments come from characters that exist on the fringe. Already-out student Ethan (Clark Moore) serves as the pillar of gay wisdom Simon desperately needs. Moore's sharp, feminine charm carries the weight of being a gay kid who isn't allowed the privilege of hiding behind a masculine exterior. Natasha Rothwell's drama teacher Ms. Albright provides some of the film's funniest moments. Jennifer Garner, following her son's question of whether or not she knew about his sexuality says, "It's like I could feel you holding your breath… you can breathe now, Simon." This makes you consider what it might be like if we valued the person coming out more than our own feelings, politics, and beliefs.
I am a gay man once-removed from Simon's generation, and my own coming out wasn't good. It didn't end with a complexly loving speech from Josh Duhamel as my father, no matter how much my dreams might have tried to will that into existence. It ended with silence. And harsh words. And hateful Facebook comments from those I went to school with. This film asks its audience to suspend its belief in reality and consider something different.
And I suspect that as Love, Simon makes its rounds, there will be critics who point out the perfect bubble that the film exists in. How a masculine white protagonist is cheered on by his peers as he searches to find love. But Love, Simon dares to ask us: What happens if we simply take the common formula for a young adult love story and make the lead gay? What if we just let that be normal? What if we don't alienate our audience with same-sex physical contact and heavy social justice messaging and just let a young gay man have a story that looks like the one we call "normal?"
If you close your eyes and imagine what we could be instead of what we are, Love, Simon doesn't feel so cheesy. It feels like a portrait of what could come if we just allowed ourselves to breathe, as well.
Purchase tickets for Love, Simon on Fandango.

[interaction id="5aaabdf29e40b41daa03db50″]