Pi Day! Or Pie Day! However you spell it, people around the internet are celebrating by consuming pizza pies, savory pies or fruit pies, and presumably competing to see which of their friends knows all one trillion digits of Pi. (Spoiler alert: none of you do.)
According to the Pi Day site, "While only a handful of digits are needed for typical calculations, Pi's infinite nature makes it a fun challenge to memorize, and to computationally calculate more and more digits." So there you have it. It's fun.
Also, fun fact via the Emmy4Mayim fan site and anyone else who's paying attention: Amy Farrah Fowler (Mayim's character on The Big Bang Theory) lives in apartment 314. And a bonus fun fact that even some of our GN staff doesn't realize: for a while, one of our conference call hotlines – randomly! – had 314 as consecutive digits. #truestory
However you're celebrating, we've got you covered in Pi. (Or pie.) Here's more about Pi. And here's one of Mayim's vegan recipes for a two-step pie from her book, Mayim's Vegan Table: More than 100 Great-Tasting and Healthy Recipes from My Family to Yours.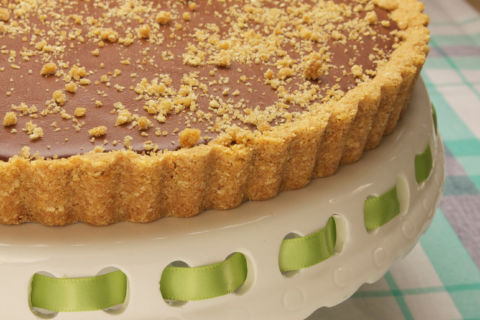 Mayim's Vegan Chocolate Peanut Butter Pie (from Mayim's Vegan Table) 
2 cups vegan dark chocolate chips
1½  cups creamy peanut butter
1 (13.5-ounce) can coconut milk
Prepared vegan piecrust, preferably graham cracker
1. Melt the chocolate chips in a glass bowl in the microwave, stirring twice, about 3 minutes. Stir until the chocolate is completely melted. Stir in the peanut butter and coconut milk until combined.
2. Pour into the prepared piecrust and refrigerate until firm, about 2 hours.
From Mayim's Vegan Table: More Than 100 Great-Tasting and Healthy Recipes from My Family to Yours by Mayim Bialik with Dr. Jay Gordon. Reprinted courtesy of Da Capo Lifelong Books.