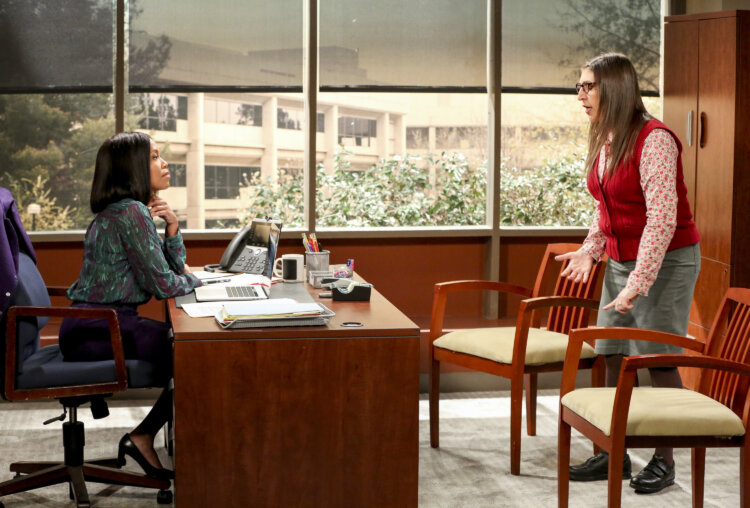 Last night's episode was a pretty fun one, right? I mean, it included Amy and Sheldon in a sensory deprivation tank having visions, so how could it not be fun!?
After Amy's outburst at the Nobel Laureates reception a few weeks ago, Amy and Sheldon are called into Human Resources. I got to have my first ever scene with Regina King who plays the HR director. Regina was on one of my favorite shows as a child, 227, and she literally won AN ACADEMY AWARD (Best Supporting Actress for her stunning performance in If Beale Street Could Talk) just two weeks before we filmed this episode. It was so exciting to finally have a scene with her, and right after her win, no less! She is an incredibly normal, down-to-earth person, and she's so much fun to work with.
Back to the plot—Amy and Sheldon are reprimanded for her outburst, and Amy is really upset about it. So Sheldon solves her distress the only way he knows how: by getting more upset so Amy has to take care of his feelings rather than hers. Hmm. Note: this is not a healthy pattern for a relationship! But it sure can make for some funny material!
To calm down, Amy and Sheldon try to destress in a sensory deprivation tank. While it relaxes Sheldon, Amy becomes even more upset about her potentially letting all women down if they don't win this Nobel Prize. I found myself connecting with Amy's less than calm mindset while filming that scene. In real life I'm claustrophobic. I was not at all excited to be placed in this giant Mork & Mindy type egg thing with the cover closed. The cover was controlled by a person holding a string that rigged the cover open, so there was the issue of human error adding to my worry.
When filming, we would wait until the very last second before cameras were rolling to shut me into my pod. The only blessed relief was that I was able to see some light coming in through the back of the pod where the lid met the unit, so that actually helped. It relieved me of the feeling of being held underwater. If you've never experienced claustrophobia, that's what it can feel like: your throat closing in, water from some unknown source filling your chest and neck and head up as death greets you with her steely gaze inside of your mind. Needless to say, this wasn't one of my favorite scenes to film.
I generally run pretty high anxiety-wise, so sensory deprivation is not something I am rushing to do. I have been to places where they do a sound bath, and I liked that a lot. I loved the science of it. But not being able to see or hear while trapped in a pod? Not for this mama.
Ultimately, we will have to see what's next in store for the Nobel situation, but it was a pretty cute episode, I thought. Also, I loved the scooter plot with Bernadette and Wolowitz. The image of Bert (Brian Posehn) on that scooter will stay with me for a long time; he's hilarious and it was just such a funny visual.