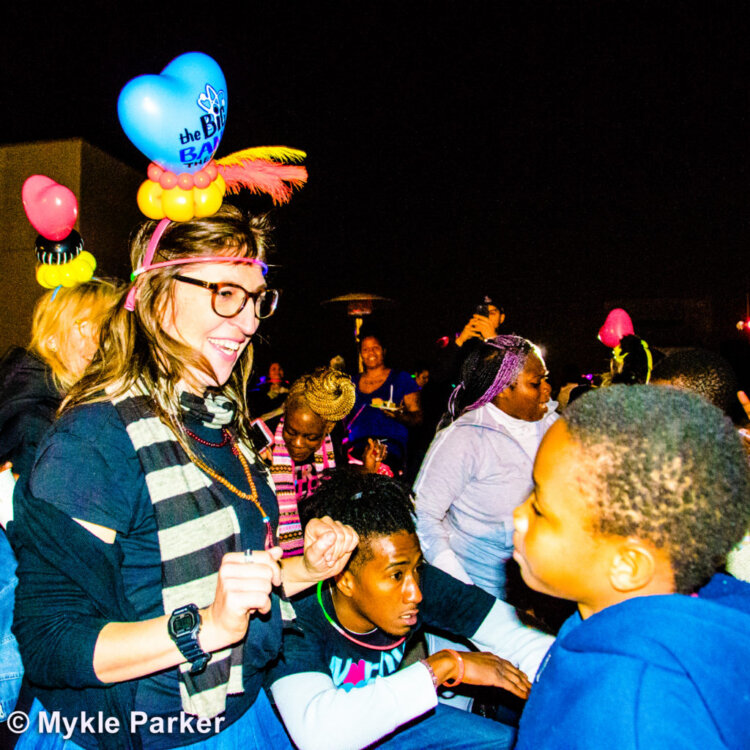 On January 26, on a rooftop overlooking a stunningly-lit downtown Los Angeles skyline, hip-hop music pulsed and the air was filled with the laughter and applause of children, all of them guests of honor at a very special birthday party. Each month, Worthy of Love throws a festive and thrilling birthday party for children who may have never had a birthday party before. The rooftop of the Union Rescue Mission has been transformed every month for the last four years for this very purpose, and it is something extraordinary. They started with a few dozen children and at this party – also celebrating the organization's fourth birthday – there were over a hundred.
Each month's party is a bit different – this month, with GrokNation as the event's sponsor, there was a Big Bang Theory cake, science-themed party favors (including watches for every child) and the LA-based science entertainers known as Mad Science L.A. were in attendance, making the kids laugh and holler with fire, air pressure, and optical illusion demonstrations.
I brought my children and my mom to volunteer before the event started (and GN Editorial Director Esther Kustanowitz and Director of Operations Melissa Gruenfeld joined us shortly thereafter). We unwrapped light-up rings and glasses, headbands and glow necklaces and other trinkets for the kids to wear for the party, and before the kids arrived, Worthy of Love's founder and director, Mandie "Sista Mary" Davis, gave us a pep talk worthy of a coach's psych-up before a heavyweight bout in Las Vegas.
Mandie told us that we are given the enormous task and honor of giving these children the party of a lifetime, and that our energy and our dedication and enthusiasm was critical for the success of the party. None of us needed much convincing; once the kids arrived, the DJ started playing music, everyone hit the dance floor and we danced most of the night.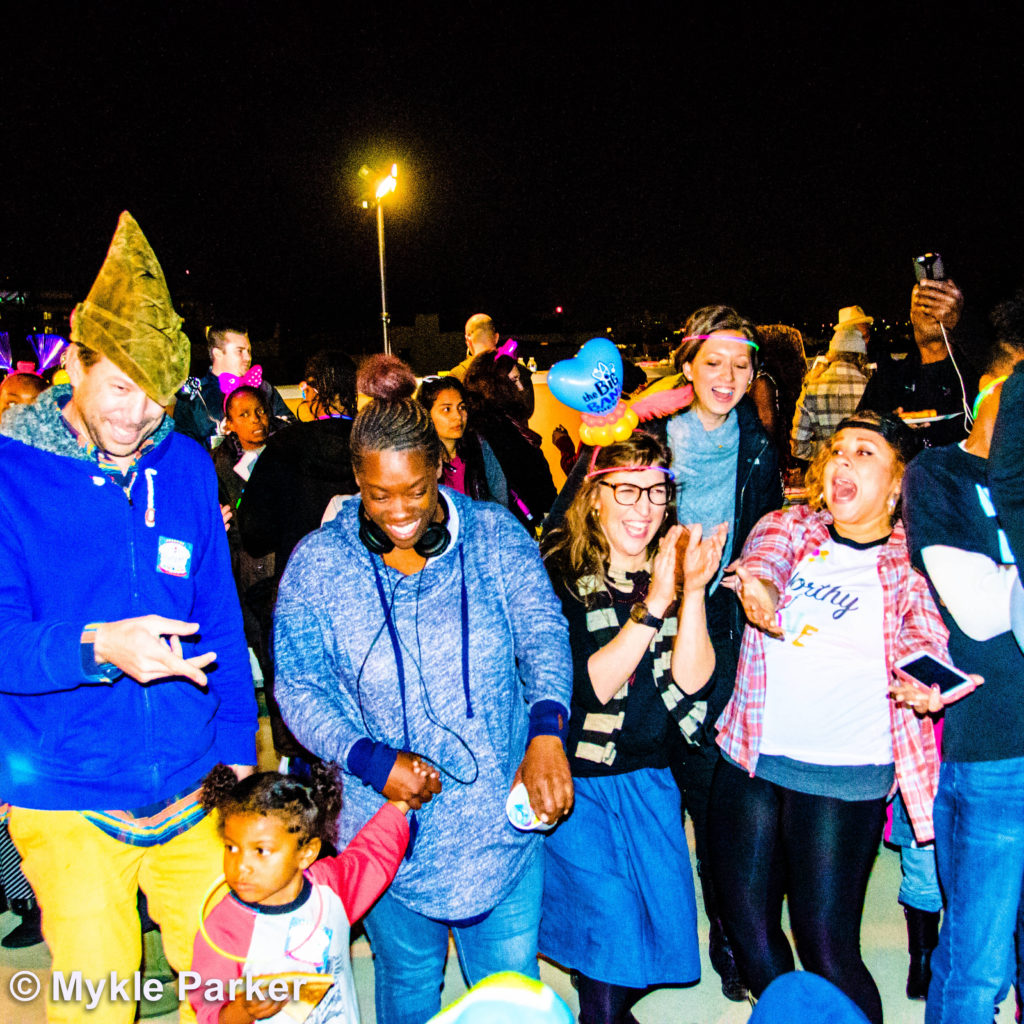 There was free pizza, cupcakes, fruit and drinks, and there was a balloon man and woman making the most incredible balloon hats and balloon jetpacks I've ever seen. Airbrush artists personalized beanies for every child and at the end of the evening, we all sang "Stand By Me" and were instructed to turn to the person next to us to tell them that they are worthy of love, and that the day they were born was a very special day. And I may have told Trayvon (the 15-year-old next to me) that I loved him, and thankfully he had a good sense of humor about it all.
My kids had so many questions when we left. How did the kids know about Star Wars? What is their life like? Where do they sleep? I answered the best I could. I also told my sons that people are homeless for all sorts of reasons: financial hardships, medical needs that use up funds, the housing crisis which has many people not able to pay mortgages they were told to take on, mental illness. I also told my sons that homeless children have the same souls as we do: they want to play and laugh and be appreciated. They want yummy food and cuddles and access to all the things children want and need.
Looking over the side of the building to the streets below, you have a birds-eye view of the incredibly large number of homeless people who dwell on these downtown city streets, sleeping in tents or makeshift shelters under tarps. You see people walking along the streets slowly, many in clothes that are as tattered and torn as their circumstances. From above, we don't know how they got there and can't see how many of them are children. But on this rooftop, once a month, those children who are so often unseen are not just seen and acknowledged, but given the normalcy of celebration and told – in spoken and unspoken ways – that they are worthy of love.