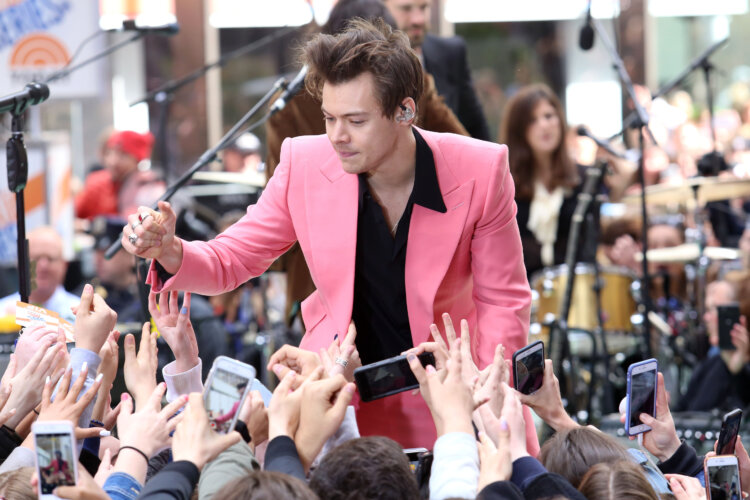 I've known that I was bisexual since high school. However, fear of rejection by my friends made me keep that side of myself hidden, except to a few select people, until I was 31. Now, only a year later, at 32 years old, I'm out and very proudly vocal about my bisexuality. There are a lot of factors that brought me to this point, but one of the biggest ones is Harry Styles. Yes, the singer who used to be a part of the boy band One Direction.
It may seem odd that a complete stranger is such an inspiration in allowing me to live my truth. But, in the months since I've come out, he has proven to be one of the strongest examples of a true public ally, outside of my core group of friends. And even though I'm now very secure in my identity as a queer woman of color, there is always that part of me that craves solidarity and acceptance outside of my circle.
"You can be whoever you want in this space…"
During every stop on his solo tour, Harry Styles said some variation of this phrase. With this simple sentence, he's letting his beloved fans know that they're in a safe space. For the approximately 70 minutes he's on that stage, the audience is given permission to shed the baggage they carry, let loose, and have a good time. Even though the venues are filled with thousands of strangers, as long as they're standing in that space, they're amongst friends.
It's such a simple phrase, and yet, it's a call to arms. When you're looking for a place to let your freak flag fly, or in this case, your pride flag, you can't find much better than a Harry Styles show. I am extremely lucky that I have friends and family who are supportive of me. I also know that there are plenty of others who aren't so lucky, and they need this safe space even more than I do.
I have loved watching how openly Harry Styles has embraced his fans, especially those in the LGBTQ+ community. Since the beginning of his tour he has been performing with the Pride flag displayed prominently on stage, and he will often hold it in his hands during his rendition of the One Direction song 'What Makes You Beautiful.' During his show in Dallas, Texas, as Styles ran from the main stage to the smaller 'B' stage, a fan held out a bisexual pride flag. Though he had initially passed the fan, he backtracked and grabbed the outstretched flag. Watching the clip on Instagram, my heart felt like it was going to explode out of my chest. For the rest of the concert, and the next few ones after that, Styles clutched the bi flag, along with the regular rainbow flag in his hands as he sang.
📲 | Harry with a Pride and Bi Flags during WMYB at MSG ! 🌈#HarryStylesLiveOnTourNewYork

June 21, 2018 • Ausley_Styles pic.twitter.com/Xzc749MGw9

— L&H News (@StylinsonDaily) June 22, 2018
Even though we're the third letter in LGBTQ+, bisexual people are often forgotten, or discounted from the community. So to have someone like Harry Styles, who has such a large platform, holding a symbol like that, it means the world. The message is, "I see you. I'm with you."
For pretty much his entire career, Harry Styles' sexuality has been a topic of conversation. He's drawn comparisons to musicians like Freddie Mercury and Mick Jagger. However, he is dismissive of questions that focus on his sexuality, often demurring with a joke or an easy smile. Regardless of his sexual orientation, which really doesn't matter, he has proven time and time again that he is a staunch ally.
As this tour has rolled through the United States, it has been heartwarming to see so many fans clutching their rainbow pride flags, or wearing shirts proclaiming their queerness. Signs saying things like, "It's my birthday, and I'm gay," just affirm to me the level of comfort and acceptance that Styles has created.
At a recent show in Philadelphia, he proudly held up a pride flag that said "Make America Gay Again." Harry Styles knows his audience, there's no doubt about it. Yes, it is Pride month, and everyone is a little more willing to put their love for the LGBTQ+ community on a higher pedestal than normal, but anyone who is a fan of Harry Styles knows his support isn't performative allyship for Pride. We know that this is who he is, because he has shown us time and time again.