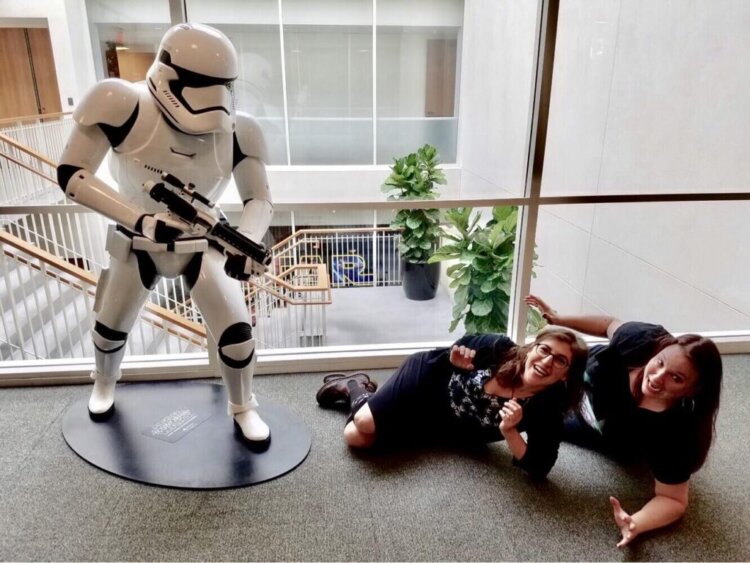 Last week while she was in San Francisco on her tour for Girling Up, Mayim was invited to tour the company that produces effects for so many of the world's biggest and most beloved movies; GN editorial director Esther and Mayim's assistant Caroline got to go along for the exciting, emotional ride. We know it's not exactly the same as taking you all with us, but we (a new) hope that this Mayim-and-Esther recap interview helps you feel a bit more like you were there with us. Our recap is below the slideshow!  – MB & EK
Esther: Mayim. I can't believe we did this. I just need to say it again. We went to Lucasfilm. I'm still in shock.
Mayim: It was a once-in-a-lifetime opportunity and I'm especially glad I got to experience it with a super-fan such as yourself!
Esther: Thank you! Let's start at the beginning. How did this happen?
Mayim: The Lucasfilm people heard I was coming to SF to speak at the JCC for Girling Up and they contacted my publicist and asked if I'd like a tour! Crazy. I wanted to take my ex-husband, my ex boyfriend and this guy I have a stupid crush on, but it was much more realistic and fun to go with you, lol!​
Esther: That's me, "realistic" and "fun" and not your ex! I've had Star Wars in my life as long as I can remember – it was one of my first movies, and when it became available on TV, we recorded it on our VHS and watched it over and over (I stopped counting after 47 times)… I know the franchise is meaningful for you too for a long time as well…
Mayim: I got to see Empire Strikes Back in the theater and then spent most of my life not thinking much about Star Wars, to be honest. I had a resurgence in interest when I got married and it started being part of our grown-up modern vernacular. I saw Episode 3 when I was pregnant with my first son and wanted to name that baby Luke. (I lost that fight with my ex, probably for the better.)
Esther: So when you got to Lucasfilm on Thursday morning, how were you feeling?
Mayim: ​As important as it was to be #1 on the NY Times Bestseller List, knowing we had this tour lined up to end the SF leg of my book tour was​ easily what kept me going. I was very excited all week and the fact that we were meeting at the "Yoda Fountain" felt like a dream. Walking into the lobby and being greeted by a stern security guard who looked at us like we were nuts was awesome: me in my Darth Vader/Stormtrooper dress, Darth Vader knee highs and doc martens and you in your "Self-Rescuing Princess" Leia T-shirt was priceless.
Esther: Honestly, my brain was all "OMGOMGOMGOMGStarWarsStarWarsStarWars" from the second we got there – I don't even remember seeing that security guard, but I GUARANTEE you, we were NOT the weirdest sight he's ever seen. And literally nearly everyone there – even people who worked there – were wearing Star Wars/Lucasfilm gear, so we fit in just fine. We got a tour from the Publicity Department en route to the Star Wars Show that you were there to do. What was your favorite moment or artifact on the tour?
Mayim: Seeing the life-size replicas of Boba Fett, Darth Vader, Yoda and especially C3PO and R2D2 was powerful. Stormtroopers life-size blew my fangirl mind. It felt like I was in the movies. For real. I cried. ​ Also, I did not realize how many films Industrial Light & Magic (Lucasfilm's VFX and animation studio) has made; it's not just Star Wars! I saw visuals from The Mummy (which I love), Jurassic Park, Ghostbusters, ET and so many more iconic films. This place was like Hollywood paradise!
Esther: Plus, you also got to be science-y – here's a photo of you teaching us about the model for this Jurassic Park dinosaur, telling us it's ​identical to what you used to study ​in ​neuroscience.
Mayim: Seeing how intricate the models were for the dinosaurs was proof of how much work goes into these effects. The spinal cord has what are called Central Pattern Generators (CPGs) which operate like independent motors for each section of the spinal cord. This model is made with independent motors for each section just like in real life! This is why the effects look so real: the models operate like actual anatomical creatures.​
Esther: Anything make a particular impression for how cool or weird it was?
Mayim: ​I think seeing all of the people working there, going about their business, getting coffee and going into offices decorated like the teenage bedroom of my fantasy was really amazing. People like working at this place. How could they not!?​
Esther: OK, tell us about your experience on the Star Wars Show! (And don't worry, GN folks – we'll post the link here when it's available!)
Mayim: ​Honestly, I was afraid I would be asked questions about Star Wars I couldn't answer; my kids watch The Clone Wars and know all of these secrets about the characters and I am more of a global fan, but they wanted to know about the articles I have written for GN about being a parent geek and what lessons the Star Wars franchise can teach us. I felt at home, like: "these are my people." It was awesome.​
Esther: It was pretty amazing to be there in the room as they shot your segment – the room was simply filled with Star Wars action figures, vehicles etc. Just standing there, listening to you talk about GrokNation on the Star Wars Show – it was like a dream. They also let us loose in the Star Wars store – what's your favorite souvenir or thing you saw there but didn't buy? I thought those charger sticks were pretty hilarious. Look at Threepio's eyes – he looks very surprised that he would be used to charge a phone…I mean, he's fluent in over 6 million forms of communication, and this is where he ended up?
Mayim: Hahaha. The store was a lot of things I have seen before but so many I have not. I kind of wanted every single T-shirt but I chose three: one of the original design for Rey, one of K2SO and an 80s "VADER" shirt with silver sparkles and purple outline.​ I got my sons a Visual Dictionary of all things Star Wars which includes Clone Wars and some of the modern cartoons, which is something I have never seen in a book. They love it. I wanted the army jacket. And the bomber jacket. And the Boba Fett backpack. And every keychain they sold…
Esther: I bought a lot of stuff too – Lucasfilm gear, Han Solo in carbonite ice cube trays, and a mini-plush Rey to keep me inspired. Plus, some pens I'm pretending are for my nephews but which I might keep for myself.  Eventually, we had to go home. But if they had permitted us to stick around, what else would you have wanted to see?
Mayim:  ​Lucas was a huge Akira Kurosawa fan; Star Wars was originally a sort of Samurai-meets-space inspiration for him, I am told. There were movie posters from Lucas' private collection lining all of the walls and the Kurosawa ones were stunning. There was also some paintings from Kurosawa's "Dreams"…I would have liked to get clean photographs of all of the Kurosawa stuff​ to print up and frame!
Esther: After you left, I spent some time with a friend of mine who works at Lucasfilm in the R&D department. He's had a fascinating professional journey and does amazing creative and philanthropic work (check out Batkid Begins), and it made me aware of how many people in that building have amazing stories to tell, about their work at the company and also about their passions outside. Some of them build software, some of them do motion capture and others work with models. But I think all of us who tell stories, in whatever regard, are truly lucky. And although Lucasfilm won't be asking me to work for them anytime soon, I had a strong conviction that we are all part of the same fabric of storytelling; like there's an all-powerful Force binding us and the galaxy together.
Mayim:​ As entertaining as the franchise is, it really occurred to me how meaningful this work is and how for those of us who don't like romantic comedies or going to clubs, these movies are our best form of recreation. The stories told are pretty much timeless, and it was an honor to see it all come together with you.​
Esther: Mayim, thank you so much for bringing me on this adventure of a lifetime with you!
Mayim: You're welcome! Thank you for holding me when I cried.​
Esther: It was my honor!