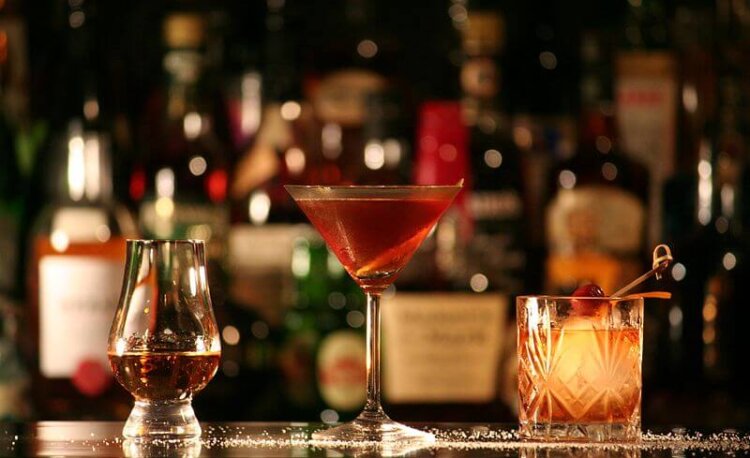 The difference between a good Thanksgiving and a great Thanksgiving lies in the details. Those details don't have to be intricately-folded napkins or spices brought on horseback across the Silk Road in your mashed potatoes; rather, they're the details that go into making sure every guest feels welcomed and valued, whether you've cooked everything yourself or you've got a feast filled with take-out.
One of my favorite ways to make sure no one feels left out is to ensure there's no item on the table that everyone can't enjoy, and the same is true for cocktails. With that in mind, here are some great drink recipes and their non-alcoholic equivalents to ensure everyone gets to enjoy something special this holiday.
Spiced Tea Punch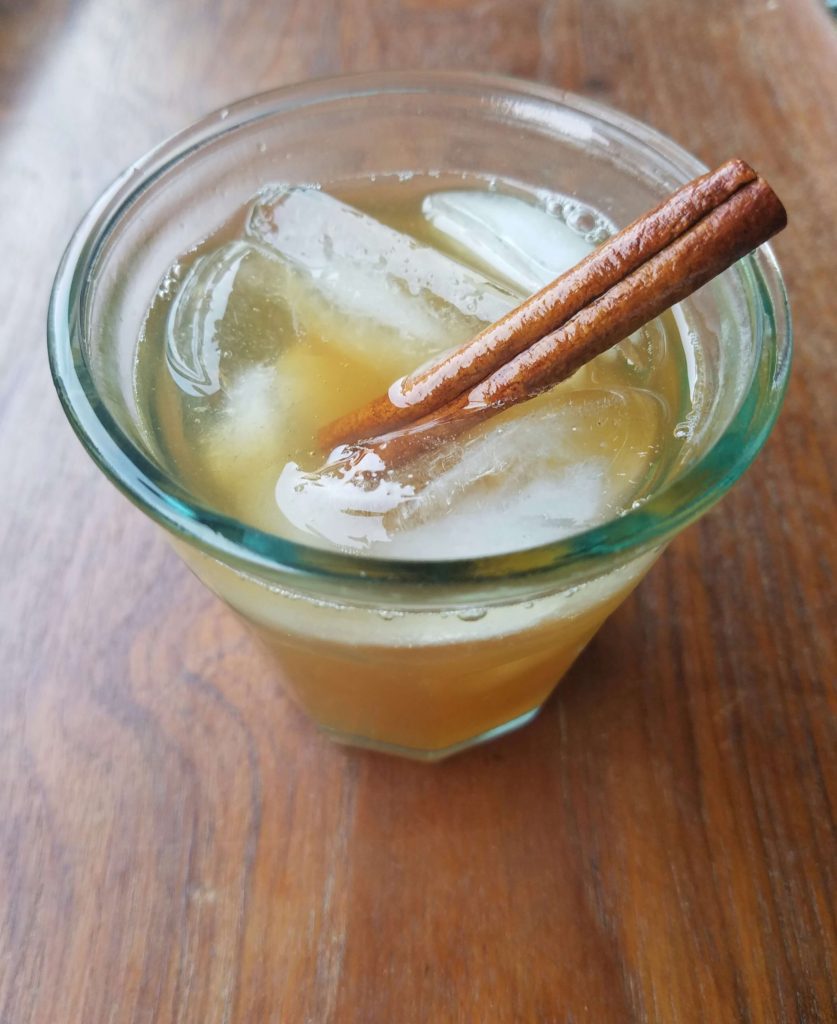 Tea punch has been an American tradition since colonial times. This recipe creates a base that can be mixed with any spirit or non-alcoholic cider to serve a crowd with no day-of prep at all. Everything can (and should) be made in advance to make your meal as simple as possible.
Step 1: Lemon + Sugar
Peel 3 lemons and place the peels into a quart-size plastic container with 1 cup of sugar and mix well. Let that sit for an hour, shaking every so often to keep things mixing.
Step 2: After the sugar mixture has sat for an hour, brew 3.5 cups of tea, using 2 tea bags. Add 3 cinnamon sticks and a few whole star anise or cardamom pods to the hot water. Pour the hot tea into the sugar mixture and stir well to melt the sugar. Let that cool and strain out the solids.
Step 3: Add either a 750ml bottle of whiskey, rum, or unsweetened apple cider to the tea mixture. Serve into individual glasses over ice and enjoy!
(To make both alcoholic and non-alcoholic versions at once, split the tea mixture in half, and use a half-bottle of spirits or cider for each recipe. Feel free to use different spices or even hearty herbs like rosemary, cloves, or orange peels to change the flavors and customize it to your liking.)
Rosemary-Pear Collins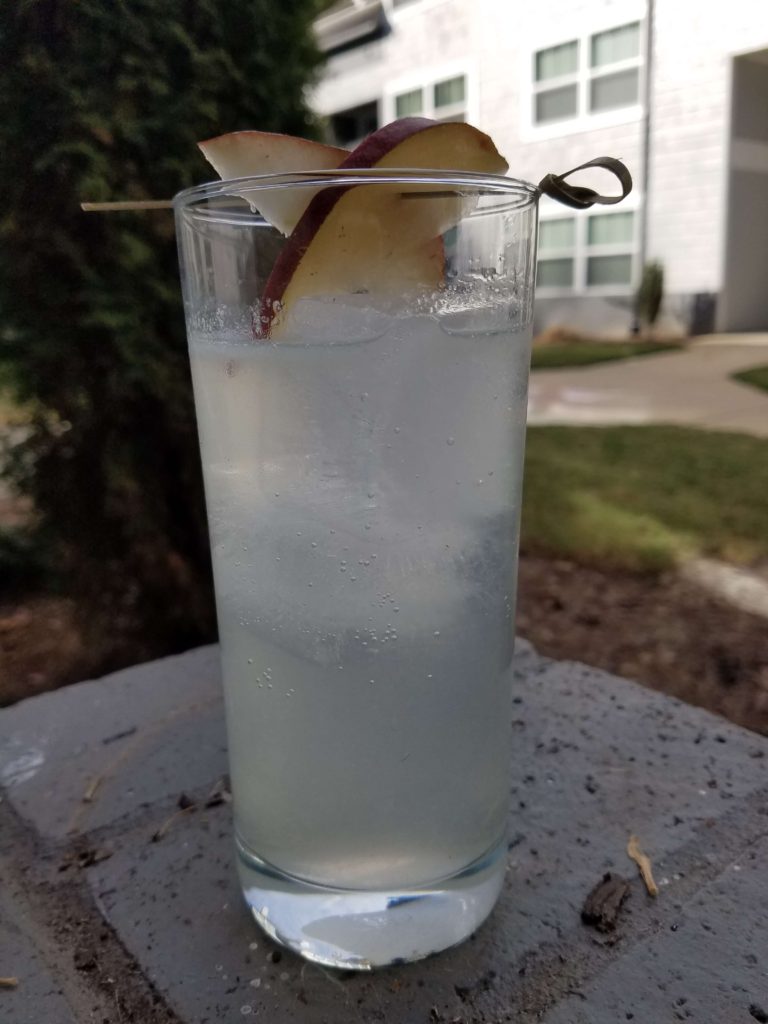 We've updated the classic Tom Collins with fall flavors. This one will take a bit of prep work, but, once you have the rosemary-pear syrup, the rest is just mixing.
2 oz gin
3/4 oz rosemary-pear syrup*
3/4 oz fresh lemon juice
2 oz club soda
Combine the gin, syrup, and lemon juice in a tall glass with ice and stir. Fill the rest of the glass with soda water and garnish with a lemon wedge or, if you want to get really fancy, a small slice of pear.  Non-alcoholic version: use 1 ounce each of the syrup and lemon juice and top with soda water.
*Rosemary-Pear Syrup
1.5 pears, sliced or chunked (save the other 1/2 pear for garnish)
1 small sprig fresh rosemary
3/4 cup sugar
1 cup water
Combine the pears, sugar and water in a small sauce pan and bring to a boil. Turn the heat down and let it simmer until the pears soften. Once they do, add a small sprig of fresh rosemary and simmer for about 10 more minutes. Let the syrup cool and strain out the solids. It will keep in the fridge for about three weeks and is great for cocktails or even poured over a slice of spice cake.
Falling Leaves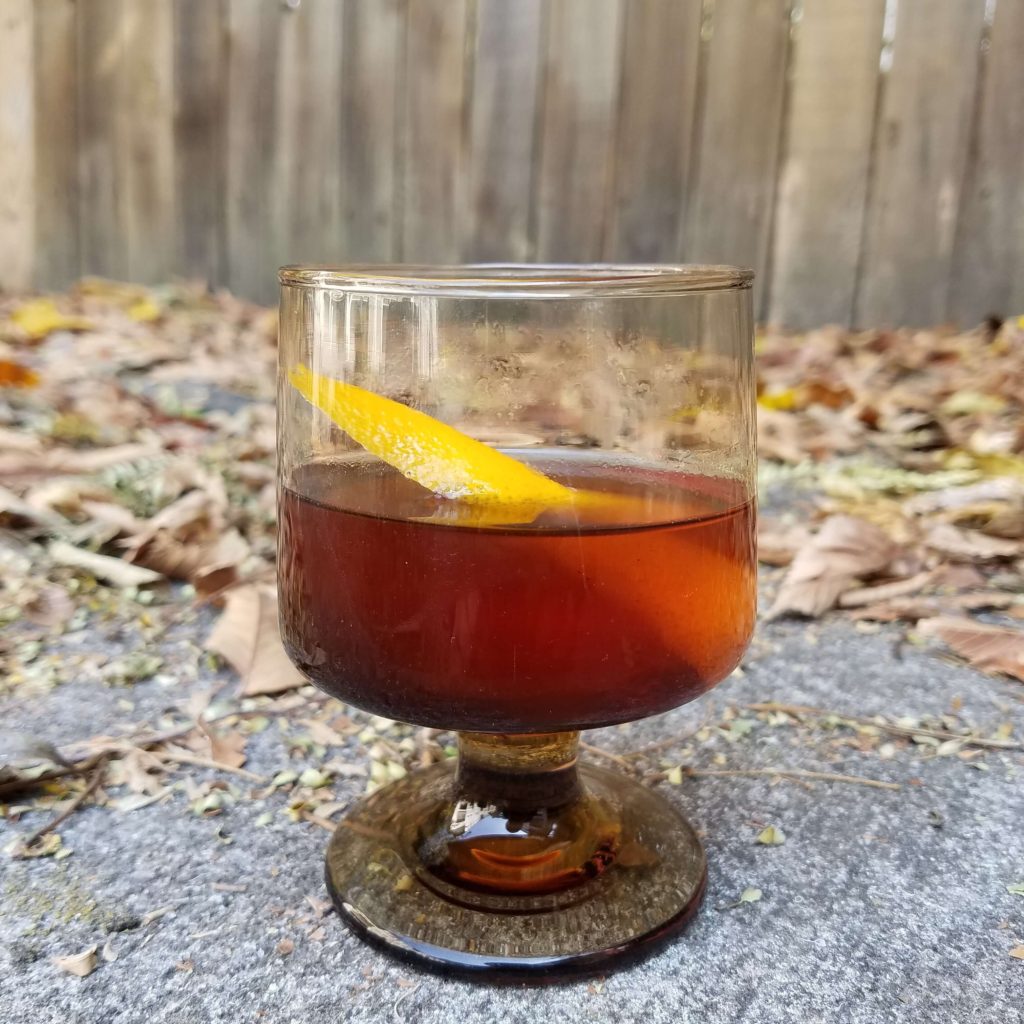 This cocktail is autumn in a glass. If you've never had it, amaro is an Italian bitter liquor with a warm, floral flavor. (Campari is a type of amaro, for example.) (Non-alcoholic version: leave out both the rum and amaro and use a bitter Italian soda or, believe it or not, flat root beer or cola.)
3/4 oz toasted pecan syrup**
2 oz dark rum (not spiced)
1 oz medium amaro like Montenegro or Luxardo
Orange bitters
Add all of the ingredients into a glass filled with ice and stir well for about 30 seconds. Strain and pour into a coupe, martini, or other stemmed glass. Squeeze an orange peel over the drink (orange side facing down) and drop the peel into the glass to garnish.
**Toasted Pecan Syrup
1 cup of pecans
3/4 cup sugar
1 cup water
Toast the pecans in a small sauce pan over medium heat, stirring regularly. Once most of the nuts are toasted well, add the sugar and water and mix well. Simmer over medium heat for about 15 minutes. Allow the mixture to cool and strain out the solids (including any burned bits). The syrup will keep in the fridge for about 3 weeks and is great in tea, too.
Going nut-free? Try subbing out the pecans for figs, cherries, plums, or other semi-tart dark fruit.
Robbie Medwed is an Atlanta-based writer and cocktail enthusiast. He's a regular at more than a few bars and has recently run out of shelf space for all of his liquor bottles. He writes regularly at koshercocktail.com.