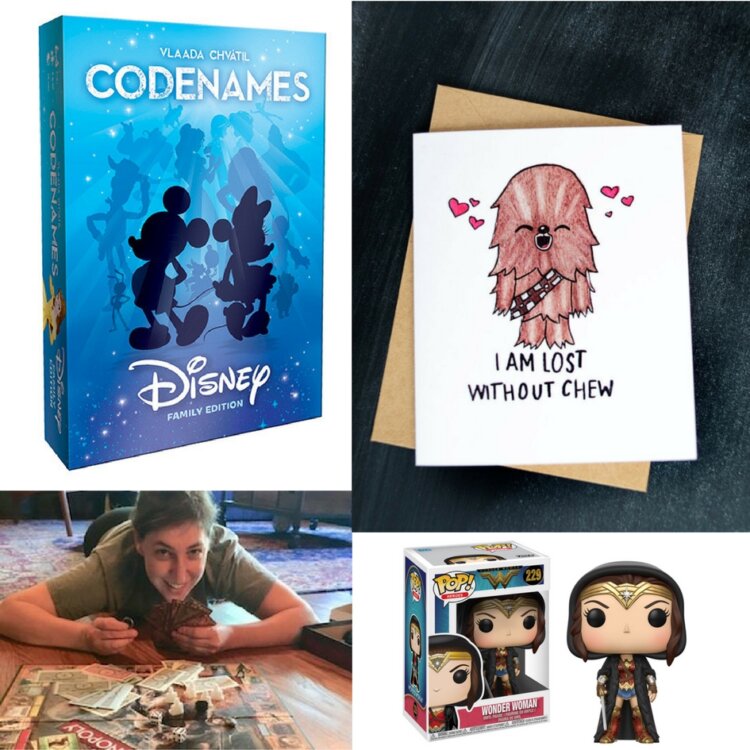 Here at Grok Nation, we're not the biggest fans of the mushy, lovey part of Valentine's Day. But we will use it as an excuse to purchase some geeky gifts that have been on our wish lists! Below we have selected items we would buy for ourselves—or our loved ones—in honor of February 14. It's broken up by fandom, including Marvel, Disney, Star Wars, D.C., and more, so there's something to love for everyone. Make sure to scroll to the bottom for a chance to win one of our selected gifts, and tell us below what geeky gift you're purchasing for Valentine's Day.
Geek Gift Expert: Mayim
Fandom Specialty: Lord of the Rings, Dungeons & Dragons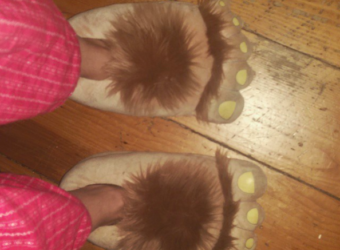 Hobbit slippers
There is literally no better cozier way to convey your love for all things Hobbit with slippers that give you the feet of Bilbo Baggins. I have personally owned these and wore them for years. Silly, but so comfy. Available on Amazon for $19.95.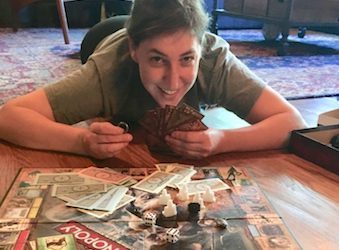 Monopoly: The Lord of the Rings Trilogy Edition
Tired of plain old Monopoly? Me too. How about buying Erebor? Or Laketown?! And the best part is muddling your way through pronouncing such locations as Dol Guldur and Beorn without making the geekiest among you lose their minds. Also: fight over who gets to be the piece shaped like the Ring to rule them all! Seriously, this Monopoly is the best thing ever. Available on Amazon starting at $75.99.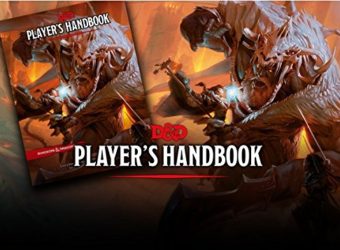 Dungeons & Dragons Player's Handbook – 5th Edition
What better way to say "I love you" than with the latest edition of the D & D player's handbook?! Start up D & D with the edition that fixes all of the editions before it. It's pretty awesome. And the book is really all you need to master the best dungeons of all. Hot. Available on Amazon starting at $47.64.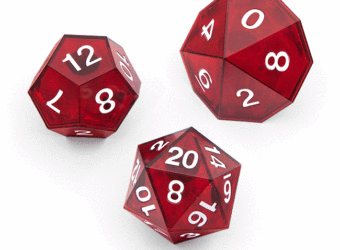 LED die
I know. It seems like a novelty thing and it kind of is. But my ManFriend loves nothing more than rolling natty 20s with this d20. It's always fun and never loses its appeal! Available on ThinkGeek for $24.99.
Geek Gift Expert: Esther
Fandom Specialty: mainly Star Wars, with miscellaneous fandom infidelities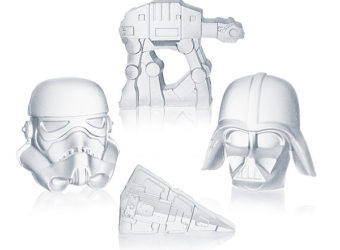 Star Wars ice cube trays
I rarely celebrate Valentine's Day with a partner, so my main February holiday is "ThinkGeek Sale Day." This involves going to the ThinkGeek sale pages and searching by franchise and also by price (lowest to highest). Don't judge, I'm on a budget here…but those pages are a trove of things I never knew I wanted until they were severely discounted. For instance, the Star Wars Ice Cube Trays – I have three sets: Yoda and R2-D2, X-Wing and Millennium Falcon, and Han Solo in carbonite. This is a genius concept that I wish had better engineers attached to it: the silicone trays are floppy, so they need some rigid surface beneath them or they'll spill water everywhere. The Han Solo tray is a bit better because a) it's a genius idea and b) it's more rigid and actually contains the water. (Admittedly, I bought this at the Lucasfilm company store during my May visit with Mayim, so this slightly better product is only available at Amazon). However there's only one large cube and several small ones that really don't do much to keep your beverage cold. (You can apparently get a single "enormous" one, also from Amazon.) It's hard to get Yoda's head (and sometimes R2's robot feet) out of the tray with ears (or feet) intact. The X-Wing/Millennium Falcon one just arrived, so I haven't used it yet. But I keep buying them anyway because they're great fun and super-cheap. Right now, the AT-AT/Star Destroyer or Darth Vader/Stormtrooper is $1.99. So totally affordable.
The challenge with the "shop the discounted merch" strategy is that usually after I order it, it's gone. So while I'd love to recommend my R2-D2 measuring cups set – or the BB-8 bowl-and-platter set – they're no longer available. And the Star Wars wristlet bag I snagged is also out of stock (although you can get my second choice, the Wonder Woman version). Visit this page to see all the discounted Star Wars merch—and see if the Force is with you.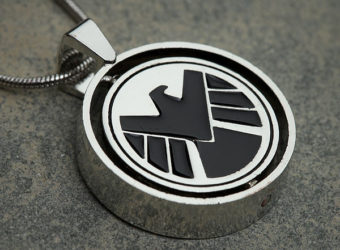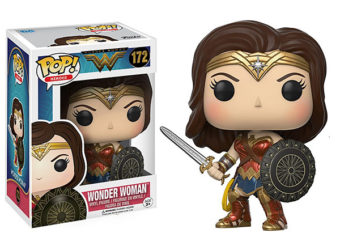 Agents of S.H.I.E.L.D. pendant / Wonder Woman Funko Pop! doll
And if you're more inclined toward Marvel, DC or other fandoms, they have those product lines too. I admit to occasional franchise infidelity – most recently, I bought this Agents of S.H.I.E.L.D./Hydra pendant and a Funko Pop! Wonder Woman, just for fun. But Star Wars forgives. Both available on ThinkGeek; pendant onsale for $4.99; Wonder Woman on sale for $5.99.
Geek Gift Expert: Avital Norman Nathman
Fandom Specialty: Wonder Woman, DC superheroes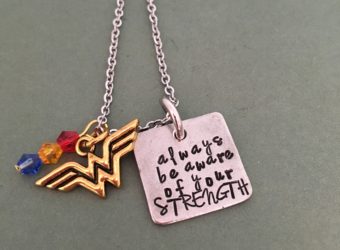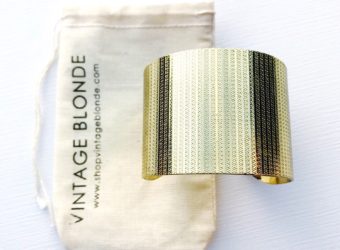 Wonder Woman jewelry
In a world of mortals, you are a Wonder Woman. Remind yourself (and others!) of your power with some Amazonian inspired jewelry. From a delicate charm necklace that reminds you of your strength to a modernized version of Diana's magical cuffs, these pieces are the perfect accessories for work, play, and pummeling the patriarchy. Both available on Etsy; necklace $20, bracelet $15.
Geek Gift Expert: Christina Kelly
Fandom Specialty: Star Wars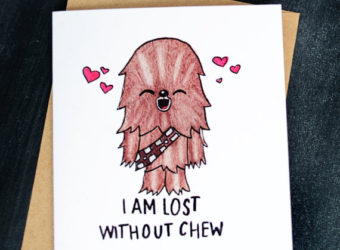 Star Wars Valentine's card
In the first weeks I was dating my husband, Dalton, he insisted that we watch the Star Wars trilogy together. I had only seen the first one and this was a wrong that needed righting, so we watched all three, playing tapes from his boxed set on a VCR in his tiny apartment (it was the nineties). One thing led to another and before I knew it, figures of Han Solo and Princess Leia were sitting on our wedding cake. I plan to get him this handmade Chewbacca Valentine. Available on Etsy for $4.05.
Geek Gift Expert: Dalene Rovenstine
Fandom Specialty: Marvel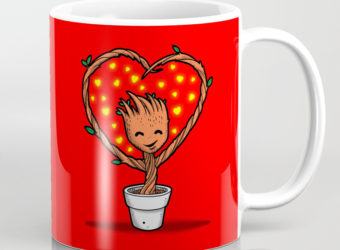 Baby Groot coffee mug
Is there a better Valentine than Baby Groot? Probably not. He's an excellent dancer and full of energy. True, he may not be the best listener, but his cuteness outweighs that. This ceramic coffee mug from Society6 will remind you of your Valentine all year long. Available on Society6 for $15.99.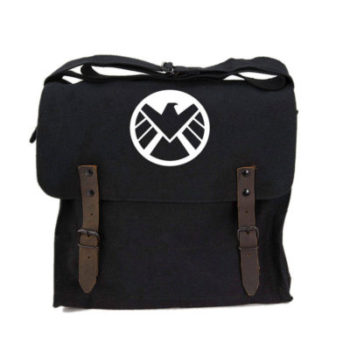 Agents of S.H.I.E.L.D. messenger bag
Seal your honorary status as an agent of S.H.I.E.L.D. with this canvas military bag. It touts the agency's logo, so you can flaunt your love of the show; and it's made of a sturdy cotton canvas, durable enough to get you through any situation, say fighting off Hydra or inexplicably jumping 100 years in time. Available on Etsy for $23.99.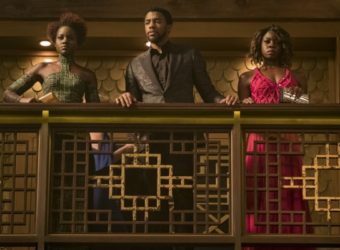 Blank Panther tickets
The latest edition in the MCU is already being billed by reviewers as the best yet. With a release date of February 16, a ticket to the film is the perfect Valentine's gift to yourself. Purchase tickets on Fandango and receive a free Black Panther poster.
Geek Gift Expert: Natalie Koch
Fandom Specialty: Disney
Magic Kingdom coordinates bracelet
The exact coordinates to the center of my heart lead to The Magic Kingdom in Walt Disney World, so basically this bracelet from Etsy is the perfect Valentine's Day gift for me. Delicate, not over-stated, and handmade, this cuff features accurate coordinates to the Most Magical Place on Earth. Thousands of couples have gotten engaged there (yours truly included) so if you're planning on popping the question this 14th at WDW, why not include this handy memento? Available on Etsy for $9.99.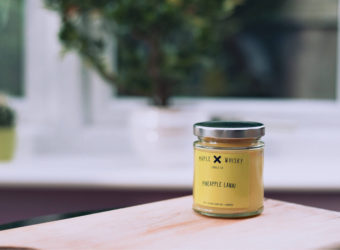 Disney scented candles
There's really nothing more niche for a Disney fan than Disney scented candles. It sounds weird (it kinda is) and obsessive (it definitely is), but big WDW fans love to have little reminders of their magical vacations once they get home. Olfactory memory is intense and these candles capitalize on that. Available scents tout themselves to smell like a Dole Whip, the lobby of the Grand Floridian, Soarin' Over California, or the Main Street Bakery. Treat the Disney fan in your life to a candle from their favorite ride or park, and you're really giving them the gift of memory. Available on Etsy starting at $10.82.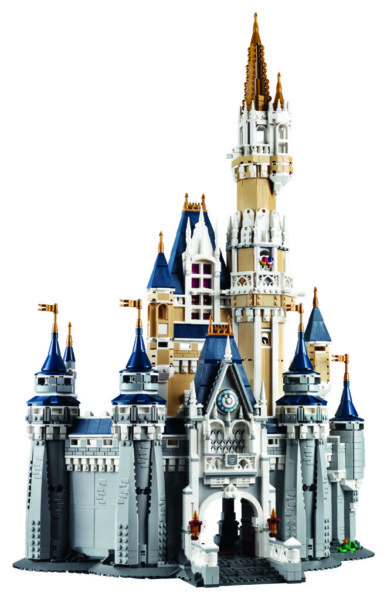 The Disney Castle Lego set
Something my husband and I like to do is build LEGO sets together. And by "together" I mean, he builds it and I very carefully affix the stickers if needed. We've been ogling this Disney Castle set ever since it debuted. It's insane. And unlikely we'll ever actually purchase it, but look at it! Available on The LEGO Shop for $349.99.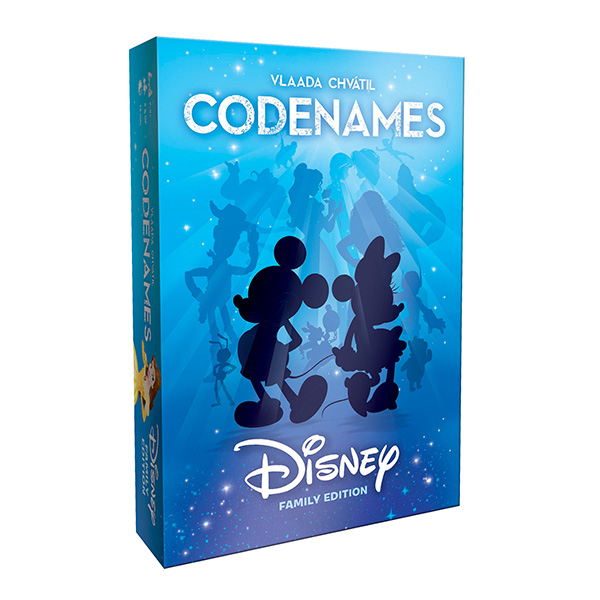 Codenames: Disney Family Edition
Codenames is a popular social strategy card game where it helps to know your teammates well in order to give them clues to win the game. Now there's a Disney version, and if you're a little too well-versed in Disney history like I am, this game should be a breeze! The game is easy to pick up, and family friendly, so consider this an all-ages, all-around win. Available on Amazon and ThinkGeek for $24.99.
Interested in Codenames? Sign up for the Grok Nation newsletter! All new subscribers will enter for a chance to win one of three copies of the Disney game. Winners will be chosen randomly on February 14 and notified via email.