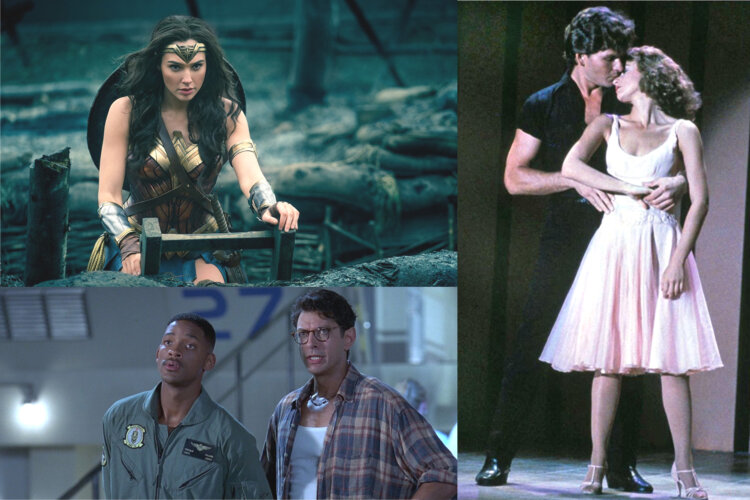 Fourth of July is a great holiday to break out the grill, visit the beach or a lake, celebrate with friends and family and enjoy booming fireworks. But with temps pushing 100, we wouldn't judge you for wanting to stay indoors and just relax on your day off.
With that in mind, we've looked through our favorite streaming services to find the best of the best. Whether you enjoy '80s classics, historical dramas or simply guilty pleasures, we've got a movie or show for you.
Read through the list and let us know in the comments what your favorites are.
Feel-Good Summer Movies & Guilty Pleasure Flicks
A cache of movies that just feel like summer–lighthearted, fanciful, nothing that'll make you think too hard or leave you sleepless.
Independence Day (Starz)
Starring Jeff Goldblum and Will Smith, this classic 1996 science fiction film tells the story of an America under siege by extraterrestrials on the Fourth of July.
Dirty Dancing (Amazon Prime)
Nothing says summer like watching Jennifer Gray dance her heart out in her rolled-up jean shorts and salmon-colored bodysuit—and Patrick Swayze in his… everything.
Back to the Future trilogy (HBO Go)
One of the most treasured classics of the '80s, this Michael J. Fox-led film oozes summery vibes: romance, '80s tunes, retro ice cream parlors, and time travel.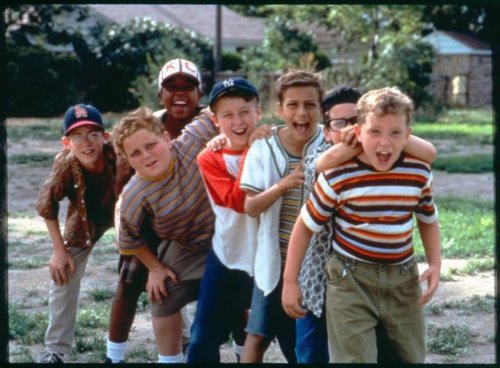 The Sandlot (HBO Go)
There's nothing quite as summery and wholesome as little league baseball teams. Follow Scottie Smalls and his ragtag team of sandlot dwellers on their adventures around their small town—and on their baseball diamond.
Wet Hot American Summer (Netflix)
This 2001 comedy—filled with nearly every comedic actor you could imagine—is a heated and racy romp through the last day of summer camp in 1981, wherein a group of counselors try to finish all of their unfinished business.
Armageddon (Netflix)
In the 1998 film Armageddon, Billy Bob Thornton attempts to save the earth from an asteroid collision by blowing up said asteroid with a nuclear bomb.
Wonder Woman (HBO Go)
Starring Gal Gadot as the title character and Chris Pine as her loveable beau, Wonder Woman stands as a much-needed ode to how desperately we needed a woman-led superhero movie.
National Treasure (Netflix)
Perhaps the guiltiest guilty pleasure of all, this 2004 Nicolas Cage classic will have you (much to the chagrin of your friends and family) fired up to steal the Declaration of Independence for weeks to come.
American Cinema Classics
For the true cinema purist, we've selected films that span the golden age of cinema to more recent standouts in American filmography.
Gone With the Wind (Amazon Prime)
Name a love triangle more iconic than Scarlett O'Hara, Rhett Butler and Ashley Wilkes. Nothing says classic American cinema quite like this OG Academy Award-winning Civil War-era romance, starring none other than Vivien Leigh and Clark Gable.
To Kill a Mockingbird (Netflix)
Forget everything Go Set a Watchman told you about Atticus Finch's character and enjoy this well-crafted classic on prejudice, the flawed justice system, and coming-of-age. Also, enjoy Gregory Peck, who was truly at his peak here.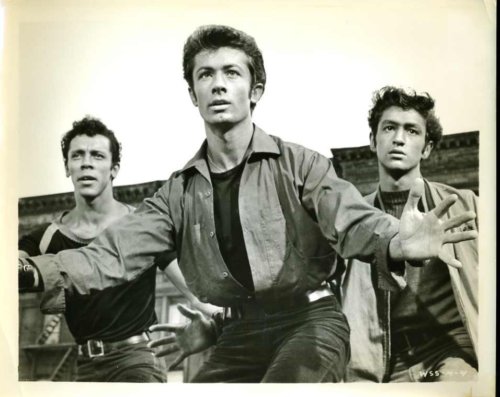 West Side Story (HBO Go)
If you've ever thought you don't enjoy musical theater, just watch Rita Moreno singing "America" to cure you of this affliction. This heartbreaking modern take on Romeo and Juliet—starring Natalie Wood and Richard Beymer as the star-crossed lovers—will have you dancing and crying for days.
Steel Magnolias (Showtime*)
What's better than an '80s movies with a bunch of ladies learning to love themselves while supporting women? Not much, but it doesn't hurt that the cast is filled with the likes of Julia Roberts, Dolly Parton and Sally Field.
*Films on Showtime can be viewed with an add-on Hulu subscription. Sign-up here.
Good Morning, Vietnam (HBO Go)
This Vietnam dramedy balanced Robin Williams' impeccable comedic presence with the immense tragedy of the Vietnam war, creating an accessible look into a darker part of America's past.
Fences (Hulu)
Based on the classic play by August Wilson and helmed by Denzel Washington and Viola Davis, Fences tells the story of a father and son and the tension of competition that occurs between them.
Political & Historical Inspiration
Documentaries and docudramas for the passionate American History nerd–we've got drama, intrigue and (sometimes) cold-hard facts.
LBJ (Amazon Prime)
This 2016 docudrama starring Woody Harrelson as LBJ takes an in-depth look at this complicated and dynamic president's time in the White House.
Milk (Netflix)
Keep the Pride month celebration going by watching this remarkable take on the oft-forgotten story of Harvey Milk, as portrayed by Sean Penn, the first gay man to be elected to political office.
Last Flag Flying (Amazon Prime)
This heartfelt dramedy follows three Vietnam war vets coming together over the death of one of their sons and trying to tie together the loose ends left behind at the end of the war. It will make you weep, warm your heart, and deepen your love for Steve Carell, Laurence Fishburne and Bryan Cranston.
Barry (Netflix)
The film Barry, starring Devon Terrell as the titular character, offers a poignant window into the tumultuous college years of former president Barack Obama.
The Hurt Locker (Amazon Prime)
Starring Guy Pearce, Jeremy Renner and Anthony Mackie and directed by Kathryn Bigelow, this Academy Award winner follows American soldiers in Iraq as they adjust under the leadership of a new and unconventional staff sergeant.
Lincoln (Netflix)
Daniel Day-Lewis takes on Abraham Lincoln—for which he earned an Academy Award—which is no wonder since he elevates his character like never before in this Civil War-era historical drama.
Charlie Wilson's War (Showtime)
A dramedy set at the end of the Cold War, Charlie Wilson's War uncovers the efforts of a Texas socialite (Julia Roberts), a U.S. congressman (Tom Hanks as the titular Charlie Wilson) and a CIA agent (Philip Seymour Hoffman) as they attempt to fund the Afghan freedom fighters in their battle against the Soviets.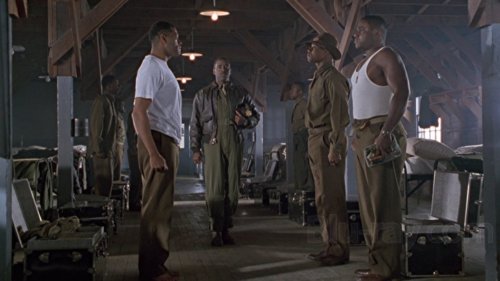 The Tuskegee Airmen (HBO Go)
Helmed by Cuba Gooding, Jr. and Laurence Fishburne, this docudrama follows the Tuskegee Airmen, the United States' first African-American Air Force squadron. With the stakes higher than ever, having to fight a war against prejudice both at home and overseas, the airmen battle the odds to come out on top as one of the most successful squadrons of WWII.
Commitment Binges
For those who want to spend an entire day in an air-conditioned space, watching these miniseries and TV provide the cool relief you're looking for.
The Pacific (Amazon Prime)
This 2010 miniseries follows the Marines in WWII, offering an atypical look at the behind the scenes of this debilitating world war. Also, keep your eye out for a younger Rami Malek, who'll be starring as Freddie Mercury in Bohemian Rhapsody later this year.
Westworld (HBO Go)
Perhaps the best HBO show in existence (sorry Game of Thrones), this science-fiction take on the classic Western film just wrapped up its second season. With good-looking stars such as Thandie Newton, James Marsden and Evan Rachel Wood and cleverly placed plot twists that take time to consume, it's perfect for an all-day holiday binge.
Ken Burns Presents: The West (Netflix)
Ultimately, you can't go wrong with a Ken Burns documentary–if you're new to his craft, try out The West, his 1996 eight-part series that delves into the American Old West, informing the viewer on everything from the gold rush to the transcontinental railroad.
Veep (HBO Go)
What's better than Julia Louis-Dreyfus fighting, and losing, and fighting again for the United States presidency? Nothing! This HBO comedy provides the laughs we need—on any day.