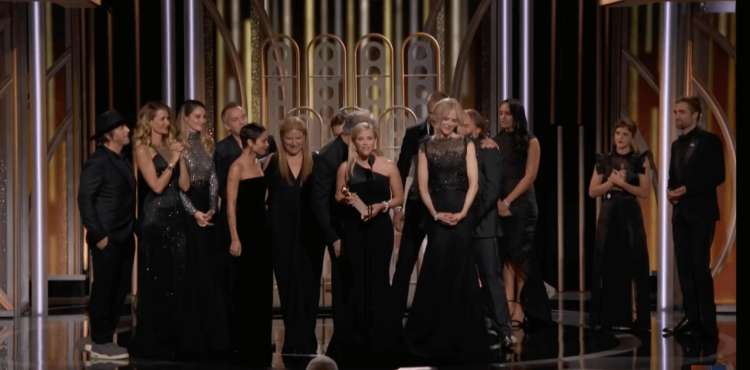 Wow. What Globes they were! With the visual statement of nearly all celebrities parading down the red carpet in all (or mostly) black, to "Time's Up" pins on men's lapels, to a variety of projects being rewarded, to OPRAH. So let's get into some highlights!
Even before the show started, I asked the Twitterverse what they were most looking forward to.
Women standing up for what's right and proving that #TIMESUP! Oh, and my favorite shows and films being acknowledged. #GrokGG #Globes75

— Holly Rosen Fink (@hollyrosenfink) January 8, 2018
less of the "who are you wearing" and more on the topics of today so less people think "out of touch hollywood elites" because that phrase is so last year and sick of reading/hearing it ..actors are people too and can have opinions

— Nancy Lusty (@nancy_lusty) January 7, 2018
Red Carpet Activism
Despite the presence of a group of E! cameras in an area called a "glambot" – where celebs go to show off their red carpet looks – for the most part, substance won over red carpet style as six activists accompanied famous actresses, representing various women's equality groups. Especially noteworthy was Tarana Burke, who created the #metoo movement, who was Michelle Williams' plus-one to the event.
In another burst of red carpet activism, actresses Debra Messing and Eva Longoria separately lambasted E! for having paid a female host less than her male cohost – and the actresses were being interviewed by E! reporters at the time. (Awkward – except not, and kind of brave.)
The Show!
Seth Meyers' opening monologue was a no-holds-barred assault (#sorrynotsorry for using that word) on arguably the biggest story to hit Hollywood: sexual misconduct, harassment and assault; the emergence of the #metoo movement and the punishment that is toppling the perpetrators. Not surprisingly, there was a dig at the President and a reverse psychology suggestion that perhaps Oprah run for President – with Tom Hanks as her vice-president. (BRB, have to get these "Winfrey/Hanks" posters printed…)
Playing as only she can with the language – and fake fighting with former SNL co-star Meyers – Amy Poehler came out swinging to show Seth she didn't need him to mansplain how to deliver a joke.
This GIF forever and ever. #GoldenGlobes pic.twitter.com/25l8TspsND

— Courtney Ste-Croix (@CDNwanderer88) January 8, 2018
Winners and Um, Not Winners
Big Little Lies was a big winner, with acting awards for Laura Dern, Nicole Kidman and Alexander Skarsgard and Best TV Limited Series for TV.
The Marvelous Mrs. Maisel won – as did its star, Rachel Brosnahan, for portraying its eponymous heroine; and at the end of her acceptance speech for best musical or comedy TV series, show creator Amy Sherman-Palladino (Gilmore Girls) had one thing on her mind:
"Is there cheese backstage? Let's go backstage." Can someone get #AmyShermanPalladino a cheese platter please? Tell her it's from @GrokNation, in honor of the win for #TheMarvelousMrsMaisel. 🙂 #GoldenGlobes #Globes75 #GrokGG

— Grok Nation (@GrokNation) January 8, 2018
Also, while glad that Rachel Brosnahan won  (the exercise scene alone is award worthy –  see below…), and while I love Sterling K. Brown, I still wished it had gone another way:
Can I give honorary @GrokNation awards to #jasonbateman who was SUPERB on #Ozark & @pamelaadlon who was #FIERCE & REAL on @BetterthingsFX? Two of my favorite performances this year. #GoldenGlobes #globes75 #GrokGG

— Grok Nation (@GrokNation) January 8, 2018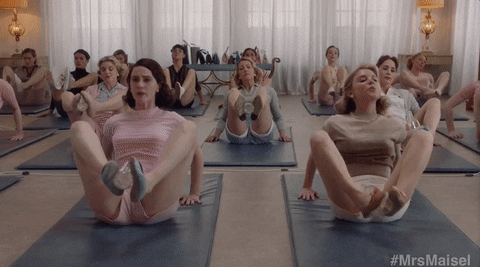 OPRAH OPRAH OPRAH
Oprah, getting the Cecil B. DeMille Lifetime Achievement Award, was living her best life, being the best Oprah she could be, talking about her favorite things and speaking out on behalf of the marginalized.
"I want all of the girls watching here now to know, that a new day is on the horizon." @Oprah accepts the 2018 Cecil B. de Mille award. #GoldenGlobes pic.twitter.com/hbquC1GBjm

— Golden Globe Awards (@goldenglobes) January 8, 2018
Idea: Tomorrow @ava starts working on turning this @Oprah speech into next year's #Oscar-winning best picture. #GoldenGlobes #globes75 #GrokGG

— Grok Nation (@GrokNation) January 8, 2018
"A new day is on the horizon! And when that new day finally dawns, it will be because of a lot of magnificent women and some pretty phenomenal men fighting …for the time that no one ever has to say #metoo again." – @oprah #GrokGG #GoldenGlobes #Globes75 #everybodygetsanewday

— Grok Nation (@GrokNation) January 8, 2018
The exceptional Frances McDormand – who won for the multiply-awarded Three Billboards outside Ebbings, Missouri – was also exceptionally understated, but despite a dress that was simple and unadorned, her spirit shone through with authenticity and power.
#FrancesMcDormand proving you don't need glitter & cleavage to shine & sparkle & swagger. #globes75 #GoldenGlobes #GrokGG

— Grok Nation (@GrokNation) January 8, 2018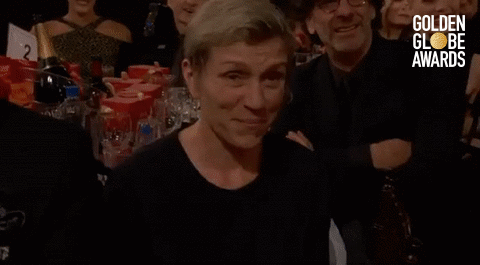 Thanks for following along with me on this journey – and don't forget to tune in on Thursday for the Critics' Choice Awards – Mayim is nominated, and I'll hopefully be tweeting during the hour when her category is being presented (4-5pm Pacific, I'm told…). Until then, high fives to you all!
Grokfully yours,
Esther "Glambot" Kustanowitz