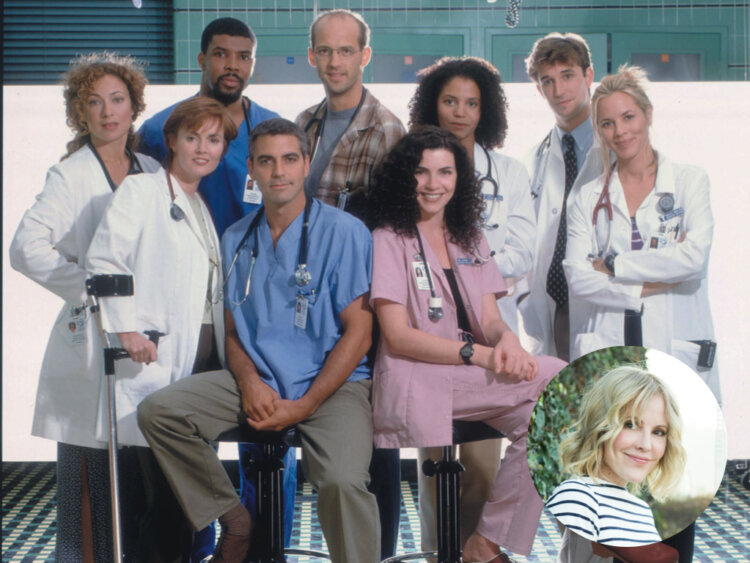 As a cult favorite in Buffy the Vampire Slayer (as Anya) and Once Upon a Time (as the Blind Witch), actress Emma Caulfield Ford knows her way around a TV show—and she often has strong feelings about shows she watches. Recently, the mother of a 2-year-old girl has been binge-watching ER on Hulu. Here, she shares with Grok Nation readers how the classic NBC drama holds up decades later.
Once upon a time there was a vacant 10 p.m. time slot on NBC. Those of us who lived through this trying time, often wandered around aimlessly, with no purpose or sense of joy. We were forced to talk to people on our phones, go out to bars, socialize with friends, eat again or try to go to bed early. In general we looked for something to fill this nameless void. Then suddenly one night, a portent swept through the LA fog and the rest of a weary nation. NBC aired a new show. It promised to be unlike any show we had seen before
They called it ER. It stood for Emergency Room. And since we clearly needed medical intervention for our woes, this show was the panacea we were looking for.
The medical drama, set in the fast paced world of County General Hospital in Chicago, premiered on NBC on September 19, 1994. It followed the lives of the hospital's dedicated doctors, nurses and staff—played by people such as Anthony Edwards, George Clooney, Julianna Margulies, Sherry Stringfield, Noah Wyle, Eriq La Salle, Ming Na-Wen, and more—as they battled each other, unruly patients, budget cuts, rising crime and their own exhaustion.
It was a glorious time, and this is how I remember it:
Oh everything is so green! Love the title sequence! Blood! Oh, look, it's what's his name from Roseanne and Facts of Life! The camera is everywhere at once! And there's Goose from Top Gun as Dr. Greene! Please save that pregnant woman! Oh, no, she died. "Love's Labor Lost," indeed! Oh, my, they're sawing off that guy's leg!
Doug Ross! Doug Ross! Doug Ross likes that pretty nurse Carol Hathaway! She's a great actress that Margulies. Oh, no, Hathaway tried to kill herself! Doug blames himself because he sucks at life and broke her heart.
Paging Doctor Carter! You're so cute and bumbling—but get your shit together, Carter! Benton is always mad at you! (I think they'll be best friends someday.) Paging Dr. Benton; they need a surgical consult! Blood. Blood. More blood. Paging Dr. Susan Lewis: Don't trust your sister!
Welcome, Physicians Assistant Jeanie Boulet! You're such a nice person, and I'm so happy you make Peter happy. Oh, no, Jeanie's husband Al has AIDS, and it turns out Jeanie has HIV! Luckily, Peter is in the clear—but, sadly, looks like they're breaking up. And now they want to fire you, Jeanie. Fight for your job, girl!
Oh, no, Susan's crazy sister abandoned her baby! Yay, Susan is going to adopt her! Oh, no, sister is back and wants her baby! Sad Susan! And now Susan is leaving to be with sober and sane sister and baby! Bye, Susan!
Doug Ross is a really good doctor! You better break those rules, Doug Ross! Stop breaking the rules, Doug Ross! You're going to get fired! Bye, Doug Ross. (Enjoy your movie career, Clooney!)
Peter Benton is a brilliant surgeon. Peter Benton is such a dick. Peter Benton needs a life lesson.
Nice to meet you, Dr. Weaver. Sorry, no one in the ER likes you—and that you can't get promoted! But keep fighting, Dr. Weaver; you're a great doctor.
Hathaway is pregnant with twins! Hathaway is going to raise them on her own. Hathaway is the ER's MVP. Hathaway can't do it all by herself. She still loves Doug and wants to be with him. Bye, Nurse Hathaway! (Good luck with your future TV career, Julianna Margulies!)
Doctor Carter is a great doctor now! And since we've learned Dr. Benton has a deaf son and he's found his humanity, I think I really like him.
Who are these new cast members? I'm not into this show so much anymore. Hey, you wanna grab a drink? I think I'm hungry again. I think I'll call my sister. Maybe I'll just go to bed.
Phew. That's a lot of memories. Cue years passing, the internet exploding, life evolving, new favorite shows coming and going, and networks deciding to reboot everything. Hi, Hulu, what do you have to offer us? HOLD UP—ER is now on Hulu?!? I had not watched ER since its original run (which was from 1994-2009). When the streaming service added all 15 seasons in January, I wondered, "How does it hold up in 2018?" So down the rabbit hole I went.
The Good
All the characters I loved, I happily loved even more the second time around. Their chemistry was explosive and magical. Their struggles, humor and tragedies played out in the most human way, thus allowing the viewers (me in this case), to feel connected to them. They were a family and succeeded in translating that mostly functional connection through the screen. The female characters were richly detailed for the most part.
Sorry you got stabbed and died Lucy, but your character was a cringeworthy mistake. The same goes for Anna Del Amico, who started off strong, then dissolved into the only-here-to-push-a-male-storyline-forward vortex.
This was almost the fate of Dr. Elizabeth Corday as well. Thankfully the writers implemented a course correction for the wonderful Alex Kingston and allowed her to shine.
Speaking of shine, can we talk about Laura Innes and her portrayal of Dr. Weaver? FIERCE. There was no indication that Weaver was gay in the first few seasons. The revelation of her sexual identity was met with prejudice and discord from, not only Weaver, but also, the staff and society as a whole. To showcase this journey in a respectful and aware manner was a bold move for ER, as well as NBC. In television's modern landscape today, it's easy to take for granted the progress made in telling stories like Weaver's. And while there is much progress still to be made, that progress was lessened by the vision of ER and bold executives and brilliant actors who were up to the task.
The rest of the female characters, mainly Hathaway, Lewis, Genie, Chen, Abby and the entire nursing staff, were also engaging, real and interesting enough to stand up to modern scrutiny. Can we get a loud, #METOO y'all!?
The Bad
I can't say much falls under the bad category. However, there was a tendency to cast short-lived female roles as "crazy" for no apparent reason (Mare Winningham, "Dr. Amanda Lee"; Julie Delpy, "Nicole with no last name"). Even Carla, Reese's baby mama, was questionably rational. No hard feelings Lisa Nicole Carson, you're amazing. I take no issue with making any character male or female, mentally unhinged, if it's done with a purpose. If it makes sense and is done thoughtfully, you have at the very least, an interesting story conflict. These characters were slighted and denied proper depth and explanation for their motives. There was a tonal shift and an excessive use of telegraphing emotions through fondue cheesy music. The earlier seasons were exempt from this lazy story execution. The later seasons were soaked in it, and though I love cheese, I prefer to eat it, not watch it.
The Peter Benton
With my first experience of ER, I was primarily focused on Doug Ross and Carol Hathaway. I enjoyed Peter Benton, played by the brilliant Eriq La Salle, but I didn't appreciate him the way I did the second time around. Benton was such a dynamic character, that his sphere of influence greatly affected everyone around him. He was brash, arrogant, competitive, exacting and ultimately deeply empathetic. The cracks in his tough veneer, shown through with his family struggles, his concern for his aging mother, his respect and devotion to Dr. Carter and finally with his deaf son, Reese.
Benton for me, was the show's real MVP who artfully articulated the black man's experience in the workplace and in the world. Having watched many shows through out my life, ER's representation of a well-rounded black man, as a lead character no less, stands out to me now more than ever. In my dream world I can imagine a show that pairs Peter Benton with This Is Us's Randall Pearson (next level Sterling K. Brown). In that world, NBC would once again announce that this show would be like nothing we had seen before. Two brilliant actors, two brilliant characters, with no capes or superpowers between them, just dominating life and our screens.
No, sorry, can't meet up with you guys tonight. Sorry I didn't text you back, Mom. Actually I am going to eat some comfort food cause this show is making me ugly cry in the best way possible.
Thank you, dream world. And thank you ER for making my real and dream world a happy place to be.
Watch ER again—or for the first time—on Hulu. Not a subscriber of the streaming service? Sign up here.