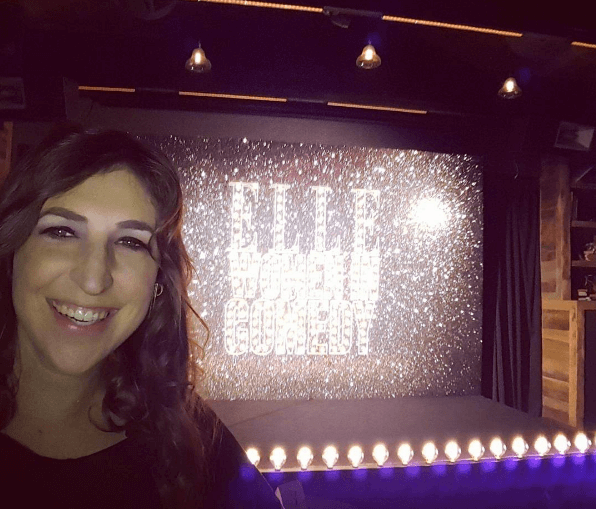 On June 7, I attended a "Women in Comedy" event hosted by ELLE magazine in honor of the four women who are starring in this summer's Ghostbusters reboot (and who are featured in four separate covers of the magazine). It was at a fancy club on the Sunset Strip and there was stand-up comedy by the following hilarious women on the ticket for the night: My current favorite comedienne Iliza Shlesinger (see more about her below!), as well as the ridiculously funny Ali Wong (six months post-giving birth!), Michelle Buteau, Nikki Glaser, and a surprise set by Leslie Jones, which was kind of epic. The whole cast of the new Ghostbusters was there and those are some really big stars. So my publicist and manager were right: this was an important event to attend and I couldn't NOT go.
I was really nervous to go this event, largely because I don't usually feel terribly "at home" at events thrown by high fashion magazines with tons of gorgeous, popular people in attendance. It's just not my typical jam. (Hiking boots and rainbow tube socks and unwashed hair? That's my jam.)
Anyway, here's my top three reasons that the evening turned out to be pretty fun:
My date. My date was my publicist Heather Weiss. We happen to live on the same block, but that's not the only reason we carpooled. Heather understands me and my quirks and my insecurities and she is the best person to go to an awkward (for me) event with. She both knows what I have to do (since this is a work thing and there are things I have to do) and she knows what my limits are. A good friend (or co-worker) knows how to push you just past your limit but not so far beyond it that you start to cry, which I have been known to do when super-anxious and uncomfortable. Heather navigated this event superbly and she made it possible for me to do what I had to do and also have fun too.
Red carpet madness. Red carpets are so intense. You have no idea. You get in line and wait your turn to walk down a carpet which almost always catches your heels and makes you almost trip, and then there are certain celebrities who will not be named who don't want to wait their turn so then they cut the line and then you feel like "Am I not a big enough star to cut the line? Why is she cutting the line?" But you wait your turn and you sometimes meet amazing people in line. Like Rachel Bloom and Aline Brosh McKenna (the creators of Crazy Ex-Girlfriend) and then you feel like, there's nowhere I'd rather be than meeting these women (I interviewed Rachel for GrokNation. ICYMI, here's the link!) And then you walk the carpet and if you don't trip and fall it's a good night. And I don't always know how to pose and I think I ended up looking stiff and awkward in the red carpet pictures, but oh well.
Iliza Shlesinger. I've been having a bit of a rough spell emotionally over here and I recently found a comedienne who has made my rough time better: her name is Iliza Shlesinger and I've watched her stand-up specials and I just love her. I resonate with her cynicism about dating and being female in particular, but I really appreciate how she can tackle misconceptions about women and men without seeming negative or catty. She strikes a perfect balance in my mind between mocking us for our ridiculousness and also not rejecting it completely. So I actually went hoping to meet her. Heather dragged me over to her – I had to be dragged a little bit because I was so nervous to meet her – and I kind of started to cry because I am such a huge fan of hers. I don't care that people said, "She probably loves you!" because it doesn't matter, and I feel like most people think of me as my character, but Iliza puts her real self on the stage so I really do know her, right!? Here's my fangirl picture with her. Can you tell I'm freaking out? I was freaking out.
I keep trying to feel comfortable with all of these gorgeous women around me at fancy events, but it still feels like I got invited to a big girls' party and I'm the awkward little sister. I keep thinking there will come a day when I feel at home at these things, but it hasn't come yet. And I think that's okay too. I'm just me no matter what, even if you dress me up and do my hair and make-up fancy and drape a leather jacket across my shoulders (which I think looked douchey but my stylist Adena Rohatiner kept saying wasn't).
I was super grateful to be there, very honored to be among such fantastic hysterical women, and incredibly thrilled to meet Iliza Shlesinger and eat some tomatoes off of a skewer.
Another red carpet evening success story, Mayim-style.