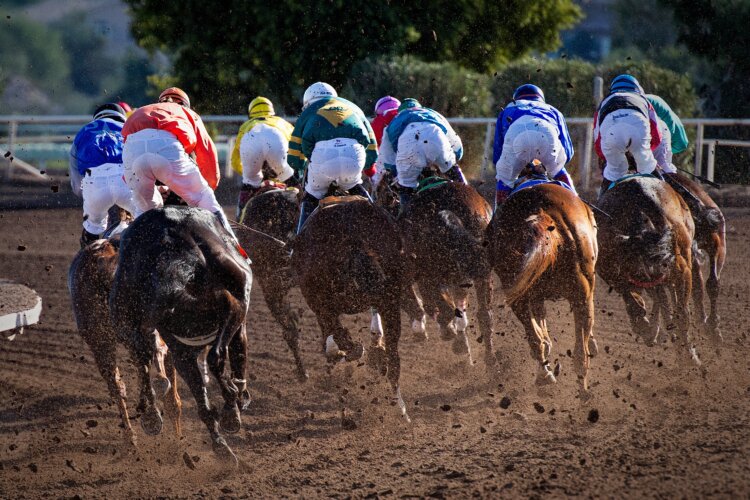 My family moved to Kentucky when I was 4 years old. Because I learned how to talk in another state, and partially by sheer force of will, I escaped the quintessential twang and lilt natives have in their voices. There were many other aspects of life in the Bluegrass state that I intentionally eschewed: UK basketball, fried chicken, conservative politics, country music. Other things were easier to love, or grew on me over time: bourbon, bluegrass music, creek walking (it's a thing), the people. The one thing I've loved and defended from day one, however, is The Kentucky Derby.
As far back as I can remember, I have sat in front of the TV and watched the Derby every single year, save for 2 Derbys when I was working retail in Ohio, where the first Saturday in May isn't considered a holiday. Despite living in Louisville for 4 years to attend college, I've never been to Churchill Downs for the actual Derby, but I've been for other races. My hometown is 15 minutes from Lexington, solidly in horse country. My family would go on long weekend drives down back roads where we passed beautifully green fields dotted with very expensive thoroughbreds. It was a beautiful place to grow up. Over the years I formed some very strong opinions related to the Derby. I have jockeys I love, I have trainers I hate (I'm looking at you, Todd Pletcher), I think mint juleps are gross, and the hats become more of a joke every year.
I moved away from My Old Kentucky Home at 22, and now that I no longer live there, I'm starting to see cracks in my love for the Derby. The further I get from it, the more I see how just not a big deal the Derby is to other people. Once May rolls around, they find my enthusiasm charming (I think), if not a little perplexing. I get questions about how the horses are treated, and do I really support something as cruel as horse racing? I typically counter with first-hand knowledge of the stable conditions these racehorses live in. "They're fancier than any place I've ever lived!" I quip. While it's true that elite racehorses live in air-conditioned and heated stables with an expensive diet, the same cannot be said for lesser racers.
Allegations and hit pieces come out time and again claiming animal cruelty. The possibility of horses being doped, or forced to race on an injury, is sickening. I'm not here to argue if it's actually happening or who is to blame. But as an animal lover and activist, I can't reconcile my love for the Derby with my love for horses. It's incongruous. The further removed I am, the more I realize what I've been supporting all these years. Even if all the horses were treated well across the board—even if—it would still be cruel to race them as hard as they do for as long as they do. They race for our benefit, and for our gain alone.
With the 144th Run for the Roses coming up on May 5th, I'm remembering Derbys past that gave me pause. In 2006, Barbaro won the Kentucky Derby, but a mere 2 weeks later during the Preakness Stakes in Baltimore he shattered his leg and was later euthanized after recovery efforts fell short. Then, 2 years later in 2008, I watched horrified as Eight Belles came soundly in 2nd place in the Derby but was euthanized on the track after breaking her front two ankles. I remember a sheet being put up, cameras focused on a spot the audience couldn't see, knowing they were putting down a Kentucky Derby runner-up on live television.
Every year, I pick a favorite racehorse to win. And every year I scream and cheer and frighten those around me with my 2-minute-long enthusiasm. And every year I worry that we'll have another horrible outcome.
I have no doubt that the trainers that work with these beautiful animals care about their well-being. Breeders and owners? Eh, maybe not as much. My hope is that there are more good people than there are bad involved in the sport. But with the large amounts of money involved it's hard to imagine much altruism in horse racing. Our enjoyment is at the expense of the animal's freedom.
I'm not sure how I can begin to rectify my 29 years of guilt. I should also be clear, to my fellow Kentuckians reading this, that I don't begrudge you your enjoyment of Derby Day—this is a bitter pill to swallow. The tradition and culture surrounding The Kentucky Derby are just as meaningful as the race itself, and it's difficult to separate the two. Personally, what I intend to do is look to organizations like Old Friends Thoroughbred Retirement Farms, or Thoroughbred Retirement Foundation and support their efforts to protect racehorses past their prime. I'm also going to change the way I engage with others about the Derby. As a representative of my state to outsiders, I have a responsibility to paint Kentucky in a better light than it is typically seen, but also condemn what I personally find wrong (Matt Bevin and Mitch McConnell aren't the only bad things about the Bluegrass).
This is the first year I plan to abstain from watching the Derby. It'll be hard. I love seeing the sweeping vistas of horse farms, shots of my beloved Louisville, and hearing the crowd poorly sing-along to "My Old Kentucky Home." I'm getting misty-eyed just thinking about missing it. I worry I'll be weak and end up sneaking a minute or two of coverage. But for my own conscience, and for the benefit of the animals I love, I'll abstain. And maybe soon, more people will come to the same realization I have, and choose to stop supporting an event predicated on animal cruelty.
[interaction id="5aea18e35341b823875a6727″]