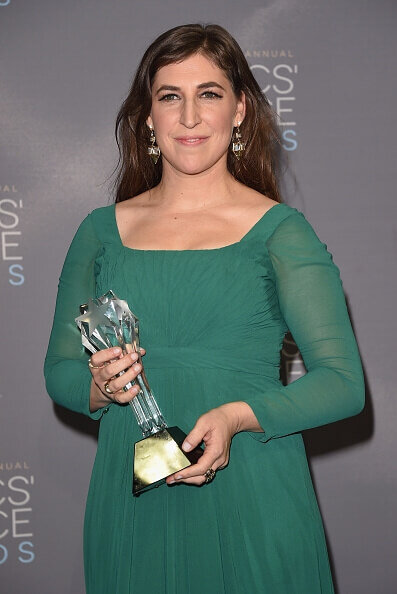 So I had a big night on Sunday…I had been nominated for my third time for a Critics' Choice Award and – in what was to me a shocking turn of events – I won!
I had no speech prepared or even a list of people to thank in case I won. I had no clue I might really win, and when they said, "And the critics choice is…" I said out loud "Judith Light," because I totally thought she was going to win.
But she did not, and I apparently did. I completely left my body and am amazed I made it onto the stage. As you can see, I truly was shocked.
A lot of other things happened that night which were amazing. I got to present an award for the first time, and one of the winners was someone I totally admire, Christian Slater. I made eye contact with Matt Damon and Amy Schumer, throwing her a "What's up?" chin tilt; she responded with a similar funny gesture which made me feel like she wants to be my best friend. (I could be wrong.)
Here are some other unbelievable (at least unbelievable to me) things that happened Sunday night.
1. Jen
I totally had a Jennifer Aniston moment. Actually two. We were seated a table away from each other but we made eye contact and she sent me air kisses and smiled really big. (As you may remember, Jennifer and I were cast as step-sisters on the sitcom Molloy, before we were on Friends and Blossom.) I didn't want to go up to her since everyone else was going up to her, but then we crossed paths backstage and I took the opportunity to share a hug and a moment with her. She was really sweet and warm and genuine even though she is so famous. That was my take home message from our moment together. I kind of freaked out after that happened, like a teenage girl at the concert of whatever boy band is popular right now.
2. Jay
I was next to Jay Duplass on the red carpet (which, by the way, was baby blue) and I kind of lost my mind. I watched the first season of "Transparent" and I have a major crush on him. And there we were right next to each other and I thought a 40-year-old woman such as myself would be able to keep it together, but I kind of got all speechless and weird and started blushing and I didn't even talk to him. It was just him being right next to me that freaked me out. At that moment, I was being interviewed, and the interviewer noted that I checked out –  she thought it was hysterical and suggested I talk to him. I was certain that would be a bad idea so I just tried to compose myself and carry on. I knew I thought he was talented and attractive, but I did not know I would have such a significant reaction to standing next to him. Now I know.
3. "Bitch"
Someone called me a bitch on the carpet and I'm not sure she meant it in a friendly way. I had to be moved to the front of the line to get my picture taken because I had to be backstage to present the non-televised awards. So someone working for the Critics' Choice show escorted me to the front of the line and I said to the two women who would have been next, "I am so sorry, I have to be backstage, I'm sorry I'm sorry I'm sorry." And the second woman was smiling and said, "No problem, bitch." I wasn't sure if she was using it like, "It's ok, girlfriend," but my date said she wasn't. So that happened.
4. Winning
When I called my mother after the awards show was over, she noted that, although I am never at a loss for words, I clearly was that night. I was supposed to say: "Thank you to the Broadcast Film Critics Association for recognizing my work this way!" I should have thanked my manager Tiffany Kuzon and my publicist Heather Weiss and my agents at Talentworks and WME and my lawyer Shep Rosenman and my kids of course. I forgot to thank Warner Brothers and CBS. But if I had not been in shock and had remembered all of that, then my 60 seconds would have been up. You get 60 seconds to say whatever you need to say, folks! That's not a lot!
What you saw happen to me is what total shock looks like. Like, I was not in my body. It was as if a parallel universe portal opened up and allowed me to win and I was not prepared to be in that universe but was there anyway. Like that.
Winning Sunday night does not feel like any other emotion I can put my finger on. It didn't at all come close to the elation, accomplishment and ecstasy I felt after giving birth to my second son at home in under 3 hours, unassisted until I pushed him out. It didn't feel like being in love, or the way you feel when you first kiss someone who you know you are going to be with for a long time. And much as being nominated is an honor, winning feels a lot better than the feeling of being honored; it just does.
But it's not like, "Happy town!" It's exhausting and overwhelming instantly. I felt like I was walking through jelly to get up the stairs. It feels like SO MUCH ATTENTION ON YOU. It feels like, "I'm making this speech and oh my gosh there's Anjelica Houston in the audience watching me wow wow wow."
It feels much more complicated. And maybe because my dad died 9 1/2 months ago, everything is really complicated. I have been thinking about my dad a lot these past weeks; I think about him on and off all the time, but these past few weeks for a lot of reasons he's been on my mind and in my dreams and stuff. So I knew if I said anything, it should be about him. And that's what came out of my mouth.
I miss my dad a lot right now. I don't want to do life without him. And now I had to do this thing – this winning thing – without him. I know he was with me. He's with me all the time. I purposely didn't gesture skyward when I said the award was for him. Because he's all around me. He was with me, but he's not here and that is hard.
5. Falling
And then I fell. In the press room. The heels I chose to wear were chosen for the following activities: walking a red carpet and sitting in my seat. The idea of me presenting of an award was added after the dress had been chosen and after the hem of the dress had been set to the height of the heel. So I was stuck in a very high heel for an evening of walking around backstage back and forth for award presentations and then winning added a lot of walking and so by the time I got to the press room, my legs were weak and my ankles were weak and they handed me the award to pose with and it's really heavy and my dress had a really long train and I just tipped over like a teapot. Just tip me over and pour me out was what happened. I caught myself with one hand and took a knee. And I'm okay. Everyone in the press room gasped. I'm told my butt was up in the air like in that "Timber" song I don't let my kids hear on the radio because it talks about booties up in the air. I don't think there were lots of pictures taken at that moment, thankfully. I got up mostly on my own and recovered and took a picture.
And I felt appropriately humbled. Universe: message received.
6. Celebrating
I didn't go to any parties after. I walked to my car with heels in hand, having given them up after the press room incident. I went home. I felt like eating a bowl of pasta which I rarely do so I ordered cappelini alla checca from an Italian place I've never heard of and I watched an episode of "Outlander." That was it. I spoke to my mom and my ex, and my Firstborn was whooping it up with delight in the background.
That was it. My stomach swelled up like a balloon from the pasta (thank you, gluten) but it was totally worth it. I slept with my cats like always and my hairless wonder of a cat kept me up half the night pawing at my face and wanting attention. Like any other night.
Today at work, they announced me as a winner before we started filming and I cried. And our stage manager felt bad because I was crying but I think everyone also understands me, the heck of a year I've had and how very emotional this all is.
7. Reflecting
I got an email from a student of my dad's last night. A student with special needs that my dad had included in one of his drama classes many years ago. This student told me my dad was a great teacher and that he was with God now.
Yes. But he's also with me now in a way he never was before. He was with me as I walked up both sets of stairs Sunday night: the ones that brought me to a microphone and a speechlessness I've never experienced, and to memories of him coaching me through my life for 39 years, and he was with me on the steps that knocked me down onto my knees, as frail and human as we all are.
One step at a time, we get to do this life. And if we are lucky, someone is always there waiting for us at the top of those stairs to lift us up again.