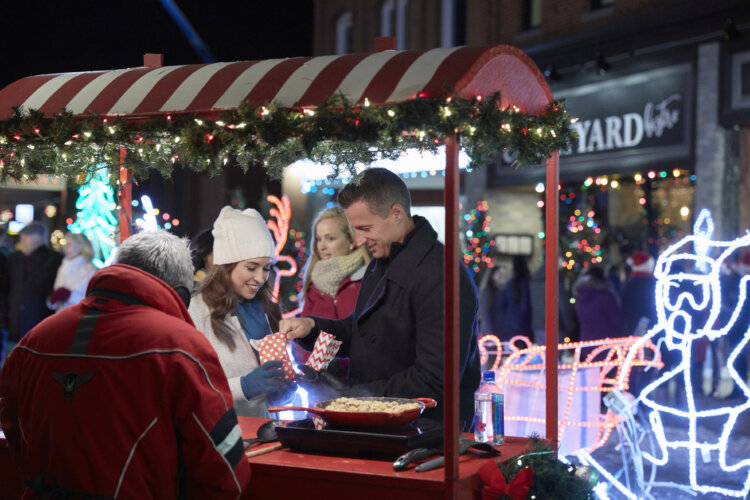 Welcome to tonight's Hallmark Christmas movie: She's a big city girl who's come back to town to save the theater/stop mom and dad from selling the house/prevent a developer from demolishing the bakery. He's a hometown guy with a too-short haircut, wearing a leather Members Only jacket, circa 1995. Sparks fly when they meet, but then … wait, is that mistletoe hanging overhead?
The strongest beverage ever consumed in this town is hot chocolate (rumor is they have a cocoa pipeline running under the cobblestones). There are no bars anywhere within the city limits, only candy shoppes, curiosity shoppes and one "quirky" bakery/coffeeshop.
The locals may not be able to get buzzed while surviving another holiday with their families, but that's no reason you can't enjoy a homemade cocktail while watching tonight's special couple uncover that long-hidden family secret in the attic, which allows them to save the Winter Wonderland Festival/win the Snowman Decorating Contest/finally celebrate Christmas "the way it used to be."
Here, we've paired a few of our favorite Hallmark holiday films with special winter drinks you can make at home.
A Gingerbread Martini with The Sweetest Christmas
Pastry chef Kylie Watson (played by Hallmark's reigning leading lady, Lacey Chabert) is competing in the finals of the American Gingerbread Competition. Look for old flames (literally and figuratively), broken ovens, "ambitious gingerbread confections" and a scene in which she falls off a ladder while decorating a Christmas tree (yep). The synopsis says that Chef Kylie "realizes she must embrace the Christmas Spirit or risk losing both the contest and her new love." You'll want to embrace a frosty Gingerbread Martini—made with Irish cream liqueur, vodka, coffee liqueur, gingerbread syrup and ice cream—while watching this tale of pastry and passion (or something like that).  
An Under the Mistletoe cocktail with Pride, Prejudice and Mistletoe
Heroine Darcy Fitzwilliam (see what they did there?) returns to her hometown of Pemberley and runs into Luke Bennett (sadly, they missed a chance to name him Elizabeth, which would have made this movie 14.5 percent more fun). As the twosome work on the big charity gala together, guess what flies? Yes, sparks. But also snowballs! Plus, there is mistletoe on pretty much every available ceiling in this town, so guess what happens next. The synopsis says, "As Darcy spends time with her family and Luke, she starts to realize what matters most in life and sets out to mend her relationship with her father, and possibly fall in love." Bottoms up to Darcy and Luke (and that limited-to-three-scenes dad) with this sparkling winter cocktail, Under the Mistletoe, made with Bombay Sapphire gin, orange, simple syrup, cranberry juice, seltzer and thyme.
Salsa Sunset Savory Margarita with Enchanted Christmas
Interior designer Laura returns home to renovate the Enchanted Lodge in time for the annual Christmas Eve show. But who'd a thunk? The show is being run by Ricardo, her ex-boyfriend and dance partner. (They're played by married-in-real-life couple Alexa and Carlos PenaVega, who competed on season 21 of Dancing With the Stars). "Feelings resurface when the duo temporarily reunites for rehearsals," the synopsis promises. Will they make it to Christmas without noticing that mistletoe on the ceiling backstage? Drink a toast to Laura, Ricardo and their definitely-not-dirty dancing with a Salsa Sunset Savory Margarita, made with fresh red bell pepper, jalapeño juice, cilantro, añejo tequila, lime, agave nectar and sea salt.
Holly and the Ivy Punch with Christmas at Holly Lodge
A developer sends Evan to assess the value of Holly Lodge, but, and watch out for this curveball, he finds himself unaccountably attracted to Sophie, the Lodge's owner (played by soap opera star Alison Sweeney). This masterpiece checks off all the mandatory holiday boxes: a tree lighting ceremony, slow dancing by the Christmas tree, a sleigh ride and—guess what?—a snowball fight. (Hey, watch out for that mistletoe, kids!) Invite your friends over for this one and serve up a bowl of Holly and the Ivy Punch, made with gin, lemon juice, Cointreau and rosé.
Christmas Cookie Cocktail with Christmas Cookies
Big city gal Hannah Harper comes to town to buy Aunt Sally's Christmas Cookie Company and shut down its factory. Even though she must have some work to do (a report to complete? a spreadsheet to analyze?), she finds time to go sledding, help finish making a snowman family, attend a gingerbread house competition, participate in a sled race and go to a Christmas dance with the hunky factory owner, Jake. (Is there mistletoe at the dance? What do you think?) While Hannah is leaving a trail of incompetence and Christmas spirit all over town, you can stay chill with a Christmas Cookie Cocktail, made with Godiva Vodka, Bailey's Irish Cream and peppermint schnapps.
Mistletoe Fizz with Christmas Train
It's the handsome guy from My Best Friend's Wedding (Dermot Mulroney), playing a once-great, now hack journalist-with-a-secret. He's got an assignment to take a cross-country train ride at Christmas, but, as the synopsis says, "he has no idea this journey will take him into the rugged terrain of his own heart." Don't worry, there's more to this movie than a has-been's aorta. There's also Joan Cusack, the daughter from Father of the Bride, a secret romance, a past romance, a potential romance and a petty thief. Prepare for this clickety-clack-down-the-track adventure by mixing yourself a Mistletoe Fizz, made from gin, rosemary syrup and cranberry juice. Then toast along with the cast as they enjoy the very same drink in the train's club car when the (spoiler alert) happy ending is revealed.