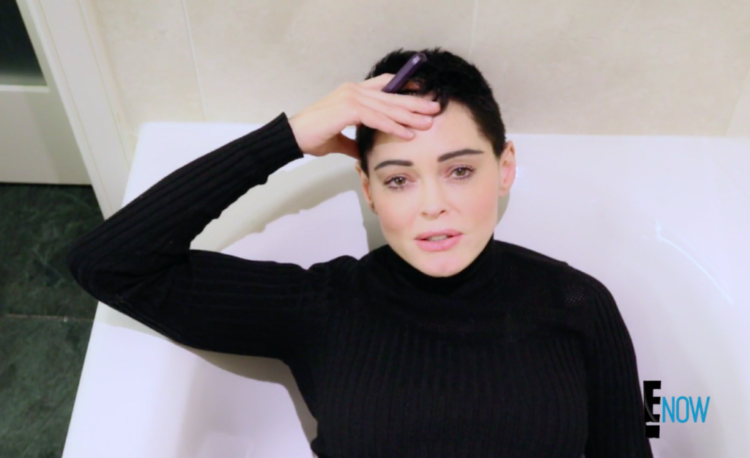 "Being brave doesn't mean you're not scared," says actress Rose McGowan, in the opening moments of Citizen Rose, the two-hour documentary special that debuted on E! January 30. "It just means you do it anyway."
McGowan was one of the first to allege that Harvey Weinstein had raped her; she said it happened 20 years ago. Because "seeing his face everywhere is triggering," McGowan decides not to refer to Weinstein by name, instead calling him "the Monster." "He's below humanity," she said, "you don't even get a name." Throughout the doc, she sticks to this conviction: editing audio so that newscasters don't intone his name, putting a black bar over his eyes in photos and blurring his name out of news clips.
"This town is paved on women's bodies, the bodies of the hurt, and all they did was dream," she says about her time in Hollywood, describing herself as having the "mind of an artist trapped in a town that sells you as a commodity…a young girl with no recourse and no voice."
In this installment, the first in a five-part series, McGowan faces her past – from growing up in the Children of God cult to being a teenager in what she terms "another cult," meaning Hollywood, and transitioning into the activist/artist she is today.​ (Mayim previously wrote about Rose McGowan taking on Hollywood culture here.) McGowan – while struggling with emotional fallout from her assault – also conveys her strength. "Art has saved me, how I see myself and how I see the world," she says. "The fact that I'm talking to you right now, I'd say it's a miracle but it's not because I did it." This is typical of the statements McGowan makes throughout – aware of her trauma and strong in her sense of self and convictions as an activist. The movement that she inspired, #RoseArmy, isn't about her, she said. "It's about the actual flower. We have thorns. Our thorns carry justice and carry consequence."
What's fascinating about Citizen Rose is not just Rose herself, but also the swirling of contemporary history (November of 2017 to January of 2018) as it's happening:
We watch and listen as we get an instant replay of the allegations as they poured in late last year – we remember them as they happened at the rate of about one a day, but hearing them read consecutively really underscores what a movement this has become and how quickly.
We learn about the Black Cube company, which assigned an agent to surveil McGowan and steal her book – titled Brave and released this week – so that "the monster" could prepare for the allegations it presented.
We watch her turn herself into authorities in response to a felony arrest warrant for narcotics.
We see some of the people who have become more visible since allegations were made public: Ronan Farrow, the journalist who broke many of the Weinstein stories; Asia Argento, whose Weinstein story broke through the rumors with some verified reality; Amber Tamblyn, the actress and writer who has emerged as an op-ed queen and activist; and we meet some of the women who accuse "the Monster," Louis C.K. and even Trump.
There's a series of bathtub confessionals meant to bring intimacy to these inner thoughts moments with McGowan. But those moments just overdramatize in a way that's not necessary – McGowan and her narrative are powerful enough on their own.
"My weapon is truth. That's all I have," says McGowan toward the end of the episode. "The fight for justice is not over, we will continue on. I want us all to be what we were meant to be before they told us we couldn't. We can rise, we can fly, we can heal. Let's get brave."
To learn more about Rose McGowan, read these allegations from her book, Brave (ETOnline)