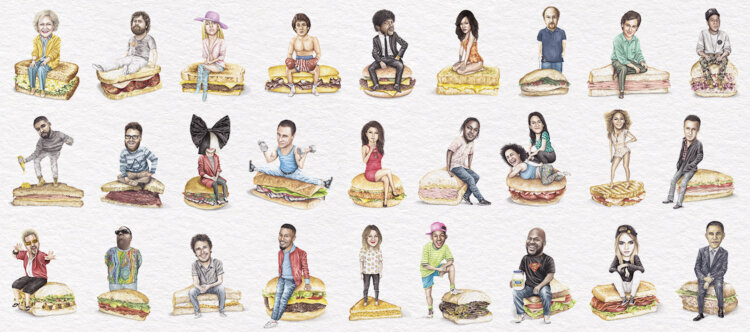 If you've spent any amount of time on Instagram's explore page, you know how easy it is to go down the rabbit hole. First, you're looking at pictures of Chrissy Teigen's kids, then you get sucked into videos of cake decorating, and the next thing you know you've been watching someone play with glitter and slime for a half hour.
Instagram is the perfect platform for all things weird and wonderful—which is what gave Jeff McCarthy the inspiration for his now-successful Instagram account Celebs on Sandwiches.
"The idea came to me while eating a sandwich, naturally," Jeff says. "I was looking to share some of my work online, and Instagram felt like the perfect venue for that."
Although he directs commercials for his "day job," Jeff has always been an artist and about three years ago he was looking for a new project. "I wanted a really specific idea that people could appreciate the humor behind," he explains of Celebs on Sandwiches' 2015 origin story. "And obviously our culture has a pretty serious love affair with celebrities and food, so I thought it could be fun to bring the two of those ideas together."
And so it began. After selecting a celebrity and doing some "sandwich research," Jeff begins by putting together a Photoshop reference. He says it's a crude mashup, but then he uses that to create the watercolor painting, which is then digitized and put on his Instagram. It can take anywhere from five to 10 hours to complete each one.
His first Instagram was Amy Schumer on a turkey and avocado sandwich. He says he always wants to paint people who appreciate the humor and she struck him as someone who might. The first celeb to notice her sandwich was Drew Barrymore.
"I had a pretty small following at the time, and I remember seeing my following growing quicker than it ever had before," he recalls. "Then I realized she had posted the painting that I did of her. And that was the first tipping point for it really to start taking off."
Jeff has done everything from Kaley Cuoco on an In-N-Out grilled cheese to Ruth Bader Ginsburg on a smoked salmon bagel sandwich from Russ and Daughters. Sometimes celebs are themselves, or sometimes they're characters, like with two of Jeff's favorites: John Goodman's Big Lebowski character, Walter, on a cheeseburger or Jason Alexander as George Costanza from Seinfeld on a pastrami on marble rye.
With more than 170,000 followers now, Jeff has fans in Jennifer Garner, John Mayer, Snoop Dogg and Jesse Tyler Ferguson, who commissioned him to create sandwich art for each of his Modern Family castmates.
And although this "side project" has become a much larger project—you can buy prints, pins and more on his website—Jeff never anticipated this kind of success. "I thought it could be a funny idea at first," he says. "I think people really seem to like the randomness and the absurdity of it. And as the positive feedback keeps coming in, I just continue to paint more people."
He says his list for who he'd like to paint is always growing (and includes a name we're very fond of on this site). As for Jeff's own favorite sandwich, he says: "I would say probably a tie between like a meatball Parmesan and a Vietnamese Bánh mì."
[interaction id="5bdc77ec82434b398f5d9d5b"]