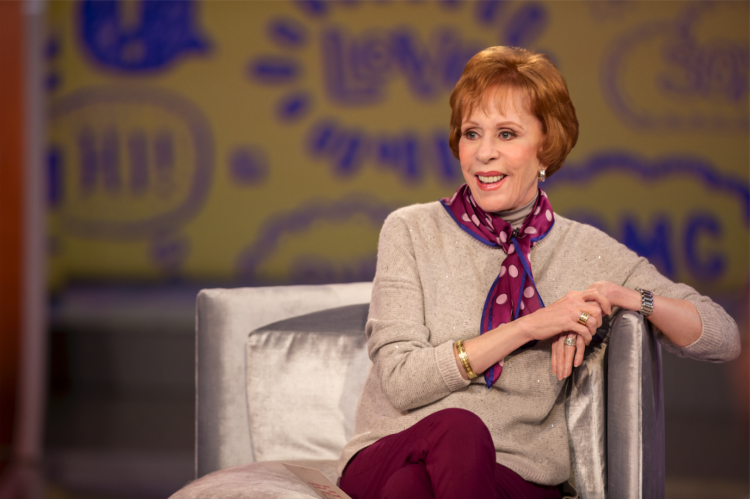 Famed comedienne Carol Burnett is back! On May 4 Netflix premieres her new show, A Little Help with Carol Burnett, which features Carol (we call her Carol), some celebrity friends and a gaggle of kids ages 5-9 who are the show's designated problem-solvers.
Carol Burnett has been performing for seven decades: she has received numerous accolades and awards, including Emmys and Golden Globes, and most notably, spent 11 years as the star of her own variety show, The Carol Burnett Show. The Carol Burnett Show combined comedy sketches with song and dance, and featured guest stars like Cher, Dick van Dyke, Sid Caesar and Lucille Ball, among others. And in the 1982 movie Annie, Carol slayed the role of Miss Hannigan.
The new show features adults bringing in their challenges and dilemmas, and the kids commenting in front of a live audience. The show is co-hosted by comedian Russell Peters and features celebrity guests like: Julie Bowen, Candace Cameron Bure, Mark Cuban, Billy Eichner, Taraji P. Henson, Derek Hough, DJ Khaled, Lisa Kudrow, Brittany Snow, Wanda Sykes, and Finn Wolfhard.
In honor of the returning comedy queen, we present some of Carol's most memorable moments.
Tug that ear, Carol. Every time Carol was on TV, she found an opportunity to tug at her ear. This was a special hello to her grandmother. Hear the story from the lady herself.

Me Carol, you Jane. Carol was also known for her impression of Tarzan's yell–audiences demanded to hear it, and comedians everywhere viewed it as iconic. On The Oprah Winfrey Show in 2008, Carol does the yell to the great delight of fanboy Jim Carrey.
Here's Jim getting emotional with his idol.
"Little Girls." In "Little Girls" from the movie Annie (1982), Burnett is drunkenly deranged, managing to simultaneously convey Miss Hannigan's dream of a better life alongside a disturbing and simmering murderousness. 
Any questions? At the end of her eponymous sketch comedy show (on air from 1967 to 1978), Carol Burnett was known to bring up the house lights and answer questions from the audience. When Burnett recently appeared on Stephen Colbert's show, he spoofed/stole this moment from her and then the lady herself showed up to take over. 
The Toilet Tissue sketch. This sketch from The Carol Burnett Show has a simple premise, run into the ground, still strangely funny as it escalates, even though you know where it's all going.
Running into an old flame doesn't always go the way we imagine it will… this sketch highlights the difference between imagined encounters and real ones. 
What's your favorite Carol Burnett role? And yes, it's totally acceptable to say it's her guest turn on Law & Order: SVU as a suspect who may have murdered her philandering husband, or Glee–playing Sue Sylvester's mom!–or any of the other moments in her long and esteemed career!
Have you seen this new show? Tell us what you think!