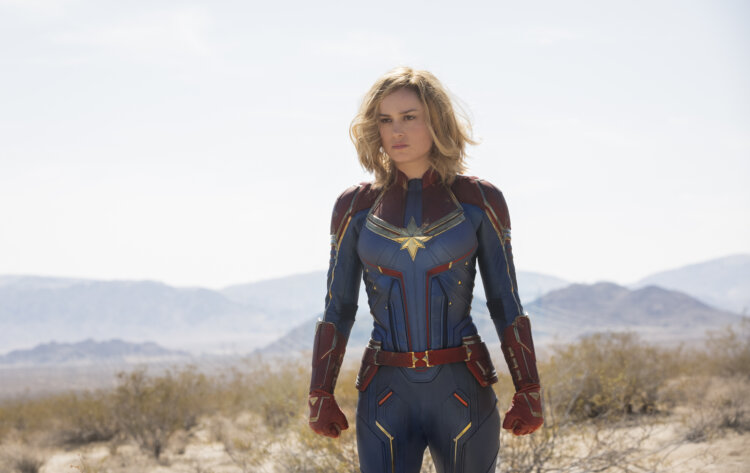 The first trailer for Captain Marvel debuted on Tuesday, and with it comes a first real look at the Marvel Cinematic Universe's newest hero—and [spoiler if you haven't seen Avengers: Infinity War], its biggest hope.
The titular superhero (played by Academy Award winner Brie Larson) was teased earlier this year in an Infinity War end-credits scene, when former S.H.I.E.L.D. Director Nick Fury (Samuel L. Jackson) paged her to request aid. We didn't see her … until now.
The upcoming film—which is set in the '90s—will center around Carol Danvers, an Air Force pilot who gains superpowers after her remaining DNA is infused with that belonging to the Kree, an ancient alien race. However, as the trailer reveals, Carol's story will pick up after that life-altering event, as she returns to Earth while in the midst of an intergalactic war between the Kree and another race known as the Skrulls.
With the trailer giving us a glimpse of Earth's mightiest hero, there are several reasons to be excited for the already highly anticipated film.
This will be Marvel's first female-led solo film.
Despite the MCU being filled with many worthy female superheroes deserving of their own films (Avengers's Black Widow, Thor: Ragnarok's Valkyrie and Black Panther's Shuri just to name a few), this will be the studio's first film featuring a female solo lead.
And it's about time. (Even competitor DC Studios beat them to the punch with last summer's box office success Wonder Woman.)
This will be Marvel's first female co-directed film and female-scored film.
Carol Danvers isn't the only one making a major blockbuster landing (though hers is more literal!). Captain Marvel marks the first Marvel project to be helmed by a woman, with Anna Boden (Mississippi Grind) directing the film alongside her longtime collaborator Ryan Fleck. Meanwhile, on the musical end of things, Pinar Toprak (Krypton) will be providing the film with its score, making this the first MCU film to feature a female composer.
This film will be largely standalone.
One of the most daunting issues for fans looking to rewatch all the Marvel films in preparation for a new one—or perhaps introduce friends and family to them for the first time—is the sheer number of films that have come out in the past 10 years, with each hero's (or group of heroes') film and their respective sequels all telling a larger interconnected story that most recently culminated in Infinity War.
However, Captain Marvel side-steps all that, with its '90s setting taking place decades before the recent events in the MCU. Not only does this give longtime comic fans a chance to finally see why she's been away from Earth and learn how she might impact Avengers 4, but it also gives newer, curious fans a chance to join in the fun.
That '90s show.
Television and movies are filled to the brim with odes to the '80s, so it's rare to see the just-as-colorful decade get some much-needed love. But it isn't just the fun references that's going to make the movie such a treat, it's the fact that this particular decade allows us to "meet" a few familiar faces.
In the case of Nick Fury, it's a chance to see him as a (two-eyed!) agent working with his first real superhero years before he becomes Director of S.H.I.E.L.D.—and years before he approaches Iron Man about forming a team of them. In the case of Agent Phil Coulson (Agents of S.H.I.E.L.D.'s Clark Gregg), it's a chance to see a character currently dealing with a host of Marvel threats on the small screen, as his younger, freer, less thought-to-be-dead self on the big screen.
As for Guardians of the Galaxy's Ronan the Accuser (Lee Pace), it's an interesting opportunity to meet a villain before he goes rogue, as it appears that the eventual Kree-warlord will also be in pursuit of dangerous and shapeshifting Skrulls.
The larger Marvel Universe.
Carol may not be the only hero who boasts the title of "Marvel" making a debut in the film. Appearing alongside her will be Jude Law, who is rumored to be playing another hero: Mar-Vell, aka the original Captain Marvel. In the comics, he's actually the first hero to hold the title of "Captain Marvel" before passing it down to Carol, who is his eventual successor. If that is indeed the case with the movie, then that aspect of their relationship will not have changed, as Law's character (Walter Lawson) is currently the leader of Starforce, the intergalactic military squad Carol's a part of—as well as serving as her mentor.
Also featured in the trailer was a glimpse of Carol's best friend and fellow Air Force pilot, Maria Rambeau (Lashana Lynch, Still-Starcrossed), whose daughter Monica goes on to become the second Captain Marvel in the comics.
Carol Danvers herself.  
Fans have been excited to see the character—and her signature helmet—on the big screen for a while now, and this morning's trailer is a very good reason why. Not only is Carol the most powerful hero in the MCU (as stated by Marvel Studios president Kevin Feige himself), but as seen in a brief, yet powerful sequence in the trailer, when faced with the odds she just doesn't give up; picking herself up after each failure or fall, curling her fist in determination. (Something her large female following might relate to.)
What's even more exciting is that it seems like the film will be treating her like the complicated and sometimes flawed character she can be. Her past appears to be wrapped in mystery (even to her), and it seems like she's been away from Earth for several years, residing on the Kree homeplanet of Hala, serving as a member of Starforce, with only a few memories of her time on Earth.
All this to say: We can't wait. What were your favorite moments from the trailer? What are you looking forward to? We'd love to talk about it below!
Captain Marvel flies into theaters on March 8, 2019.