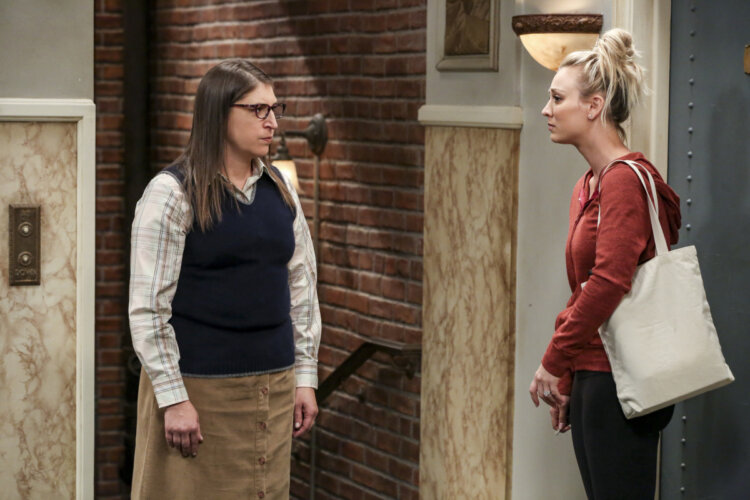 Can you believe we're already to episode 7 in our final season of The Big Bang Theory? I sure can't. It's going by too fast!
This week's episode "The Grant Allocation Derivation" had a really awesome plot for the guys—which as a former graduate student in the sciences, I related to TREMENDOUSLY. The distribution of grant funds is something highly disputed and highly coveted, and I honestly wish Amy would have been a part of that plot!
I loved the female scientist in that plot line, Dr. Lee (played by Maribeth Monroe), who was training crows and who had an eerie attachment to figuring out their patterns. I loved her scenes!
As for the ladies' plot, I related to that one, too! Bernadette is a working mom who is exhausted after a day at the office and comes home to two small children. She is overwhelmed and burnt out, and she seeks solace in the comfort of the playhouse the gang has just assembled for the Wolowitz children.
Kaley, Melissa and I had a lot of fun filming our scenes this week. Here are some of the highlights … along with behind-the-scenes photos!
A tiny space. Yes, we actually filmed inside of a playhouse! Our carpentry department built an actual lovely little playhouse (much nicer than the one my boys had, my boys would probably point out to me) and our cameras scooted right up to it — it has no front wall, obviously — and we filmed in that cramped little space for hours. Yes, my legs hurt from being folded under me for hours. It was also super fun to sit on a beanbag chair. Those are just good times.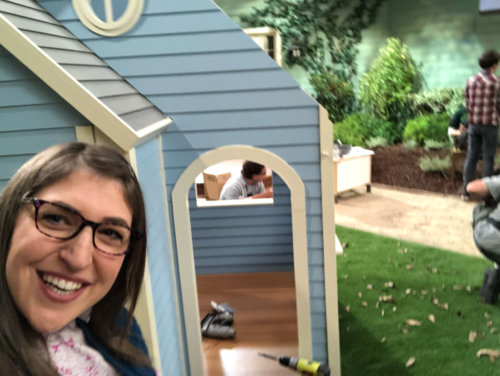 That was a real Easy Bake oven! I never had one, but I always wanted one. It's indeed adorable. So tiny. So pink! So cute.
Yes, Kaley ate many tiny quesadillas. They cut them into cute little circles and they made just a certain number so Kaley had to get the take right in I think six quesadillas' worth. And it wasn't a problem; she's a pro!
And, yes, Kaley made us laugh hard with her facial expressions à la Lucille Ball in that scene. Fortunately, she was the only one on camera and I could giggle off camera. I loved doing those scenes with us having to be quiet and give funny reactions. It's not often we get to have scenes just the three of us anymore, and this was a real treat!
One more tidbit you might be interested in: The scene where Amy confronts Penny on the apartment landing about her and Bernadette spending time without her was originally different; it involved Bernadette, too, and then the writers realized it didn't track correctly. I was disappointed because the scene had some really funny jokes that I loved saying. I was disappointed.
The night before we filmed, they rewrote the scene with just Amy and Penny. And it turned out to be even funnier. I loved the scene so much. I loved getting to do that kind of interrogation, and I just had the best time. It reminded me that as actors, it's our job to trust our writers! I am so glad I did. I think it turned out really great.
This episode covered a lot: academic competition, mom exhaustion, bonding with girlfriends, and some really fun good old-fashioned comedy. I love my job.