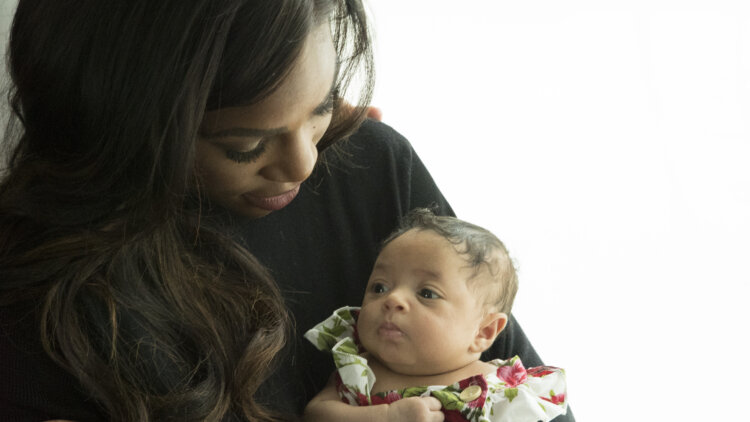 It's tempting to regard Serena Williams as a goddess. After all, to us mere mortals she certainly is. Few athletes—male or female—have ever matched her dominance. The 36-year-old tennis great has won 23 Grand Slam titles and redefined tennis in her image. She's been declared the G.O.A.T., and there's really no debating it.
The new series on HBO Being Serena does not deny her any of this. In fact, it often serves to reinforce her greatness, which figures since it's being produced by IMG, a subsidiary of Endeavor, Williams' agency. But it also gives us a portrait of a woman who fully admits to her own vulnerability as much as she is unapologetic about her competitive drive. She approaches motherhood with the determination and perfectionism she exhibits on the court, while also acknowledging that she has no preparation for the impending new phase of her career. This is not: Serena, She's Just Like Us. It's closer to: Serena, Can She Have It All? But the answer to that is: Of course. It's a look at a remarkable person that shows just how human remarkable people can be.
True to that: The first of the five parts, which aired last night on HBO, is titled "Fear." This opening half hour begins when Serena, at the top of her game, learns she's unexpectedly pregnant and then goes ahead and wins the Australian Open. (Beating her sister Venus in the process, by the way.)
Then, we jump ahead in time as Serena approaches her due date. Her trophy from that aforementioned tournament is now in her baby's room. It is evident she is tackling parenting with the same intensity with which she plays tennis. "I want to make sure I'm the best and I'm good enough," she says. She compares her desire to win to her desire for her baby to be healthy. Meanwhile, she's also antsy to return to the court; her prenatal workout routine would put most normal workout routines to shame. Serena is probably best known for striking fear into the hearts of her opponents as they watch her serves whiz by. Here she admits to being afraid herself, and speaks to how potent that is. She intentionally cuts through the notion that she's infallible while also strengthening her own legacy.
Projects like this, can feel like an ad for their subject, and to some extent Being Serena is just that. It is very much the story Serena wants viewers to hear. (It seems unlikely you'll be hearing about past controversies or from Maria Sharapova over the five episode run.) There's not even a credited director, who might challenge her with a competing voice. Because of this, at times, Being Serena can feel devoid of context. The talking heads are all in Serena's inner circle like Ohanian and her agent Jill Smoller. That it's relatively free of background information isn't entirely a bad thing—Serena's history has been covered a lot—but it means it can feel a little rushed and unanalytical. For instance, Serena acknowledges how different her child's upbringing will look from her own in Compton, but doesn't really choose to dig into that.
There are moments that are certainly posed—like the glamour shots with her husband, Reddit cofounder Alexis Ohanian, that are pictures of a fairytale romance—but Serena is also willing to let the camera capture her in unvarnished moments. It's not vérité, but there are times she looks peeved and anxious. Next week's installment, which I was able to view via screener, features footage of her C-section, zooming in on her face. It shows her in pain as she deals with the complications of that, feeling unable to breathe, demanding a CT scan to identify a pulmonary embolism in her lungs, and saving her own life. By the end of the episode, however, she's back on the court, plotting her comeback.
Watching, you're just in awe. That's not an unfamiliar feeling when seeing Serena triumph. Still, this is different. Being Serena makes Serena more relatable, sure. After all, how many women have had nerves about motherhood? That's not it though. It's seeing her apply her focus that made her a champion to the everyday.
Watch Being Serena on HBO Go.