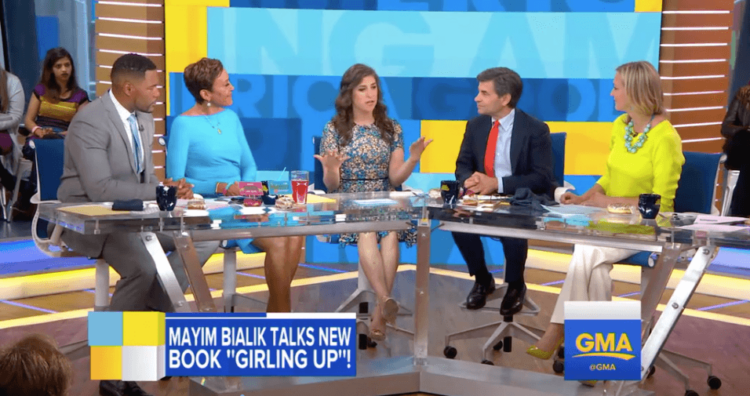 [Photo: Mayim on GMA]
As you probably know, I am in the middle of a very intense book tour for my new book Girling Up. My publicist Heather Besignano of E2WCollective has been working both of our tushes off and it's been a very packed schedule. The tour started in New York where I did so many things; highlights included Good Morning America, The View, and Colbert. I came home after four 14-hour days in NY to two days of press in LA; this coming week I go to San Francisco and then back to New York for BookCon and some charity work for the JED Foundation as well.
Because Girling Up was born due to a post here on GrokNation, and because I've felt your support and encouragement throughout this tour, I wanted to bring you behind-the-scenes with me a little, by sharing some tidbits about the tour I thought you might find interesting.
About My Editor, Jill Santopolo. My editor, Jill Santopolo was the one who reached out to me after reading my post about the coitus episode of TBBT right here on GrokNation. She is the one who asked if I'd write more about being a late bloomer in a whole book, which then became Girling Up.

We had many email interactions and maybe three or four phone chats, but I had never met her in person until I got to New York for this book tour. She has a very kind voice and she is incredibly smart, but it was really great to put a face to her voice and brain! She happens to look so much like Jennifer Grey in "Dirty Dancing" and she was wearing a tiny denim jacket I could never get away with wearing; she was just a total treat to meet in person. I am so grateful for the time she took guiding me in structuring this book they way I did.

The Late Show with Stephen Colbert. Stephen Colbert finally had me on his show for the first time. I respect him very much and I was so thrilled he had me on to discuss my book. The thing is, I didn't know until I arrived at his studio that I was the "top-billed guest." This doesn't mean anything more than I was the top-billed guest – meaning that I would be the first guest on the couch that night and they'd mention my name first in the promos – but I've never been that person before. When I told him that before we filmed my segment, he looked shocked and said, "What?!" kind of the way people react when I say I'm single. ("What!? No you're not!" Um, yeah I am. Anyway.) Being the top guest on what I consider to be the late-night show most aligned with my sense of humor was such a thrill. I am told the segment went well. I love this picture of ME making HIM laugh!
About My Clothes. My stylist Adena Rohatiner sent me to NY with pictures of me in all of the outfits I had to wear with notes about which shoes to wear and what jewelry. It worked really well and I am so appreciative of her helping me look spring-fresh and age-appropriate for this whole tour. (Flower dresses are back in, for the record.) Here's a super secret about me: I stopped wearing any dresses that require SPANX about 2 years ago. I met with a designer named Carrie Hammer, who inspired me to seek out clothing that fit MY body type; not to make my body fit into clothing designed for women who don't have my body type. What a revolutionary thought: I have been blessed with curves and I've had 2 children and have never had plastic surgery: this is my body. Since I met her I think I have worn SPANX maybe twice out of several dozen outfit choices. For this tour, I only wore SPANX once: for Colbert! The dress material was very clingy and in a light color, clingy is not so good. Actually, it's bad. If I had realized it in LA, I would have found a slip that would have solved the problems (the problems being my body LOL), but I made a SPANX exception so that publicist Heather wouldn't lose her mind (that's sort of a joke). I consider it a real achievement personally to be okay with finding clothes I feel good in. And when I see pictures of me in dresses and I see that you can see a "roll" of flesh above a waistband, I feel a few things. First I get a pang of "Darnit! I should have worn SPANX!" because I am just so not used to seeing those normal things on women's bodies in the media. And second, I wish I would have stood up straighter. Because that would minimize those "rolls." And finally, I remember how comfortable it is to not squeeze this body into a sausage casing for the sake of pretending I have a body I don't.
Talking about Myself. I hate talking about myself. Especially when I have to talk about myself all of the time. Like, I super-duper don't like it. This press tour is basically me talking about myself all of the time. And then people talking to me about me talking about myself. It's a lot. And I felt bad I couldn't see lots of friends and family in NY on this trip because my schedule was such that my voice itself was exhausted every day. And my introvertedness was being pushed to the max with all of these public appearances. I am so thrilled we hit the NY Times Bestseller List but I am ready to stop talking about myself. Seriously.
The Bestseller List. It's unreal. Truly. And the first thing I thought of when I got this news is the last thing I will leave you with. Because it's the unexpected and the grounding of reality that for me is the most important thing in my life to accept: I wish my father had been here to see this.
Thank you for buying and sharing my book. Thank you for watching me talk about myself on talk shows and in magazines over and over. What I'm really doing is talking about you, though. I'm sharing my experience as a woman – as a human, really. And I'm hoping this book touches so many young girls who need to be empowered with knowledge about their brains, their bodies and their potential.

Thanks for Girling Up with me!