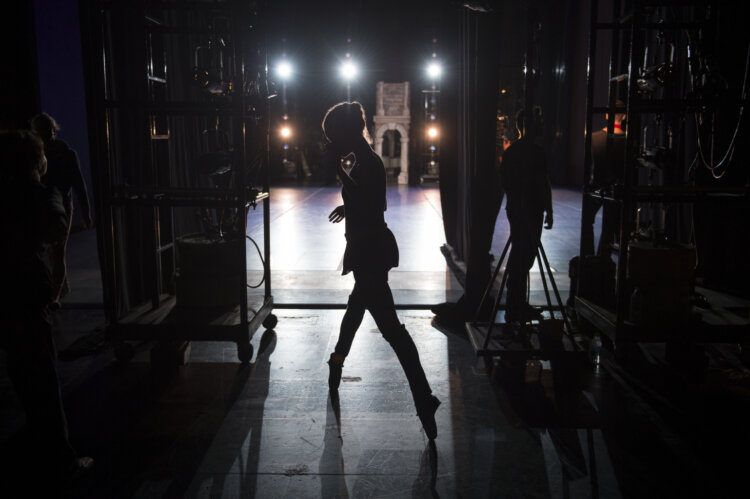 Prima Ballerinas are always young, slender women, dance classes of toddlers in tutus are often a sea of little girls, and today's most recognizable ballerina, Misty Copeland, is a strong woman of color. But ballet, like many forms of art, continues to be dominated by men. Choreographers and directors, the people who run the entire ballet, are primarily men. That's what makes Ballet Now so special, and Tiler Peck's commitment to it such a pleasure to watch.
Tiler Peck, principal dancer with New York City Ballet, was the first woman asked to curate The Los Angeles Music Center's famed BalletNOW program. She's a phenom, an entrepreneur, an absolute "stage beast," as renowned tap choreographer and dancer Michelle Dorrance quipped. Dance documentary aficionados will recognize Tiler from Ballet 422, which documented Justin Peck's (no relation) journey to choreograph his first show for NYCB at age 26. Ballet Now follows much of the same trajectory, showing Tiler's struggle to manage all the minute details of her show—lighting cues, choreography, orchestra meetings, and not to mention personally dancing in three or four of the 16 ballets each night.
Ballet Now does, on the surface, seem like any other documentary about ballet. First Position, Ballet 422, Ballerina, A Ballerina's Tale…they all tell a story about the passion of the dancers, the struggle to perform, and the pain their bodies go through. What makes Ballet Now different is the historic moment director Steven Cantor is capturing. In the film, Tiler herself only briefly touches on the importance of what it means to be the first woman asked to curate a show of such magnitude for the Music Center. Instead, she wants the attention on the dancers she has chosen and the ballets she has so artfully put together. Particular attention is given to the rehearsals of 1, 2, 3, 4, 5, 6, a dance with a fusion of ballet, tap and hip-hop. It's a diverse and difficult piece which is incredibly moving.
The spirit evident in Ballet Now is one of advancement. There's a clear desire from Tiler, and the dancers involved in the program, to bring ballet into the modern arena and to new audiences. The breakneck week leading up to the premiere shows Tiler running from meeting to meeting, rehearsal to interview, pausing only momentarily to have the stereotypical ballerina meal of a single banana (there is one comical shot of a cascading pile of bananas backstage near the end of the week). Tiler, also a Producer on the film, is clearly exhausted but remains in control of the operation. She impressively commands the attention of her dancers to adjust their timing, she gracefully accepts adjustments given to her by other choreographers, and she quietly sneaks away to have the physical therapist audibly crack her spine when she deals with inevitable injury.
All this is impressive not simply because she is a woman, but because she is a dancer who has worked her way into a Prima Ballerina position with one of the best companies in the world and continues to excel in the world of dance. The story depicted in Ballet Now is reminiscent of Wendy Whelen's journey in Restless Creature, a documentary released in 2016. In it we see Wendy, a beloved dancer who is older than a "normal" ballerina, struggling through injury and ageism, but still dancing. Wendy remains in control of her career and expertly handles managerial efforts for a new show, much like Tiler does. Both are beautiful documentaries, and clear love letters to the art of ballet told by women with a deep passion for dance.
At the end of Ballet Now, the viewer is treated to full-length recordings of a few of the ballets within the program. Ballet fans will also delight at fun, backstage exchanges between Tiler and fellow principal dancer Isabella Boylston, plus other insights like the dozens of pointe shoes Tiler dumps into a suitcase or her dance with famous clown and actor Bill Irwin. Any lover of dance or ballet novice will surely be captivated by this documentary.
Watch Ballet Now on Hulu. Don't have a Hulu account? Sign up here.