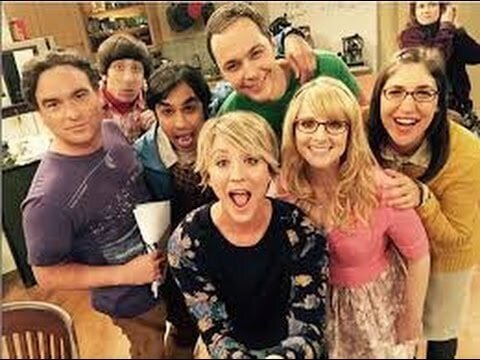 Here are my Top 5:
Friends! Although we do see each other here and there throughout the summer, several of our cast members are away a lot of the summer, and there's nothing like us being together the way we usually are together. So coming back to work means we are all in one place again – all 7 of us – and that's just fun. In addition, guest cast members who are on our show a lot, like Kevin Sussman, are very missed since we don't see them every week and add summer hiatus to that and we miss people like Kevin! So it's just nice for us all to be back together. Our producers and writers are a really approachable and smart and interesting group of people, so it's also important for us to have catch-up time with them. It really is like an extended family.
Crew and Staff. We have a really neat group of people who make "TBBT" run. There's our on-set team, which includes our director, assistant directors, script supervisors and set dressing folks. Then there's the crew of hundreds of people who are in charge of lighting, cameras, microphones, set design, painting, carpentry – everything that's needed to make our show run. The staff of our show typically works with the producers and the writers in a building not attached to the set, but we get to see them when they come for our rehearsals daily. It takes so many people to make even one episode of TBBT work; all of these people are part of this team and it's a great team.
Returning to a Regular Schedule. When I go back to work, my schedule becomes very predictable. Because we are a sitcom, we film in front of a live audience and our schedule doesn't vary every week like single-camera shows do. Every day we pretty much know the hours we work, from August all the way through April. I know actors on single-camera shows who work 12- and 14-hour days, every day, six days a week. That's not our schedule! So the regularity of our schedule means I know when I see my kids, I know when I can go to therapy, I know when I can work out, and I know when I can try to see friends and stuff like that. Much as I like the relative freedom of summer, it's also nice to know where I'll be for the next nine months!
Creativity. I get to play dress up and be an actor again full-time now that we are back at work. I am trying to commit to enjoying the process even more this year than I have in the past. Not that I don't love being an actor; but a lot of my stressed-out brain is thinking about a million things at once on any given day. I have spent this summer trying to simplify my life to some extent and I hope this year at work I can keep that going and focus in on being in the actor zone when I am supposed to be in the actor zone, without worrying about the dozen other things happening on any given day of my life.
Our show! People ask me all the time for inside scoop on the upcoming season. But I have no idea what the writers have in store for us this year! I don't know if there will be more seasons; I don't get to know that stuff! What I do know is what you know, that Bernadette is pregnant and I assume the baby will be born at some point…! I don't know if Amy and Sheldon will have more coitus, I don't know what meeting Penny's family is going to be like – although the guest cast they hired sounds like it's going to be pretty stellar. I trust our writers, who are very smart and very good at their jobs – they care deeply about giving our characters interesting things to say and do, so I don't like to know what the writers have planned; I just take it as it comes. It's more fun that way – just like real life. You don't get a heads up about the next nine months of your life, right? So I'm cool being along for the ride as Amy as well.
I know you are anxiously awaiting Season 10 and we promise to give you the best episodes we can. I hope everyone enjoys the rest of their summer while we head back into Stage 25. On 8/16, we'll be taping our first show of the season, and the 10th season airs on CBS on Monday September 19th at 8PM. See you in the fall!