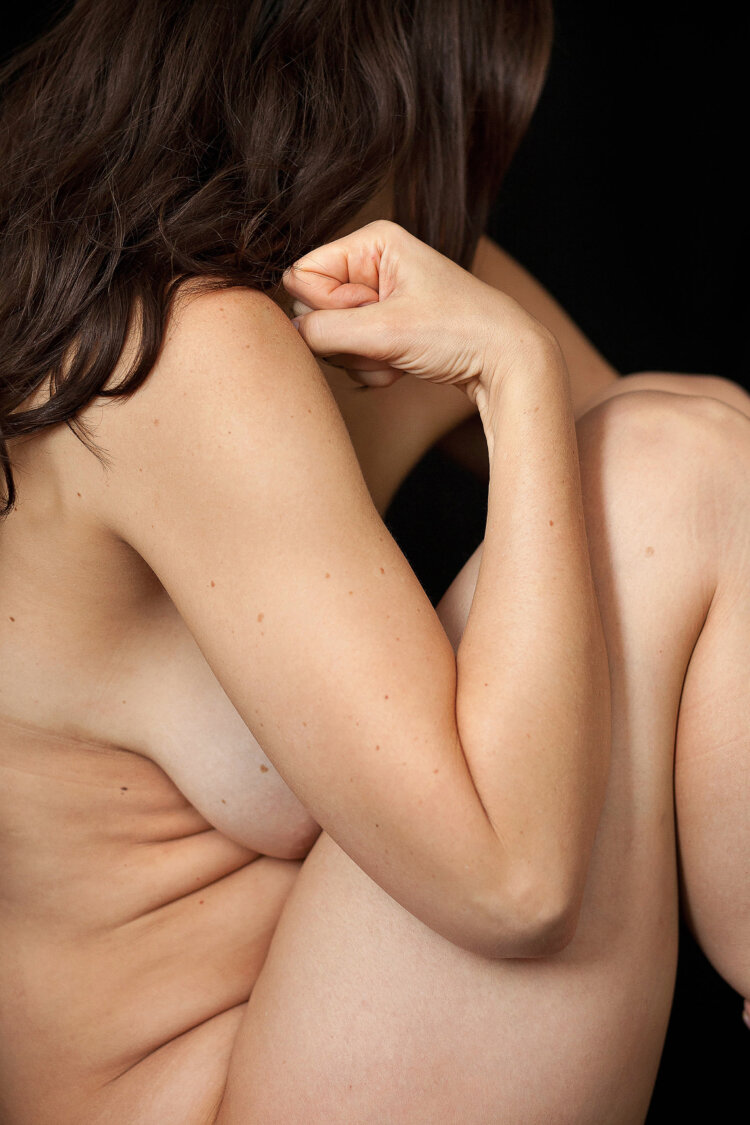 For her book, As Is: Women Exposed, photographer Amy Gelb created nude portraits of all kinds of women—all ages, all sizes, all races, all religions. "This body of work is my call to action," she writes in the introduction. "A response to the spoken and unspoken messages women receive around their bodies, their self-worth, and the responsibility to be beautiful."
The book shows the bodies but not the faces of her subjects, who remain anonymous, and includes quotes from each of them. Our own Mayim Bialik wrote a blurb for the cover: "Amy Gelb is doing a brave and marvelous service not only for women, but for all people, by showing deep respect for the emotional complexity and startling beauty of the human form."
Here, Amy answers some of our questions about her work.
GROK NATION: I would love to know about the genesis of the project.
AMY GELB: My relationship with my body had been, and still can be, complicated. I noticed that my moods and those of the women in my life were impacted by internalized messages of worth. When I was an actress, I saw models who seemed so "perfect" struggling with their body image right along side women across generations and body types and I wanted to understand more about this phenomenon. Why do women feel this responsibility to try to be beautiful in the first place? Why can't we shift the conversation away from being beautiful toward what is meaningful and purposeful about our bodies? I started photographing women and discussing their relationship to the word beauty. I questioned them about the responsibility they felt to be beautiful. The project began as a very personal exploration of this phenomenon and evolved into what I like to think of as a visual manifestation of the conversation happening in our country today. A time for women to live in our power, with meaning and worth.
How did you choose the subjects?
I started by talking about the project everywhere I went. Women started to ask how to get involved. I walked up to strangers in grocery stores, on the street, pretty much everywhere I went in Miami and NYC. I handed out business cards and let women know that they could contact me if they were interested in being photographed. I made sure to punctuate that there would be no names or faces in the images. I would photograph anyone identifying as a women from the ages of 19 and older.
Did anyone need convincing?
I didn't want to convince or pressure anyone. Most of the time I told them my inspiration for the work and my hopes for how it might open up a new conversation about our relationship with our bodies, our purpose and our experience as women in today's society. Most women laughed and said "NO!!!" I heard a lot of… "Absolutely NOT, if only my body were…. I don't even want to see myself naked, You know I have a big scar, stretch marks, boob job — is that okay?"
Talk about the choice to make the women anonymous.
To begin with, I thought that women might agree if they were protected from judgement and consequences. Anonymity allowed me to explore the aspects of myself reflected in each of these women.
Why did you make the decision to not show the women's faces?
To protect the identity first and foremost of the brave women who agreed to be photographed for this work. I hope that by shedding identifying features, we can appreciate our sameness. I also came to see that the face, creates "the other," something I can intellectualize and separate myself from emotionally. 
How did your subjects react to the finished product?
Most have never seen their images. I have no way of communicating with most of them. I did show some prints to a few women early in the process. I realized that was not a good idea. If they liked the way the looked or didn't, it changed the way I photographed the next few women. I was worried if they would feel good about themselves, and this worry shifted my purpose and the way I saw the work. With each shoot I took time to listen to my own inner voice being mindful of my internalized biases, fears, objectifications, and hopes. I decided that I would only show the images at the exhibition and once the book was published. I have since made prints for each of the women I photographed and hope that one day I will be able to gift the prints to them.
How long did you work on this project?
I started to photograph around 2012.  
How did it become a book?
I didn't start out with a book in mind actually. In the spring of 2017, I went to Photolucida, a portfolio review in Portland, and met Mike Itkoff from Daylight Books, who suggested I make it into a book.
Let's talk a bit about your background. Why did you decide to become a photographer?
I was born in NYC and grew up with my brother and parents in Miami, Florida. My dad is a doctor and scientist and my mom an artist. They encouraged my brother and I to be searchers. I was always curious and interested in the arts. I studied acting at Tisch School of the Arts at NYU and later got a MSW in clinical social work. I did headshots for extra cash and photographed weddings for brides that couldn't afford a photographer.Later I started taking portraits. I took my camera with me everywhere. I found that I enjoyed doing the looking more than being looked at. Over the years I have done several series exploring women's issues. 
Visit Daylight Books to purchase As Is: Women Exposed.  You can see more of her work at Amygelb.com and her instagram @amyabelsgelb.