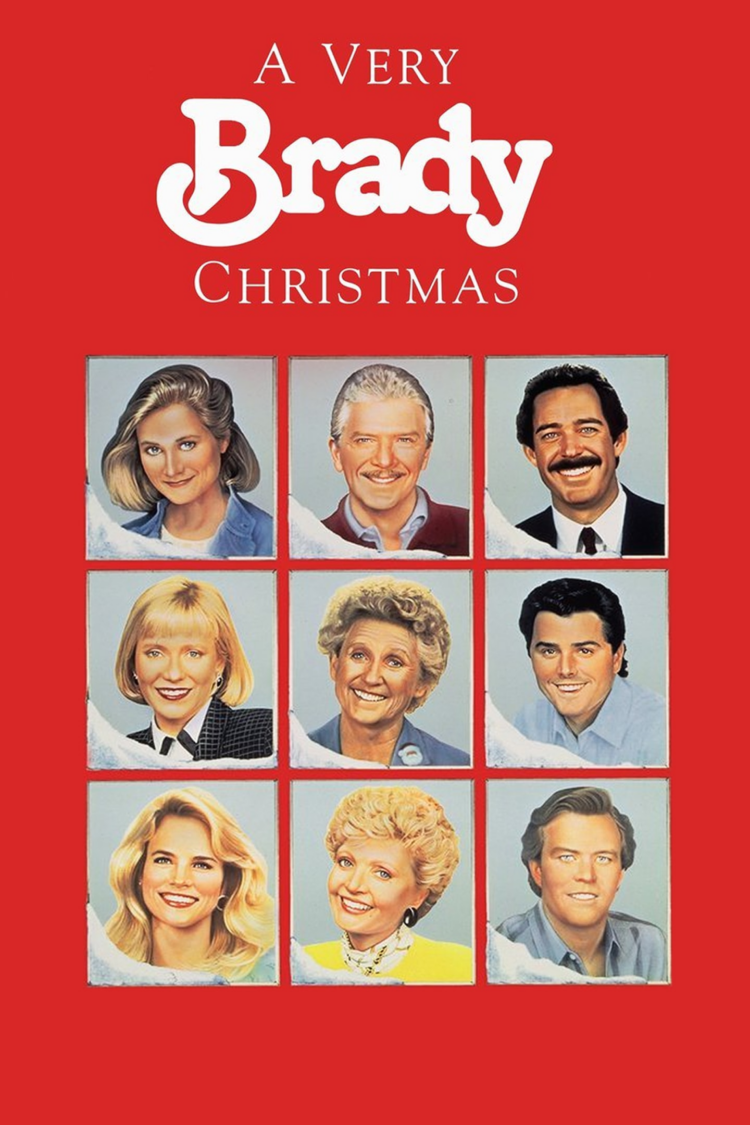 Few TV families have found their way as deeply into the hearts of as many Americans as the Brady Bunch, and this time of year, the holiday reunion movie A Very Brady Christmas inspires excitement and loyalty.
I will never forget the night when A Very Brady Christmas first aired in 1988, 14 years after the series went off the air. My family had gotten our first VCR not long before, and I excitedly recorded the movie and then watched it over and over. (Luckily, it's now available to stream on Hulu.) And I wasn't alone in my unabashed adoration of the heartfelt movie: It was the highest-rated, stand-alone TV film of 1988. Co-written and co-produced by original creator of The Brady Bunch, Sherwood Schwartz, and his son Lloyd Schwartz, A Very Brady Christmas brought the family back together for the holidays—and keeping a few secrets at the same time.
"I believe we find our strength in God and each other," says patriarch Mike Brady in one of A Very Brady Christmas' most climactic scenes. Every member of the Brady family then reveals the problem they've been hiding for the sake of a harmonious reunion. In fact, it was this scene that was the genesis for the whole film. "The confession scene is where we started," says Lloyd Schwartz. "Everyone came in with secrets, then we worked backwards and figured out what everyone's problems were."
The characters' problems are serious and expose the deep themes of the film that include divorce, cheating, struggling with unemployment, having a secret life, sexism in society (can a woman propose?), and ageism. Of the latter, Lloyd shared, "Dad always thought grandparents were treated like old fogies all the time in shows. We had Mike and Carol very vital, very sexual beings in that. That was one of the things he really wanted to show in that movie, too."
On the other side of age issues, college-aged Cindy Brady, portrayed in this reunion by Jennifer Runyon, wants to be taken more seriously by the family who expects her to go along with everything because she's the youngest. However, when she's invited to sit at the adult table, she chooses to stay and play at the kids' table. The point was that she simply wanted her autonomy acknowledged and respected. What makes the Brady parents so special is that they listened, validated Cindy's feelings, and gave her what she needed. It's simple but profound.
Lloyd notes that they ultimately opted to include some of the special Brady whimsy in the scene where Mike is rescued. "We re-edited that scene," he explains, recalling how they changed the original plan for something that summed up the Brady spirit. "At the end, when Mike is trapped in a collapsed building and he had to get out of there, we had shown him trying to pull boards away and stuff. We had it look more accurate to what would happen in the situation. And then we said, you know what? It's actually a miracle, so we should just have him come out." Now, the uplifting scene shows Mike miraculously coming out of the collapsed building as the family sang Christmas carols to keep their spirits up.
I wasn't alone in my unabashed adoration of the heartfelt movie: It was the highest-rated, stand-alone TV film of 1988.
The family reunion didn't happen only in front of the cameras. Behind the scenes, the cast of A Very Brady Christmas were reconnecting as well. They had all worked together previously in other reunion movies and specials such as The Brady Girls Get Married. Jerry Houser, who played Marcia's husband Wally in both films, fondly remembers his relationship with Brady matriarch Florence Henderson. "I have a feeling everyone connected with Florence," he says. "[She was] a lovely, lovely woman. Over the many years since we finished shooting those shows it was always wonderful to reconnect at parties or events when she and I would see each other."
Upon your next viewing of A Very Brady Christmas, make sure to keep an eye out for some cameos. In one scene, Greg Brady has become an obstetrician and is seen guiding a woman through the early stages of childbirth. That woman is none other than producer-writer Lloyd's real-life wife Barbara Mallory-Schwartz. And look out for Frances Whitfield, who was the beloved on-set teacher of the Brady kids during the original series. She makes a cameo in the hospital scene of A Very Brady Christmas. Long-time fans may remember her for her appearance in the Snow White episode of the original series.
Also, you may notice that the house has had a makeover. Sherwood Schwartz always saw the house as a character. So, the crew set out to consider what Carol and Mike would have done to renovate and redecorate the house over the years as their kids moved out and their lives changed. They put a lot of effort into making such changes as renovating the kitchen and turning the family room into a den with exercise equipment. However, according to the angry mail that Lloyd received, some fans were confused, seeing the updates to the home not as artistic choices, but as unwelcome changes. Fortunately, most of us loved it all.
"I think the show is something you can count on," says Houser. "You know what you're getting…and what you're getting is a family that loves each other and sticks together through all of its ups and downs. I think over the years the Bradys have become part of all our families. We know them. The values at the core of the show are things we all would like in our lives. It's tradition."
Watching this film every holiday season is one tradition I'd always like to keep.
Watch A Very Brady Christmas on Hulu or purchase it on Amazon.