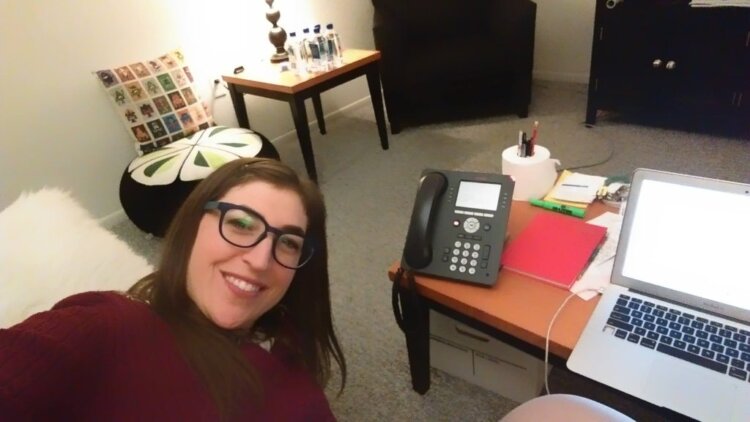 Since a lot of you Big Bang Theory fans may be wondering if there will be enough fun fan content here at Grok Nation, I wanted to start off this website with a fun post about my dressing room to assure you that, of course, there will be plenty of fun fan-friendly stuff here!
My dressing room is no palace; it's pretty simply decorated and I like it that way. I don't really have a design sense at all, and I was happy to use the furniture our set dressing department chose out for my room. I do, however, have a lot of personal effects around to make me feel at home. 
Here are some highlights: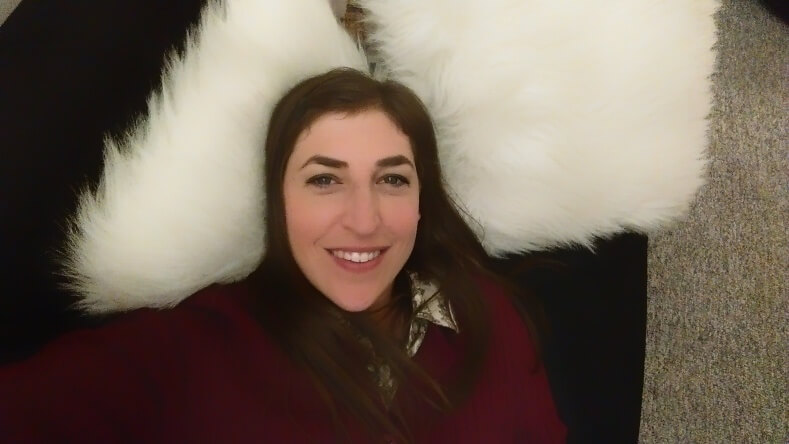 Here I am on my couch. I sometimes nap here on long days if I've been up early, and it's a comfy couch. The fuzzy white pillows help, especially if I have a migraine and need to feel cozy as I rest.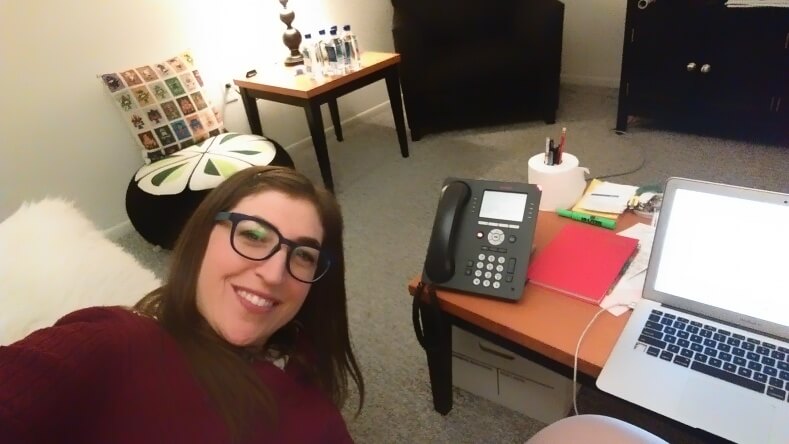 Here's me and my favorite things: my laptop and my phone. I love a big girl office-style phone, complete with speakerphone and hold buttons. In the background, you'll see I have a giant floor pillow in the shape of an avocado-and-cucumber sushi roll. You'll also see that my pen and pencil holder is a roll of toilet paper. One day it just occurred to me and it's worked well ever since.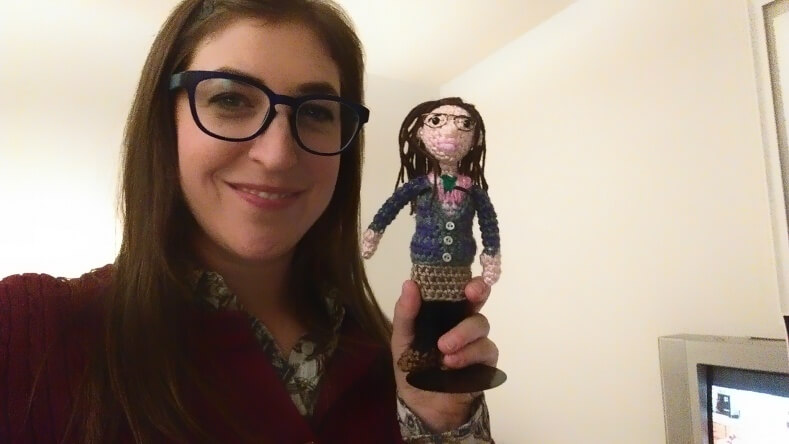 Here is me and my crocheted Amy Farrah Fowler doll, which a fan made for me. I love the tiny buttons on her sweater. It gets a lot of compliments from visitors.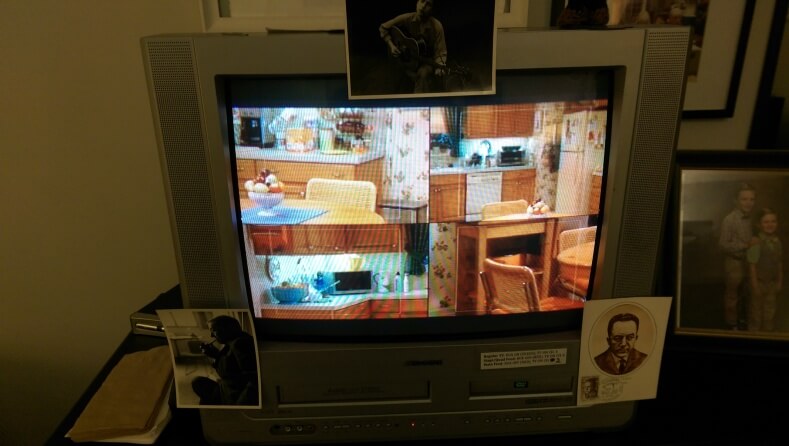 This is the old-school TV (complete with VHS player!) that was in my room years ago and which I feel no need to replace. I don't watch TV, but I can get a live feed of each of the four cameras we use to film our show and I watch along the scenes I'm not in so I can keep track of when I will be needed on stage.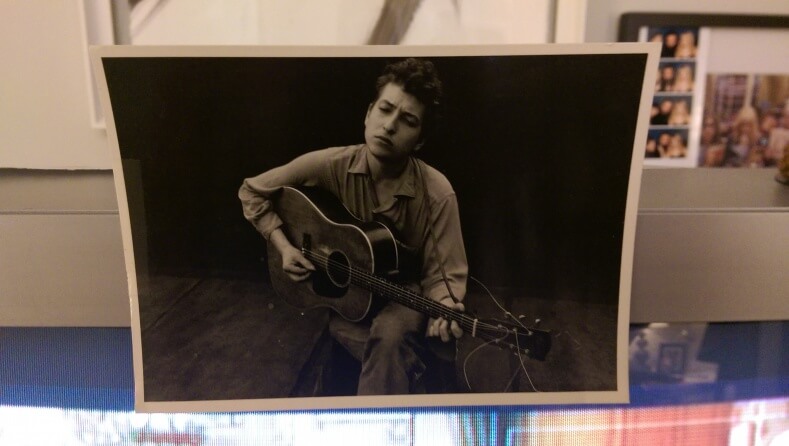 Decorating the TV are three of my artistic inspirations: Bob Dylan (folk musician, poet, activist and all around musical inspiration), Jean-Paul Sartre (French existential philosopher) and Albert Camus (French-Algerian philosopher/writer). These three keep me humble. Any time I start to think I'm awesome, I look at them and realize I have a ways to go!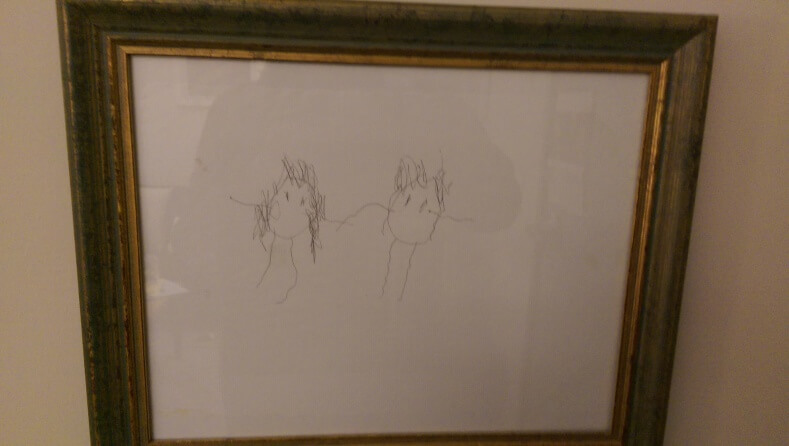 My younger son did this drawing when he was about 4—just about old enough to realize I was going back to work and that he would miss me. It's him and me holding hands. It makes me miss my kids, but it reminds me how much they understand now about how their mom is a working mom.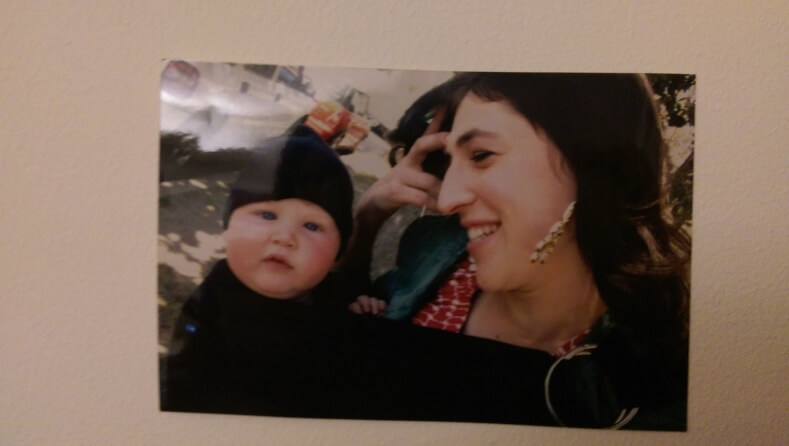 Here's me and Fred before I went back to work, when I did What Not To Wear. He's in a sling looking pretty darn cute, if I do say so myself.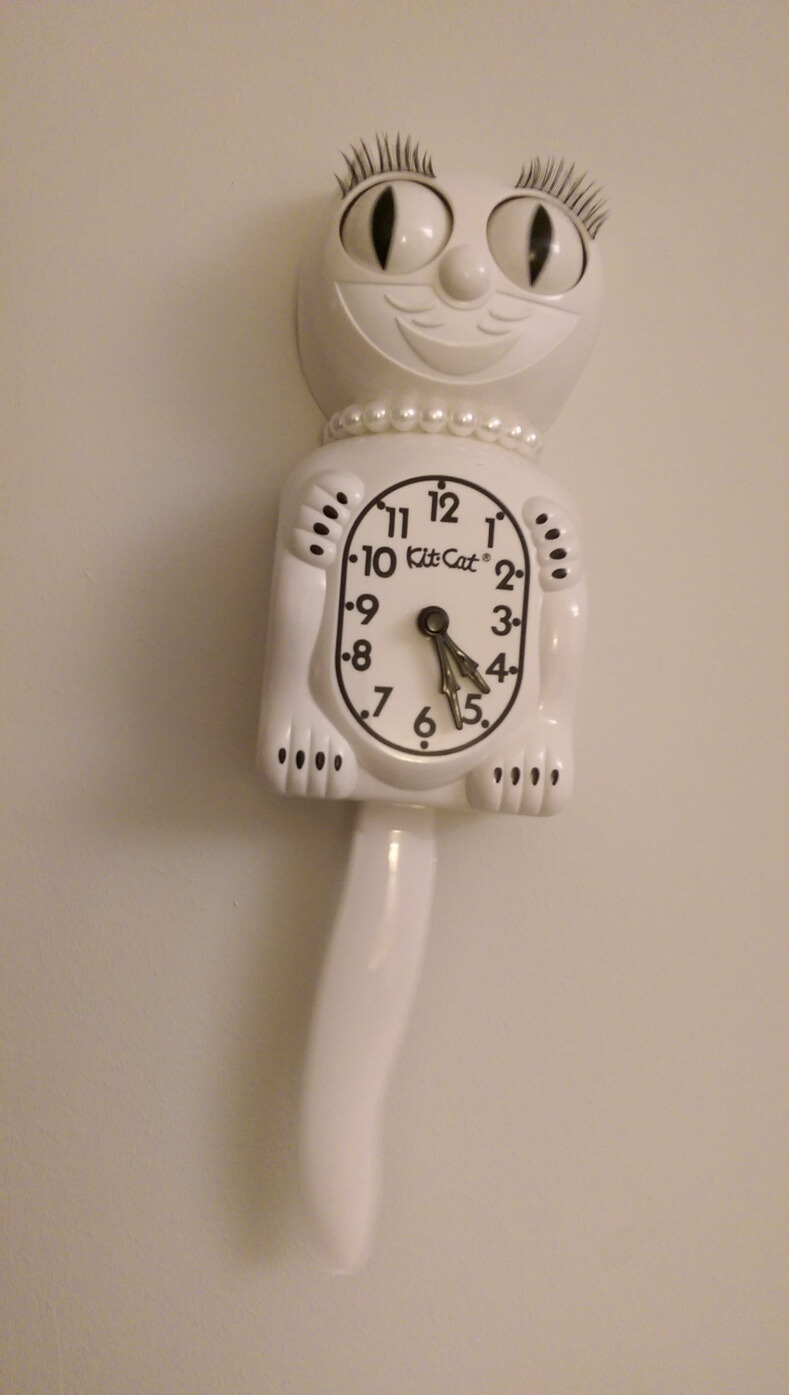 This is my clock. The eyes move back and forth. I love it. (And you can buy a similar one on Amazon!)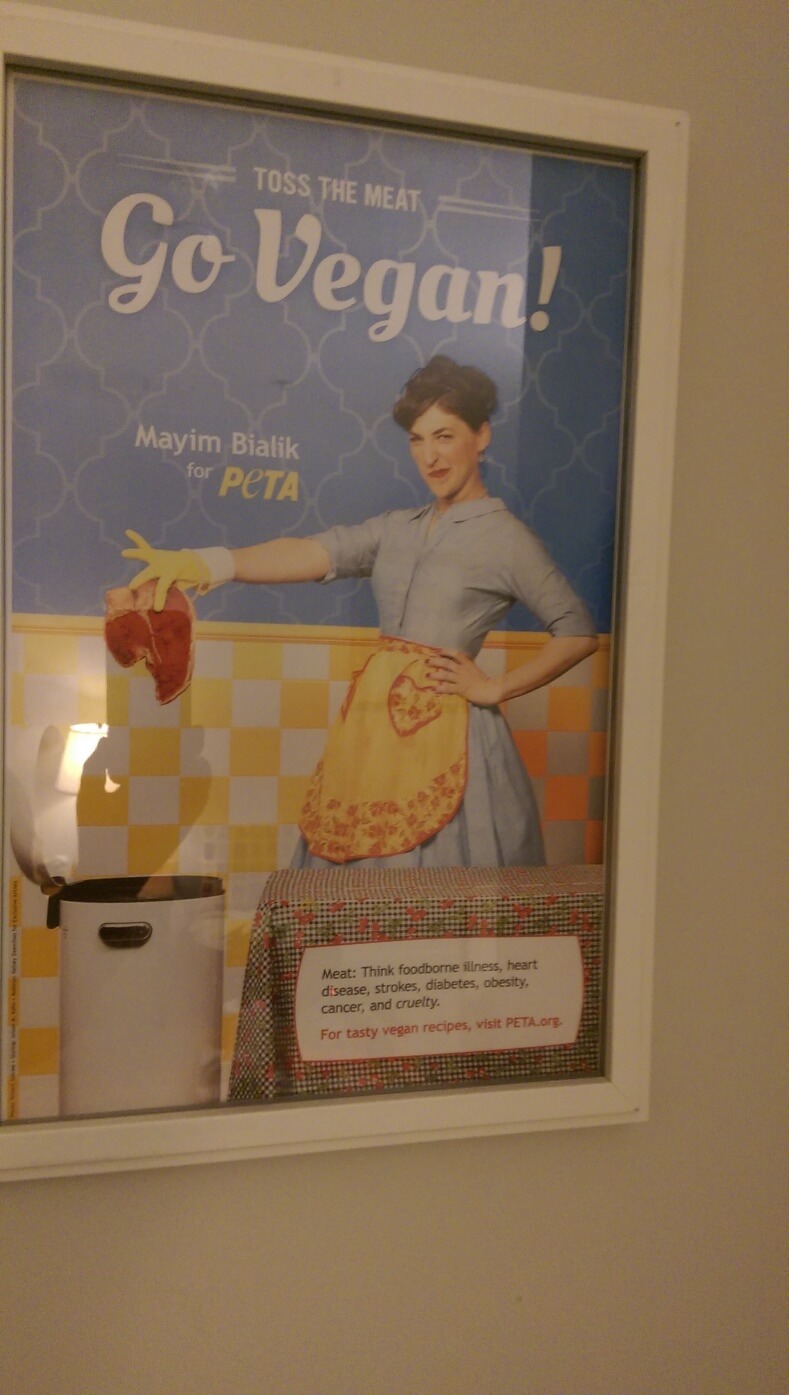 My PETA poster. I don't really like having pictures of me up, but this one is a constant reminder of my eating and lifestyle choices and I loved this retro photo shoot. It came after a big beef recall, so I also felt comfortable speaking directly to a health concern in this campaign rather than generally speaking out for veganism, which sometimes can be misunderstood.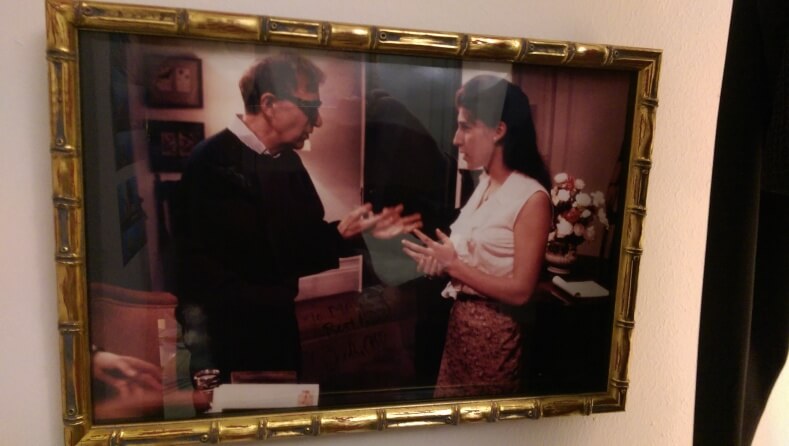 I worked with Woody Allen when I was 18 and this is him directing me. It was a high point of my career, and it was an unforgettable experience. I played his daughter in Don't Drink The Water, which he did as a TV movie for CBS. Michael J.Fox and Julie Kavner were also in it.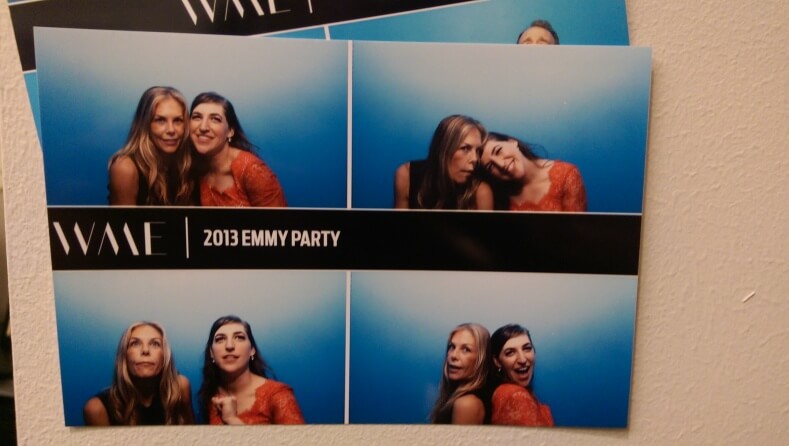 This is me and my manager and friend Tiffany Kuzon. We knew each other in our late teens and we were friends for several years. We lost touch and years later, I knew some people at the company she worked at. She decided to represent me and we have been having a blast working together and rekindling our friendship, too. I keep this up to remind me that every rule can be broken: "Don't mix business and pleasure" is a good guideline, but for me and Tiffany, we have worked it out!
That's my tour for now. Stay tuned for more as the season goes on!