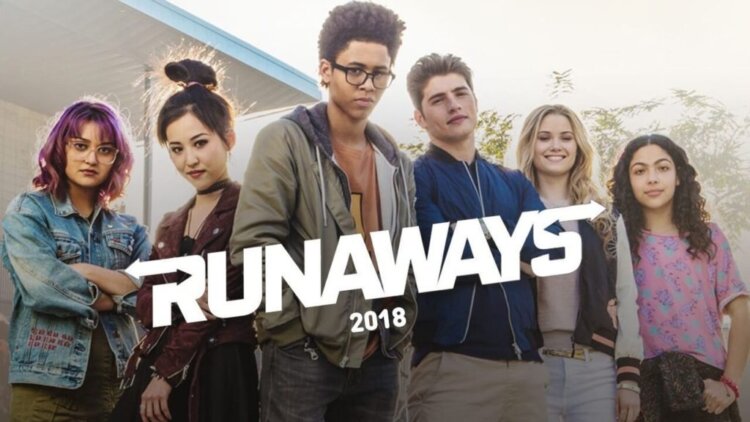 There is a natural tension between teens and their parents – parents think teens are out of their minds and teens think their parents are crazy-bordering-on-evil. But what if those parents were actually doing suspicious and evil things, and what if some of the kids kind of ended up having some powers? This is the world of Marvel's The Runaways, based on the comic of the same name, and it's, um, marvelous.
Marvel's big-screen blockbusters – Spider-Man, The Avengers, X-Men and more – are very well-known. And some of their more obscure Netflix counterparts, like the excellent Jessica Jones and Luke Cage, are darkly entertaining (and worth a watch, too). But Hulu's The Runaways has a bit of everything fans of sci-fi and fantasy will love…and you can catch up now. All 10 episodes are on Hulu. Don't have an account? Sign up here for plans starting at $7.99 a month!
(You can watch the Nerdist's 8-minute dive into The Runaways history below…)
Here are 5 reasons that this show is worth watching:
It's in expert creative hands. Runaways is executive produced by series showrunners/writers Josh Schwartz (The O.C., Chuck and Gossip Girl) and Stephanie Savage (The O.C., Gossip Girl, Dynasty) along with Marvel's Jeph Loeb (as head of Television for Marvel, responsible for Agents of S.H.I.E.L.D., Jessica Jones, The Defenders, Luke Cage, Daredevil, Spider-Man, Iron Fist, Legion and more) and Jim Chory (The Last Kingdom). These are people who know teens and know Marvel's universe.
Teens are impossible and parents are the worst. In this case, teens are impossibly perceptive and more moral than their parents, who are literally making the worst decisions because they feel committed to the group, known as Pride; while its name conveys leadership, the member of Pride are beholden to another master.
Diversity. The Runaways are white and black and Latino and Asian. The show also subverts your expectations when it comes to the teen romances that inevitably ensue. Cliches are hard to find here, and it's a good thing – viewers will be treated to something beyond the predictive tropes of other shows set in high school.
Familiar (and fan favorite) faces. While the teens may not look familiar (with the exception of Wizards of Waverly Place's Gregg Sulkin), the parents are alumni of some great TV series past and present, including: Annie Wersching (24), Ever Carradine (The Handmaid's Tale), James Marsters (Buffy the Vampire Slayer's Spike), Kevin Weisman (Alias), and Julian McMahon (Nip/Tuck, Charmed).
The mystery of the basement. When I was a teen, my dad pickled cucumbers and tomatoes in the basement; later in my life, the basement became the land of abandoned appliances. But in The Runaways, one basement is a medical lab, another a ritual space, another a tech experiment lab…and whether those spaces are being used for good or for bad depends on your point of view.
Will you be tuning in? Are you already a Runaways fan? Let us know how you like it and how you think this show stacks up to the other properties in Marvel's universe…