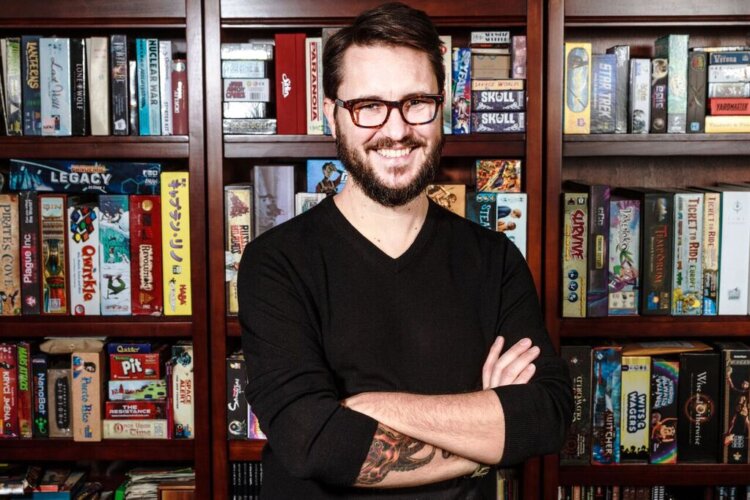 I first met Wil Wheaton when he guest starred on an episode of The Big Bang Theory during my first season. He was in the classic movie Stand By Me and Star Trek: The Next Generation and he, like me, is unashamed about being a genuine geek. He has built an incredible career around the celebration of gaming and role-play as well as intellectual depth and a strong connection with his inner self.
Wil is a champion for those living with mental illness and in particular, has been very open about living with depression as a chronic condition. He currently has a Stands charity campaign, where he's selling "Roll Model" D&D T-shirts with money going toward the Pasadena Humane Society & SPCA. I got one for everyone in my family!
I'm honored to call this inspiring man my friend. I was so happy he agreed to answer our 5 Deep Questions. Here are his awesome responses…
Do you believe in God?
I feel like life would be much easier if I did, but I don't. I've tried, but I just can't.
What do you think happens after you die?
All of your friends and family, who you specifically told not to have a big sad funeral, do it anyway … and honestly you shouldn't have told them not to do what they needed to, so they could grieve the loss. I mean, you're dead! What do you care how they remember you? (P.S. To my friends and family: I want a Viking funeral!)
What were you like in high school?
SUPER awkward and weird. I was as famous as I've ever been, living with undiagnosed and untreated generalized anxiety and chronic depression, and I felt like an alien everywhere I went. At times, I was super obnoxious, because I decided that being "weird" was going to be My Thing (thankfully that only lasted for a few weeks), but most times I was shy, afraid of everyone and everything, and so uncomfortable in my own skin I kind of hated myself.One of the major reasons I speak out and refuse to be stigmatized as an adult is how much I was stigmatized as a kid and teenager. I hope that my experience can inspire and comfort kids and parents, and adults who don't have kids, so nobody has to suffer for as long and as unnecessarily as I did.
What's your campaign right now regarding mental health and how can people get involved?
I have wonderful relationships with NAMI and Project UROK. I've made videos and delivered speeches for both organizations about living with mental illness, and getting treatment. If anyone wants to find out more about my experience with mental illness, a good place to start is with my speech to Ohio's Statewide NAMI Conference last year.
Why are role playing games like Dungeons & Dragons so important for those of us who gravitate toward them?
I think we who are entertainers gravitate to RPGs because it lets us play with all the tools we've developed over the course of our careers, whether we are writers, directors, actors, or other creative professionals. At its core, role playing is a collaborate storytelling experience that lives in our shared imagination, so in a lot of ways it's like being on set without having to hit your mark.But I suspect that, when you say "people like us" you mean people like us who are in the Super Happy Funtimes Brain Club, and I know that for that group of our fellow travelers, RPGs give us this wonderful opportunity to live in a world where we are heroic people who can overcome anything that that world throws at us. For me, there's something wonderful and escapist and inspiring and empowering about imagining that I am a fantasy hero who can pick up his ax and charge into battle with less fear and anxiety than I have when I walk up the street to go to the coffee shop. We need every victory we can get, and even though it's all imaginary, it ALWAYS feels great for me to solve a puzzle or take down a boss monster … and the camaraderie that comes with being in a group that stays together for a long time is only matched by the experience of being in a loving and supportive cast of actors, like the ones we get to work with.