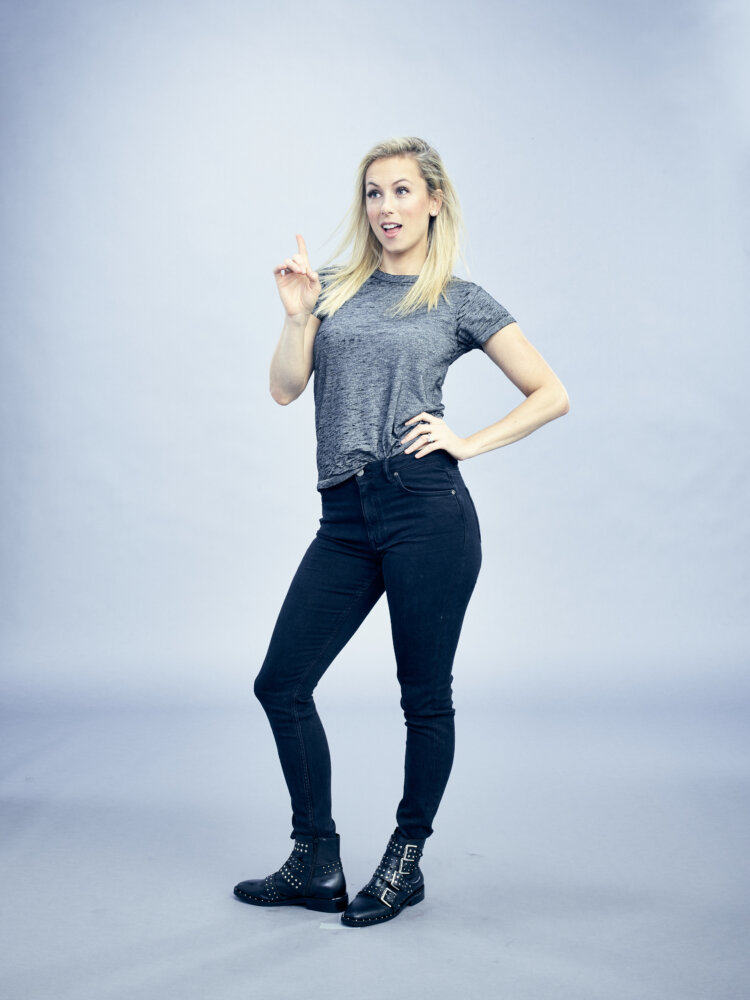 It's no secret that I am really, really into Iliza Shlesinger and her comedy and her book Girl Logic. She is the most fearless, smart, wickedly astute comedienne I have heard in my adult life and I find her inspiring. I actually kind of stalked her at an event she was headlining and made her be my friend. I think it worked since I got to be at her wedding and she agreed to answer 5 Deep Questions for us! Her new Netflix special Elder Millenial comes out this week so what better time than to have her get deep with us!?
Do you believe in God?
Trick question isn't it? Because it begs the question "What is God?" As much as I love arguing on Twitter, I'm gonna stay away from that one. But, I believe, at the very least, even if it makes this a secular answer, that energy is a very real thing. You can feel it onstage,  you can sense it in a person and you can touch it if you have an open light socket. I believe something bigger than me is moving life forward in this universe. When I feel let down, I like to think that that energy is all moving specifically in directions for a reason. But I don't know if that's true or just something we say to make ourselves feel better when we feel powerless.
What do you believe happens when we die?
I'd like to believe your enemies will hear that you died and think, "Wow, I really should have been nicer to her." All the boys you liked think, "Wow, I missed my chance at being with the only woman who could ever make me happy, and I blew it. And even if she came back from the dead all gross, she wouldn't want me because I aged weird and I'm not that hot anymore." I like to think basically anyone who ever doubted you immediately is hit with this overwhelming feeling that you were the best thing that crossed their paths and now life will be a little less exciting. Also I think worms eat your brain.
What were you like in high school?
Similar to how I am now but now I possess the math skills to calculate tip on a check in my head. I was our high school mascot, a Hornet. I played Lacrosse—not gifted but not horrible. I was on defense, and we were really good, so I didn't have to do much… And what I lacked in skill I made up for in aggression and enthusiasm, guess that's still true today). And I was the only girl on our improv troupe. "Average student with a lot of heart" is what I'm sure my teachers wrote.
You recently got married. Did you enjoy the process of planning a wedding?
It waxed and waned for me. I would get excited about a small detail like a tablecloth or a dessert then have the stunning realization of why people elope when I had to discuss things like table arrangements or uplighting. My mother did a lot of it because I was on the road or on set, so that was great to have her as backup. Your wedding, good or bad, is yours and they are expensive and time-consuming. So anyone who criticizes your choices (to your face) is a terrible person.
If you could gift all women with any one thing to empower them, what would it be?
The power to doubt less. To move through life with impunity and strength without regret whenever it suits us. Basically to act like dudes.