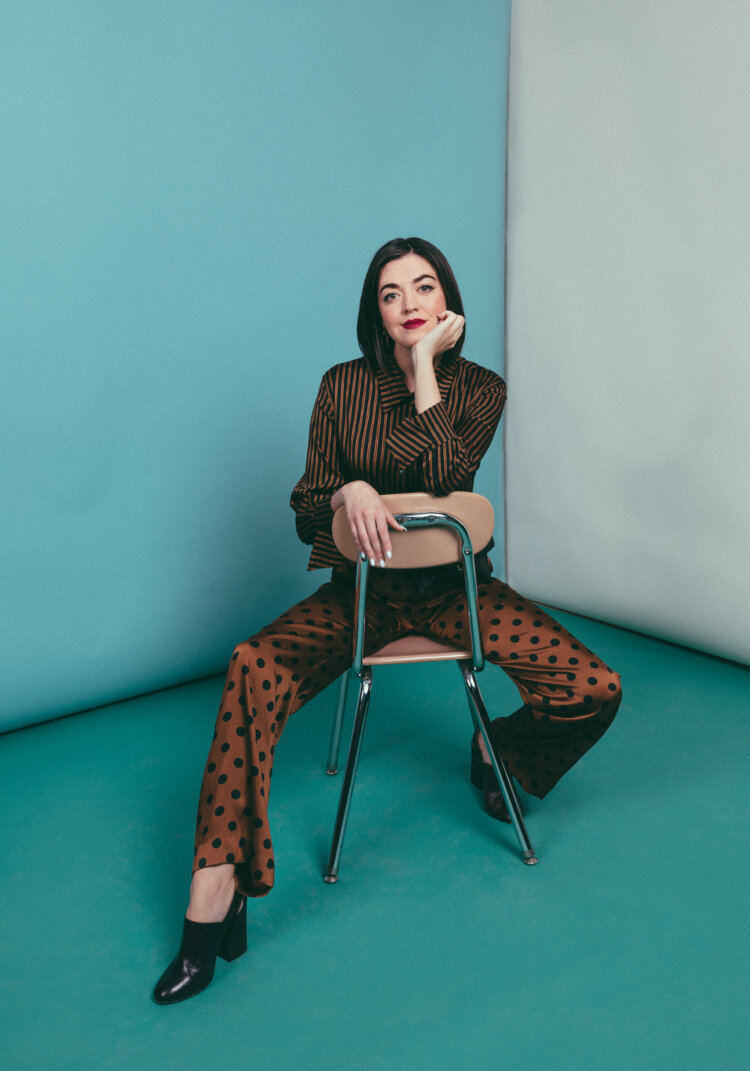 When a movie is still quoted regularly 14 years after its released, it's safe to say it has achieved cult status—which makes it all the more risky to do an adaptation of it. Luckily, the musical version of Mean Girls is already winning over fans. In previews since March 12, the Broadway show (which, like the movie, is written by Tina Fey) opened Sunday night to rave reviews.
Sassy outsider Janis Sarkisian (surname Ian in the film, played there by Lizzy Caplan) is portrayed by Barrett Wilbert Weed. The 29-year-old musical theater actress is known for playing Veronica Sawyer in Heathers: The Musical, and she brings that same sarcastic verve and those amazing vocals to the Mean Girls role.
Taking a break from wearing pink, Barrett answered five of our deep questions. Here, she tells us how she loved listening to Stephen Sondheim as a teenager, what her rules of feminism are, and how to combat "mean girls."
Do you believe in God?
Yes? Although, not in the traditional sense. I see evidence of a higher power everywhere and I feel it in myself. I think it's important to be curious and to see the natural balance in the world for the magical thing it is. I think of God more as a power to notice and be respectful of.
What do you think happens when we die?
I really don't know. My father passed away when I was young and I feel his presence in my life in a really strong way. Sometimes I feel like things happen in my life only because of the energy he's still putting into me. But heaven is also a really nice thought. I hope it's a real place.
What were you like as a teenager?
In many ways, I think I was very much the same as I am now. But I didn't have as much faith in myself and I wasn't aware of what I wanted to put into the world. I didn't know that being different is important and necessary, especially as an actor. I was mostly just really concerned with having friends and listening to Stephen Sondheim shows on repeat in my room.
We learned from Mean Girls that "Ex-boyfriends are just off-limits to friends … that's just, like, the rules of feminism." What's your rule of feminism?
Ha! I hope no one takes that line seriously! My rule is to treat other women the way I would like to be treated and not to apologize for the way I expect to be treated, a.k.a. with respect and fairness. And I NEVER apologize for being successful or making money. Never.
Nearly everyone has experienced—or been part of—a group of mean girls in one way or another. What's your advice for dealing with bullying?
Well, bullying is different from being excluded. If you're being bullied, you're being dehumanized to the point where you can't focus on school and that's abuse. You have to defend yourself, get help, and make it stop without yourself becoming an aggressor. You have to be shameless and unapologetic when it comes to protecting yourself. If you're being excluded, like I was, it means you're being left out of everything or kind of ostracized. And I would suggest throwing yourself into your interests and finding people who share them. Whether that's in school, after school, or in your own family. If people are being rude to you, it's because they're miserable and likely have something to hide. Best to find something you love and focus as hard as you can on it. Everything kind of becomes secondary when you're passionate about something.
Mean Girls on Broadway tickets are available on Ticketmaster.com. Read more 5 Deep Questions here.