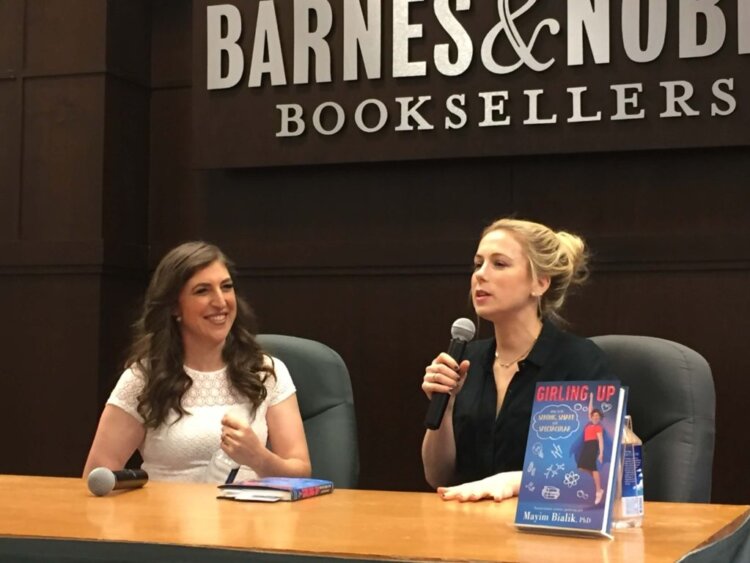 [Photo: Mayim at the Los Angeles Barnes & Noble book signing with event moderator Iliza Schlesinger]
Girling Up , my book for girls ages 10-18, came out May 9th of this year and was very well received; it spent 6 weeks on the NY Times Bestseller List and even hit #1, which is the thrill of a lifetime!
Here are 3 unexpected things that happened because of this book coming out.
It made me miss my dad so much. My dad was a writer. And he and I spent so many years getting our newest reads from the pages of the NY Times. And he would have never been my target audience for this book, as it is in the Young Adult section, but he would have been "so damn proud," as he would have said, of me having this accomplishment. Why does he have to not be alive? The impossibility of his death – of death in general – has hit me hard. And it's not to say that I can't just enjoy something. Or just be happy. It's that the reality of the human experience is such that everything exists at the same time. Pleasure and pain. Sorrow and joy. Yes and no. I did not expect this to be the case, but this success milestone hurts as it brings elation. Because I miss my Abba.
I felt seen. I have literally spent my life trying to be seen the way I want to be seen. Even before I started acting (at 11 ½), I was different. I felt misunderstood. I didn't fit in. I liked things that were weird and I had a weird sense of humor and – God protect me – I looked weird. Acting provided some aspect of being seen for sure; but not for who I was. It's only in the past handful of years that my friend and now business partner Immanuel Shalev (of the "Maccabeats") encouraged me to be seen by starting to write more and to write videos for a YouTube audience. We just hit 200K YouTube subscribers and our fan base is growing because people are interested and invested in what I have to say. That's enormous. In fact, writing this book only came about because of the confidence this friend and my website and my YouTube videos have given me. Writing this book was a huge vulnerable thing to do: sharing all my insecurities, my questions, and my journey as an 'odd' kid who became an odd adult! And having this book recognized as a Bestseller means it worked for a lot of people. Being the first guest (first time ever in my life!) on Stephen Colbert's show was literally a career highlight for me. Being able to share authentically about being female and empowering young women is so important to me – it's not just a way to make money; this isn't about that. My message really got to be shared far and wide with this book. What a blessing…
I had no idea how far it would go. This book got to be shared so far and so wide that certain countries on the other side of the world asked for permission to publish my book which is amazing! Yay! That's so awesome that it will translated into a language made of characters – wow! But…they asked to remove 2 paragraphs about homosexuality and transgender identity. I don't "advocate" for any form of sexuality in this book, but I do want the book to include topics that are currently in the media and in our vernacular so that young women can be educated about what people are talking about. These are not significant references, but nonetheless, these specific publishers will not print the book unless they are removed. There is a price on this; they offer you money to publish your book. And I will say without being snarky or editorial that – by any standard – it is not a lot of money. But even if it was, and believe me, I played with the numbers –  would I remove 2 paragraphs for a million dollars? $100,000? $10,000? $5,000? I felt like Abraham negotiating with God to spare the souls of Sodom – I don't think I would remove these paragraphs. I honestly don't have an opinion about what any individual should do in their life unless they are asking me and I get to know their entire existence. But homosexuality is a thing that is real. Scientifically speaking, it is real. It is legitimate. There is nothing wrong with being gay. At all. Ever. Same with transgender identity. Nothing wrong with it. It should be included in books for young people so that they can – if nothing else – learn what it is, what it's not, and how to let others lead their lives while you lead yours. And so I said no to the offer.
One book. Many pages. Many words. Infinite meaning we can find from every experience. Within success lies Grief (I knew she was still there) and joy and doubt and fear. And also appreciation for all of it. This is life's mystery. These are the challenges of life. I accept them and I take them on. Sometimes gracefully; sometimes not…but always waking up to each day grateful my soul was returned to me so that I can say to the world: "What do you have for me today? Let's do this."