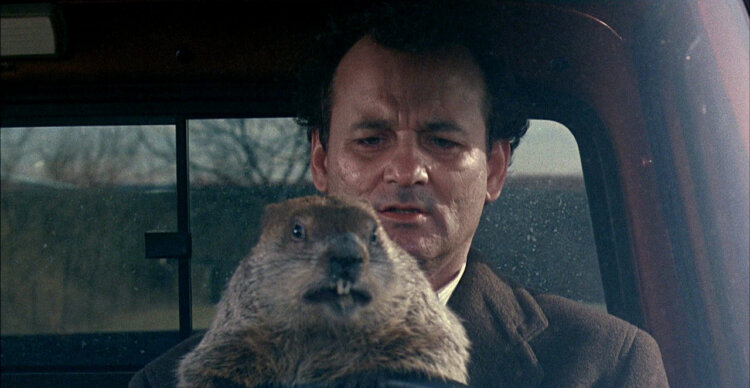 Groundhog Day is a "holiday" celebrated in the U.S. and Canada on February 2. Each year, a groundhog known as Punxsutawney Phil appears and predicts how many more weeks of winter there will be. The tradition has been around since the 18th century.
Groundhog Day is also a 1993 movie starring Bill Murray and Andie MacDowell as news reporters assigned to cover the holiday in Punxsutawney, Pennsylvania. The film is a magical realism exploration of what life would be like if you had to live the same day over and over again. In this case, Bill Murray's character experiments with living Groundhog Day over and over in a small town where he is the only one experiencing the time loop.
At first he finds it incredible and has some fun with it. Then he realizes he can learn things about the woman he is fond of so that the next day, he can surprise/manipulate her by knowing things about her. During his journey, he acquires new skills—like learning piano—gets to know people in the town, and eventually learns that sometimes, his actions can save people's lives, and sometimes, they can't.
Here is why I love this movie so much.
Bill Murray
You may know Bill Murray from vintage Saturday Night Live sketches or from the Ghostbusters movies or Caddyshack. I most love Bill Murray in Lost in Translation with Scarlett Johansson, but his performance in Groundhog Day is really complex and nuanced. His character, Phil, starts off as a jerky sort of guy, but we see him evolve—and we really end up loving him in the end. Bill Murray is not a classic leading man type, but he carries this movie so well, and I just adore him in it.
Good clean fun
This is a great movie to show to kids who understand and appreciate irony and comedic complexity. And although there is a love story, he is such a "regular" guy that it isn't sappy or contrived when he falls for Andie MacDowell's character, Rita. And the best part is, there is no nudity or sex. It seems like there's always someone naked in any movie these days, and it was refreshing to show my kids a movie that is about romance without it becoming about sex.
Reflection
I also love how Groundhog Day allows you to examine your own life and choices daily, which Bill Murray's character does throughout the entire movie. It is really touching. He learns skills he always wanted to learn. He becomes skilled at impressing people and making them feel good (even if—at the start of his journey—he uses this power manipulatively instead of generously). He anticipates disaster and puts himself out there in ways he never did before. And as he moves from selfish motivations to more philanthropic ones, we get to witness a great hero's journey as it unfolds.
Whether you care what Punxsutawney Phil predicts for us this year or not, I think it's time to break out Groundhog Day and be reminded of all of the opportunities we all have to grow and change and fall in love again with possibility, magic and wonder.
Happy Groundhog Day!