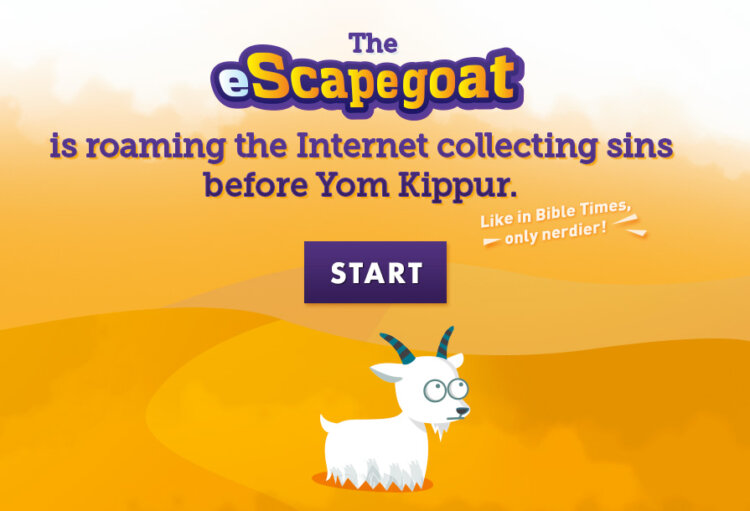 Synagogue isn't for everyone, but during the High Holy Days–Rosh Hashanah and Yom Kippur–it seems like everyone is in synagogue. The season centers on the idea of prayer/meditation (tefilah), charity and acts of just lovingkindness (tzedakah) and repentance/return/reflection (teshuvah) being the key to "overturning a bad decree," a way of saying "avoiding the harsh judgment of God." But not everyone feels a connection to the Hebrew prayers or their often-archaic English translation. And sometimes the liturgy beats into us with its language–as we beat our chests to indicate regret–over all the bad things we did, whether we remember doing them or not. So if you're looking to replace or supplement hours spent in synagogue reciting High Holy Days prayers that may not mean much to you, here are some other ways to access the themes of the season.
First a mini-crash course:
Rosh Hashanah (literally, "head of the year"): Referred to as the birthday of the year, it marks the start of the Hebrew month Tishrei and is two days long. Themes include celebrating the creation of the world, God as creator/king, reading about the shofar (the ram's horn that is sounded during the High Holy Days), and remembering Jewish history.
Yom Kippur (literally, "Day of Atonement"): Considered the holiest day of the year. A fast day (no food or water), from sundown the previous night until after sunset that day. Most of the day is typically spent in synagogue. The two holiest services–and best attended– are Kol Nidre ("all the vows"), a service in which we proclaim all the vows we have sworn to be considered null and void, and Ne'ilah ("locking"), a service in which the gates of heaven–presumed open during Yom Kippur to accept the penitence of those repenting–close and are locked. Themes include: reflection, God as judge, communal confession, self-evaluation, repentance and forgiveness.
While High Holy Days prayer is generally thought of as adherence to a central liturgy while in the walls of a synagogue, the theme of these holidays actually presents many creative ways to interpret tradition and make it more meaningful.  
Ask yourself where you've been. My spiritual community asks members to reflect on one question in preparation for the new year, and binds those reflections together in a booklet that is distributed for Rosh Hashanah and Yom Kippur. Past questions have asked people to reflect on times when they've made a big decision, or to write a letter to their younger selves. People leaf through the bound booklet during services or after, but it often serves as a supplement to the prayer service. Another thematically appropriate project called 10Q asks you to reflect, journal-style, with questions as prompts. What was a life-changing event for you this year? What was your most spiritual experience? Is there something you're particularly proud of this year, or something you would have done differently? Registering for 10Q means they'll send you one question a day between Rosh Hashanah and Yom Kippur as a writing prompt. Write your responses and submit them, and 10Q will send you a link to this year's answers in time for next year's Rosh Hashanah, so you can see where you were a year ago. Maybe knowing "someone" will hold you to the promises this year will increase the accountability you have to yourself.
Confess your sins and send a goat into the wilderness. Don't sic PETA on us: this is a virtual-goat-centered mashup of a Jewish historical tradition with online confession, courtesy of educational tech company BimBam (formerly known as G-dcast.com). In the days of yore, the Jewish high priest would take two goats (and call no one in the morning), sacrifice one, and put his hands on the other goat in a symbolic transfer of all the sins of the Jewish people. Then he'd send the goat into the wilderness. Today, we're saving the goats by providing a virtual one: confess your misdeeds at escgoat.com, and you can watch the @SinfulGoat Twitter feed to see what kinds of things people are confessing. Confessions can be small or big, but are always interesting.
"I'm sorry that I made so many of my relationships so much about me." via https://t.co/RXmb26bf7M

— eScapegoat (@SinfulGoat) August 22, 2018
Throw your sins into the ocean. If goats into wildernesses aren't your thing, but a symbolic casting off of misdeeds appeals to you, you might want to try Tashlich (and yes, you can try it without saying it, because that's one of those guttural Hebrew words). Tashlich means "casting forth," and it's a ritual done during this High Holy Days time of repentance. Thinking about your sins, you tear a piece of bread into pieces and cast the pieces one at a time into the ocean (or river or other moving body of water) in an act that is poetic, physical and multi-sensory. The ocean carries away your bread-sins, an effective and meaningful visual even if you are one of those people who doesn't view carbs as the enemy. The waves sometimes bring certain sins back to your feet before carrying them away; you feel the sun and wind on your skin; and you watch your regrets vanish on the horizon as the sun sets on the old year. Hebrew words optional.
Let the music–and lyrics–move you. Good music or an evocative lyric can bring you closer to the holiday's themes than prayers that you may or may not understand. Some synagogues–like mine, IKAR in L.A.–incorporate popular music into their service, setting prayers to those tunes or singing them outright. The lyrics of Peter Gabriel's "Mercy Street," invite you to "turn your insides out looking for mercy."  Rent's "Seasons of Love" asks us how we measure the last year. Bob Marley's "Get Up, Stand Up," urges congregants to act and "don't give up the fight." Matisyahu's "One Day," thinks of a day of redemption in the future. IKAR also puts posters on the walls featuring inspirational quotes, including song lyrics from U2 and Leonard Cohen. So if congregants find the liturgy inaccessible, perhaps these familiar lyrics–and the musical songs they represent–will spur some reflection.
Read other things that are on-theme for the holiday or for religious exploration. My pick is Choosing My Religion, Stephen Dubner's spiritual memoir about having grown up Christian only to discover that both his parents had converted from Judaism.
Remember the ancestors: yours and other people's. Yizkor, a memorial service, is one of the centerpieces of Yom Kippur: getting even somberer and more emotional on an already-somber day. Some synagogues publish lists with the names of members' loved ones who have passed, or even create little booklets with memories that members have submitted about their lost loved ones. Reading about your fellow congregants' relatives and friends who are dearly missed can be very moving and help create more of a community bond.
Support a cause that benefits the community. Because Rosh Hashanah is about new beginnings, volunteer at or financially support a shelter or recovery center. Yom Kippur, a day of fasting, could be a good time to think about real hunger and support organizations like Feeding America or MAZON, which work to eradicate hunger locally or nationally, or Swipe Out Hunger, which works to combat hunger on college campuses.
Whatever your level of comfort with strictly defined prayers uttered within synagogue walls, there are lots of other ways to connect with the themes of the High Holy Days as you face the new year. You may even create your own. And if you do, tell us what works for you. May your new year (5779 on the Jewish calendar) be free of regret and full of opportunities to make the world a better place.