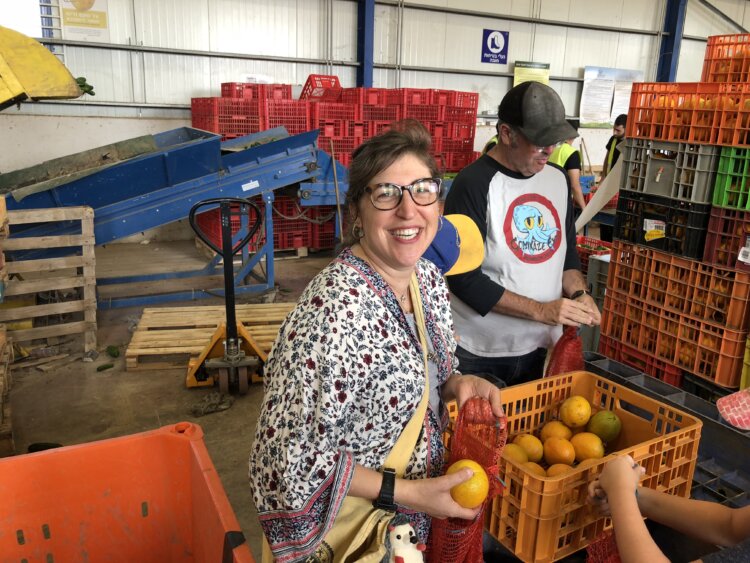 We recently went on a divorced family trip to Israel in honor of our older son's upcoming Bar Mitzvah.
When a boy is 13 and when a girl is 12 or 13 (depending on which denomination of Judaism you belong to), they become bar or bat mitzvah. This literally means son or daughter of the commandment; a "mitzvah" is generally viewed as a positive commandment to do something good. In Judaism, it is a ritual milestone that involves anything from a party to an elaborate Sabbath service with the child being called up and blessed before the congregation.
Many students of this stage of life are encouraged to take part in a charity project as part of their bar or bat mitzvah training. In a sense, an integral part of being counted as a Jewish adult is the acceptance of the responsibility and obligation to repair the world. The project can be a small project such as volunteering somewhere or a larger project involving dedicating time, energy and maybe even some of your bar or bat mitzvah monetary gifts to a particular organization.
While we were in Israel, we spent half a day volunteering at an organization called Leket Israel, which is a National Food Bank based out of Ra'anana. Leket was started a little over 15 years ago by a single man who could not believe that all of the excess food from hotels, farms and even army bases was going into the trash when it was perfectly suitable for eating and more than 20 percent of people in Israel live in poverty.
And so, through good old-fashioned fundraising and a lot of hard work, Leket Israel was established.
They send people to places where food is typically thrown out and they rescue it. This food is not spoiled or old; in many places, excess food is made in anticipation of more guests at an event, for example, and the food cannot be served except at that event. Leket rescues it; 2.3 million tons of food are thrown away in Israel annually and it is estimated that half of that is edible! Leket also sends people to rescue food from farmers' fields in the tradition of the Torah directive to share the corners of one's field and the produce that falls onto the ground with those in need. In addition, produce that is "visually challenged" (like the potato below) but completely acceptable to be eaten is rescued! 
The food is brought to the Leket warehouse where we got to work. It is loaded onto conveyor belts (and yes, I totally felt like Lucille Ball working the conveyor belt, inspecting beets and turnips) and into crates and then it has to be packaged by volunteers. We put, for example, seven oranges into bags; four large eggplants or seven little ones into bags. And we sorted beets and turnips until we were dizzy.
Then the bags of produce and the hot meals collected are driven all around Israel to families in need. Leket Israel distributes food to people of any religion, race and kind. In addition, they give nutrition and dietary counseling to families in need.
My sons are no strangers to manual labor, but this kind of work is definitely not something they are used to. We worked for three straight hours, and they loved it. Prone to organization and order since birth, my sons loved this entire process. Leket runs a very smooth warehouse and it was so lovely to see everyone volunteering together to package everything up.
Leket hosts hundreds of volunteers daily—and 46,000 plus volunteers annually. My boys and our family handled the morning shift, and there is a shift every afternoon much like ours: hours of packaging and inspecting and bagging things up and getting them ready to be delivered. Local corporations and companies visit Leket with their employees to build morale and contribute to a wonderful organization together. The day we were there, a group of senior citizens were volunteering. It felt so good for us all to be there together.
Leket Israel is one of those organizations you can't believe didn't exist before it existed. They feed 175,000 people every day through partnerships with more than 200 non-profit organizations. Those are staggering numbers. One man started it. One group of individuals made it grow.
As Margaret Mead said, "Never doubt that a small group of thoughtful, committed citizens can change the world; indeed, it's the only thing that ever has."
My son was initially skeptical about volunteering at a warehouse for his Bar Mitzvah project, but I think he will forever remember it. To join the covenant of Jewish adulthood, he went outside of his comfort zone, got his hands dirty, and did his part to make a difference in the world. I wish that for him forever. And I also wish that Leket will continue to transform lives through feeding the hungry.