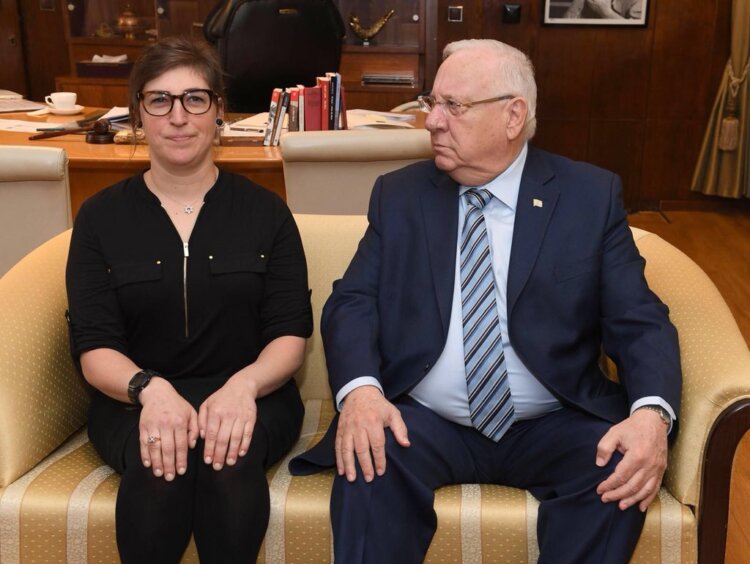 I spoke at the 6th Global Forum on Anti-Semitism in Jerusalem last week. I was invited by the Consul General of Los Angeles, Sam Grundwerg, whose job it is to connect American Jews in Los Angeles with Israel. He works with all sorts of people, but connecting Los Angeles celebrities with Israel is a special part of his jam. I am so thrilled he reached out to me to speak at this conference of Foreign Ministers, diplomats, and politicians from all religions, ethnic groups, and national identities. 
But when Sam reached out to me initially, I was not thrilled. I do not feel like I am an authority on much of anything except how imperfect I am, and maybe the neuroscience topic I wrote my graduate thesis on. I most certainly did not consider myself an expert on anti-Semitism. My parents, grandparents, and pretty much every Jewish family's life has been touched by anti-Semitism for the past several thousand years, but in my experience, while there still is anti-Semitism, the ideas that Jews use the blood of Christians to make matzo for Passover or have horns are gone from our current vernacular. I have never been called a kike, a dirty Jew, or a hook-nosed Yid or Hebe as many in my parents' generation were. (For reference, check out this link to this brief history of anti-Semitism.)
In addition, it's controversial identifying as a Zionist, someone who believes in the right of the State of Israel to exist as an autonomous and protected nation for the safety and security of the Jewish people. I really did not know if I was ready to open myself up to criticism about visiting Israel, and how my presence there might indicate affiliation with a certain set of politics. I am a liberal Zionist and most of the support for Israel in the United States comes from conservatives and from President Trump; the decision to go and speak was therefore even more difficult for me.
I ultimately decided to accept this honor. I wrote a speech about the anti-Semitism I experience on social media. The Consul General's office saw a draft and gave me notes that were both amusing – "In Israel, we do not use the Yiddishized pronunciation of Israel; please replace 'YisrOel' with "YisrAel'…" – and sobering: "There is little hope in this speech. Can we add some?" I laughed out loud and took their suggestion to "add some hope," although the world of the internet simultaneously frustrates the heck out of me and thrills me; as long as I exist in the public space, I will be open to public criticism and, yes, sometimes public hate.
It was important to me to separate my words about anti-Semitism on the internet from my personal politics. My Zionism is not negated because I am a liberal or a Democrat. I do understand that more conservative Zionists have problems with liberals like me. At this conference, Director of the World Jewish Congress Ronald Lauder was singled out by far-right Israel Minister of Education Naftali Bennett, who identified Lauder's scathing assessment of conservative politics as the reason for the high rates of assimilation in the US. I was asked to meet with President Trump's Ambassador to Israel, David Friedman, and I was nervous about it since I do not understand many of his positions. I politely gave him a piece of my liberal mind about his boss, suggesting that the President would have fewer problems with the "liberal media" if he would simply stop tweeting insults to actors and countries with nuclear weapons capabilities. Even though Friedman stood by his political leanings and I stood by mine, it was a respectful, if colorful, conversation.
Politics is indeed part of the problem, but I decided to find a way to speak about my experience with anti-Semitism without making it about who I voted for. And I am glad I did: leaving politics aside – I hoped – we could all focus on where we are united.
I spoke from the heart: my dismay at the lack of understanding about what Zionism even is, especially among young people, and my response to the hatred I receive for being Jewish and a Zionist.
My relationship with Israel remains complicated. I have friends and family across the political and religious spectrum and my heart is and always will be devoted to finding ways to both respect all people who call the region home, and guarantee the safety of the State of Israel. Ultimately, I love Israel and consider it my true homeland: spiritually, historically, religiously, and undeniably.
I had so many wonderful adventures on this trip besides the speech. I visited the ancient ruins of Caesarea where Romans held court. I hiked the archaeological wonders of Tel Gezer and walked among one of the cities of King Solomon mentioned in the Old Testament. I visited the City of David, a newly excavated region of Jerusalem which rivals the Western Wall for its historical and religious significance. I met with Israeli President Reuven Rivlin, who asked for a photo of us posing like Sheldon and Amy.
I also visited the Christian and Arab quarters of the Old City of Jerusalem and saw the site of the murder of an innocent Israeli and father of four who was killed the week I was there: he had just left his workplace at the City of David Museum to return home to his family when he was stabbed to death.
The dichotomy of the Israeli experience is powerful. It is a country of subtlety and mystery. Of camaraderie and animosity. Of love and hate.
I know that many do not understand why I love Israel. For me, speaking about the struggles of Jews – as a bridge to better understand the hatred and darkness in this world – was an honor and a very special privilege.