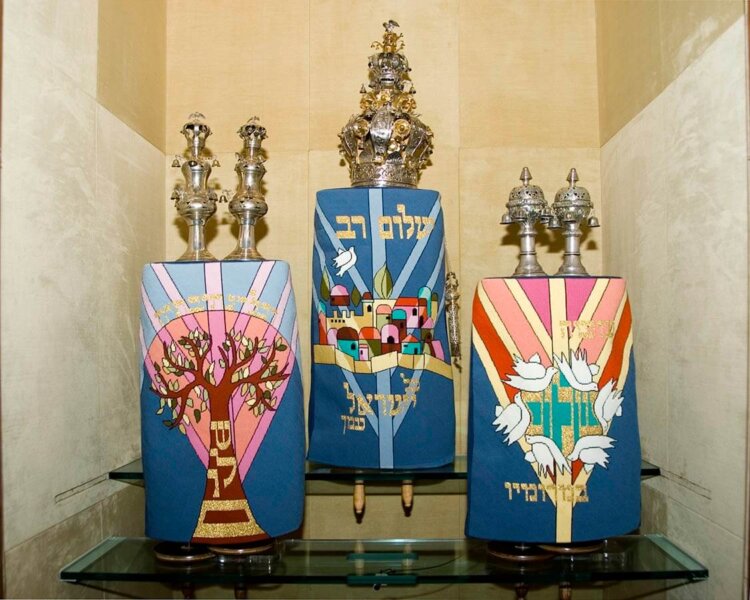 My arm is sore. Really sore. Just the right one. Because it was supporting a heavy weight.
And it wasn't either of my sons' weight: at 8 and 11, my sons are far too heavy and cumbersome to be held by me, at least not long enough for my arm to get sore.
My arm was supporting something that is:
As heavy as lead
But not at all cumbersome.
As hot as fire
But it does not burn me.
As mysterious as a code
But completely accessible.
As deep as the earth's core
But not impenetrable.
What was I holding?
I had the honor of holding the Torah during the Yizkor service on Yom Kippur, one of the prolonged sections of the service when we stand and recite memorial prayers for our loved ones, our community's loved ones, and for all of the Jews in history who have died. It is an emotional service, especially since I have experienced three losses in the past two years that have touched me very deeply.
I accepted the honor of holding the Torah before realizing the commitment I was making to holding this heavy thing for about 20 minutes. And once you're holding it, you don't let go. "It is a tree of life to them that hold fast to it," as it says, so I held fast.
When the Aron HaKodesh (holy ark) in which the Torah is kept is opened, we all stand up. (Yes, this is an ark designed to recall the original Ark of the Covenant which historically housed the Ten Commandments and which – yes – is the one that Indiana Jones was searching for.) We stand in reverence and in respect. Persian and Arab Jews symbolically wave their hands back and forth, as if to draw the light from the Torah towards their eyes, when they see it. I feel good inside when the Torah is taken out of the ark; the same way I remember feeling as a child when the Rabbi would take it out for us to touch and admire.
The Torah is dressed up. Every community dresses the Torah differently, but it always has a "cover" which tends to be fabric, although in Middle Eastern, African, and Asian communities, the covering can be wooden. Every Torah has a model of a small hand, typically with one finger outstretched (known in Hebrew as a "yad"); we use this as a pointer, to follow along in the Torah without the oils of our hands eroding the delicate parchment of the Torah scroll itself. Torahs typically have a breastplate that hangs around their two handles; sometimes it is an artistic masterpiece, depicting the jewels of the Tribes of Israel; sometimes it is plain. The Torah also wears a crown, because the Torah is a royal item. Sometimes the crown has jingle-jangle bells which make a sweet jingle-jangle sound when it is moved about.
I run into the aisle like a child – with my children – when they parade the Torah around. I am always one of the most enthusiastic singers during this portion of the service, and I clap my hands and sing "lalalalala" if I don't know all the words they are singing because the Torah makes me happy. I feel so happy we have this ancient book to learn from and to guide us in our lives.
When we put the Torah back in its ark after reading from it, I have taken to doing what I have seen the Persian ladies do: I hold my hands up as if warming them by a fire, and I bring that fire – that light, to my eyes. I feel sad when the Torah goes away; I miss the times the Torah is out and I love what it brings to my life and the life of my community.
Do we idolize the Torah? No. We revere it, and there's a difference.
When I was holding it, I held it close to my face, like a beloved child. And I cradled it tenderly, like a newborn. I also protected it and was constantly keeping track of my body's strength in relation to this Torah that was under my care. I especially held a mental check of my sprained ankle, lest I roll on my ankle and bring the Torah into a state of potential peril. (If a Torah is dropped, a congregation is supposed to fast for 40 days, so you do NOT want to drop it…) I felt so honored to be given this responsibility.
And maybe it was the fact that I hadn't eaten or had even a sip of water in 17 hours at this point, but I sort of swooned over this Torah. I thought about the Jews wandering through a desert, following a leader they didn't fully trust. I thought about the thousands of years Jewish people have listened to the words of this Torah and lived and died by it. I thought of the Rabbis killed by the Romans for their love of Torah, and I remembered the stories of how they burned one of the Rabbis on a pyre made of Torah skins. I thought of the desecration of the Torahs at the hands of the Nazis, how the holy scrolls were burned in the Holocaust, an event which directly affected my family and the lives of so many of my generation.
Our Torah has been through so much.
And then I thought of the profound Kabbalistic tradition of visualizing Torah as black fire (ink) written on white fire (parchment). Wow. Our words leap from the parchment and we bring them to life. The Torah is sung, not read. We sing our stories and our history and we sing poetry and fable and laws and beauty and tragedy and words and words and words. Our Torah is funny, and it is irreverent at times. It is self-referential, and it is profoundly disturbing. Our Torah is problematic and it is the solution I believe can heal my soul and, as an extension, touch the world.
There is a song I learned as a child with 3 words. It goes like this:
Torah li, Torah li, Torah sheli.
Torah li, Torah li, Torah sheli.
Torah, Torah sheli.
Torah li = It is a Torah for me. Torah sheli = It is my Torah. For a long time, women have not embraced the Torah like I have had the opportunity to in my lifetime. I held that Torah like the mother I am, and the daughter and the sister and the Jew and the citizen of a planet I rarely understand. This one parchment, rolled onto wood and covered with armor, blessed and cried for, revered as some died for it, is the reason for the holiday of Simchat Torah (which starts Monday night, October 25). We read the Torah from start to finish and then we start all over again. For thousands of years we have done this. And we will never stop, I don't think.
Why? Because the light is too bright. The fire is too powerful. The love is too deep.
And as long as there are those of us with arms strong enough to cradle a newborn, hold a child, love a community, and stand up for our faith, we will continue to hold our Torah.