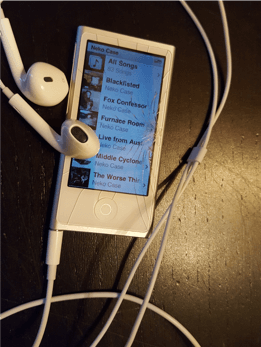 After a year of mourning in which I wasn't listening to music, I'm thrilled to be able to listen to music again – in my car, in my home and on my treasured summer walks. After sharing my Top 10 exuberant songs on Tuesday, here are my Top 10 pensive or sentimental songs – I find them incredibly moving and inspiring and hope you might too!
1. "Don't Look Back In Anger" – Oasis: Had a break up lately? This song is for you! I don't always love all of Oasis' stuff but this song is a strong and bold statement about moving on.
2. "Soul" – Dan Bern: Dan Bern sounds a lot like Bob Dylan, and it's not by coincidence. Also from the Midwest, Bern seeks to be a voice for folk music in a modern way. This song is one I first heard acoustic at a tiny venue in a guitar shop in Santa Monica, and it's as beautiful in this recording as it was when I watched him sing it 5 feet in front of me. "Are you going to follow your soul or just the style of the day?" The lyrics on this one are easy to hear and that's a good thing: they are very powerful.
3. "Mirrors" – Justin Timberlake: Again, JT hits it out of the park with this one. This is a heartbreaker if you've recently had your heart broken. So keep that in mind. (This song list is sort of feeling like a break-up mix which was not my intention!)
4.  "Stitches" – Shawn Mendes: Wow, this really is kind of a break-up list, isn't it?! I think this is one of the best break-up songs ever, because the lyrics are so incredibly descriptive and clear and honest. Mendez is still a teenager, I think, but he sings this song like a seasoned melancholic person. "If I'm without your kisses, I'll be needing stitches." Ugh, I hear you, Shawn.
5. "Look Around" – Blues Traveller : Blues Traveller is another amazing musical find from my high school years and this is the best song to play if you feel you were not the problem in any relationship that didn't work! (I honestly wanted this to be a pensive list but I guess a lot of pensive songs that get you thinking are written by people going through break-ups!) "You'll have to unearth every ugly stone that's kept you on your own" is the charge this song takes. It's beautiful, it features soulful guitar and piano work, and lead singer John Popper's voice is almost uncomfortably touching.
6. "It Hasn't Been Long Enough" – Eric Hutchinson: "What's making you believe that the seventh time around is gonna be different?" Anyone been around and around a relationship 7 times? Yes? Well, this song is for you! Eric Hutchinson is a very slight strawberry blond who sings like an old seasoned jazz singer; you'd never expect this voice to come out of him if you saw a picture of him. His album "Sounds Like This" is one of my "start to finish perfect" albums in my collection and he is an exceptional singer to behold.
7. "Who's Gonna Ride Your Wild Horses?" – U2: Oh, U2. I love you so much. This is the strongest song (in my opinion) off of "Achtung Baby" and it is a really tender really fine strong love ballad. "You left my heart empty as a vacant lot for any spirit to haunt" just socks you right in the stomach. It's about moving on, and moving forward.
8. "Wild Horses" – The Sundays (cover of Rolling Stones): Here is one of my favorite covers ever, again by The Sundays. It piggybacks on the U2 "horses" theme and it's a song about the attachments of love, sung even more delicately than Mick Jagger does.
9. "Closer to Fine" – Indigo Girls: If you ever went to summer camp in the 90s, you probably heard this song played by some handsome, earnest, thoughtful guy on an acoustic guitar (shout out to David Guerrieri). When I need to feel better about life, this is the song I put on. "There's more than one answer to these questions pointing me in a crooked line. And the less I seek my source for some definitive, the closer I am to 'fine.'" That's sort of one of those lines I hear that makes me feel like if I had to sum up my life in one sentence, I'd choose that. Indigo Girls is a powerhouse of acoustic country rock indie goodness, and their albums are pretty much solid from the first song to the last.
10. "A Murder of One" – Counting Crows: Counting Crows had one of the most popular songs ever when I was in high school called "Mr. Jones" and their entire album "August and Everything After" is, in my opinion, brilliant. I could listen to that album on a desert island for years and not get bored. This is the final song on that album and it is a strange song. But it is a beautiful charge to take accountability for your life, which – in some cases – may feel wasted. It's sad, but it's also uplifting. Such is life.
 I hope you enjoy summer for whatever it brings for you. As for me, I am enjoying summer (which for me is almost over since I go back to Season 10 of TBBT in August!) with a lot of home time, a lot of down time, a lot of thinking time and a lot of music time.
 Happy listening!