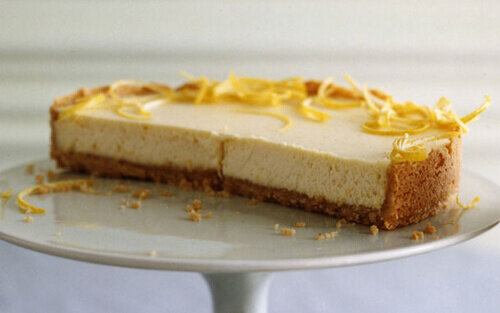 Tonight (Tuesday) starts the Jewish holiday of Shavuot, which commemorates the Jewish people getting the Torah – the Five Books of Moses that are the written law for Jews – at Mount Sinai. (We will suspend posts until Thursday night or Friday in compliance with the holiday – now's a great time to re-read our Digital Detox post!)
One of the traditions of this holiday is to eat dairy, so cheesecakes are everywhere on Shavuot…unless you're a vegan! But now, even vegans like Mayim can enjoy a cheesecake-style dessert for Shavuot. Here's her recipe! Enjoy!
Crust:
5 oz graham crackers ( 1 1/4 cups)
2 Tbsp sugar
1/4 cup oil or melted margarine
Process crackers to fine crumbs and make sure you have 1 1/4 cups.
Add sugar and oil/margarine, and mix well.
Grease a cheesecake pan. Press into pan 1 inch up the sides. Bake at 350 degrees for 8 min and let cool. Leave oven at 350 degrees.
Filling:
15 oz vegan cream cheese
3/4 cup vegan sour cream
3/4 cup sugar
2 Tbsp flour
1 tsp vanilla extract
zest of 1 lemon
Equivalent of 2 eggs vegan substitute (like Bob's or Ener-G)
Beat cream cheese and sour cream on low until smooth.
Beat in sugar, eggs, flour, lemon zest and vanilla.
Put into cooled crust.
Bake at 350 degrees until it cracks, about 50 minutes.
Remove and cool for 15 minutes, then increase oven temperature to 425 degrees.
Topping (optional)
1/2 cup plain nonfat vegan yogurt
1 cup vegan sour cream
3 Tbsp sugar
1 tsp vanilla
Mix yogurt and sour cream, sugar and vanilla. spoon evenly over cake.
Bake for 7 minutes at 425. Cool to room temperature and refrigerate at least 2 hours. (Tastes best the next day.)
Enjoy!