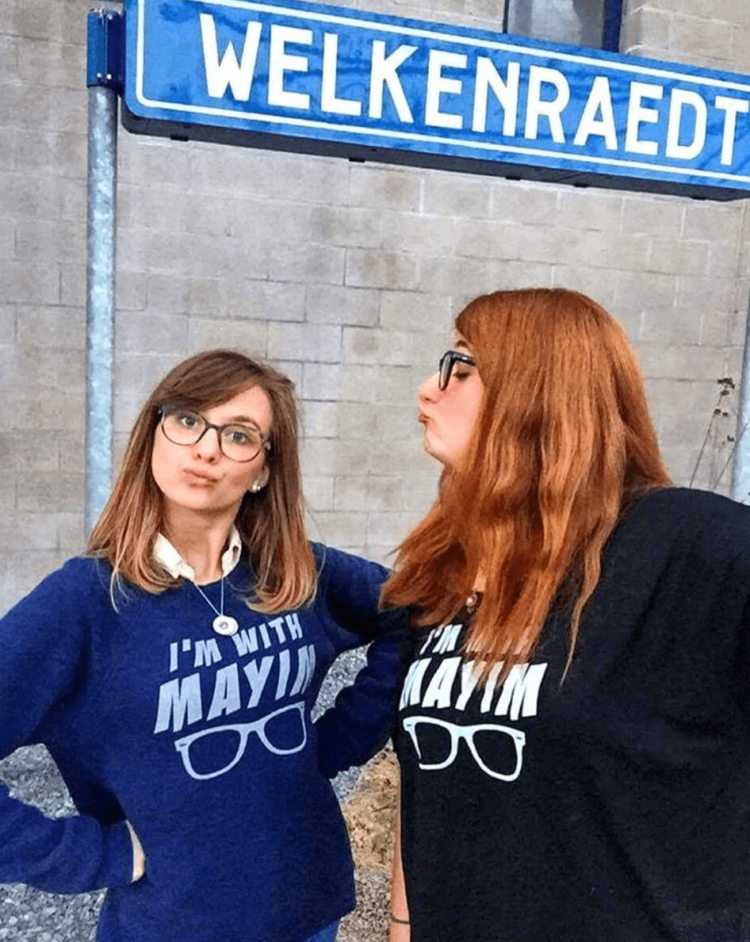 From the time GrokNation launched a year ago, we can't remember a time when Aurélie (32) and Marion (20) were not actively present on our site, participating in conversations and bringing vital perspectives and opinions from Europe – Belgium and France respectively. These young women are passionate internet users and are growing feminists. (And Marion routinely draws editor Esther as a cartoon superhero.) But how did these two ladies find each other? How did they find GrokNation? The story begins with Mayim, but doesn't end there. We asked the dynamic duo to share some reflections on how they grew their internet – and in-person – friendship, and what role GrokNation played in shaping their relationship.
GrokNation: Marion, you live in France. Aurelie, you live in Belgium. But you met online around common interests and then met in person (because France and Belgium aren't actually that far apart!) Can you tell us a bit about how your friendship started?
Marion: To be honest, neither of us really remembers how all of this happened. It started in July, 2015. It was summer time, the sun was bright, the wind salty and the Internet pretty quiet. I was spending my vacation with my mother at the Île de Ré and, besides the tons of books I was reading, I was kind of bored. I checked Facebook to keep in touch with what was going on in Mayim's life; I had been following her for a few weeks and was amazed by the scientific articles she often shared, as much as by her thoughts about society in general.
One day, she answered a question in a piece called "Ask a Raging Feminist" for SheKnows: "If you could travel back in time, when would you go to?" I got very surprised by the other women's answers, all wishing to travel to the future while Mayim explained her will to educate women of the past. Aurélie commented on the post with a bright and respectful opinion that got me thinking it was still possible to share with people on the Internet, even though you don't know them. Happily, we both had the same view: we would have loved participating in the first wave of women's lib. That was my first time "meeting" Aurelie; I got even more surprised when, some days later, I found her by chance on Instagram and wondered if it was meant to be, or if the cookies on my phone thought that piece of information was crucial.
There was no big sign to announce "this is the beginning of a great friendship!" or like when Rebecca (on "Crazy Ex-Girlfriend," which we both watch and love) notices Josh in the middle of the crowd thanks to a neon arrow. Maybe then I would have remembered every detail of our first encounter. Instead, it's a little blurry in my head. But what I do know is that we started chatting on Instagram every day: about TBBT, about Mayim… astonishingly, Mayim launched her website a few days after that, and our friendship became a thing.
Aurélie: Each friendship is different. Ours has started in a smart and respectful place: GrokNation. Our connection has become deeper and deeper while reading GrokNation articles and writing to each other: we have found a "Grokite-partner-in-crime" in each other and even though we don't agree on everything, we are pretty complementary and eager to share on what matters to us. We have written to one another about TBBT as much as we have spent time exchanging about many other topics. I think feminism has brought us together. We both question society very often and we face inequality, body shaming, or paternalism almost every day. It is not easy to be an independent woman; knowing that someone else can understand the struggle and be supportive is an opportunity I couldn't dream of. I am thankful to the GrokNation community and Marion, of course. I realize this even more now that I am playing in The Learned Ladies (by Molière) on stage. In this play, three women from the 17th century read, learn and write about science and philosophy, subjects that are not really accessible to women because they are not taken seriously. They want to be heard and they don't fear men or their opinions; they never miss an occasion to say out loud what they think and it was quite revolutionary at that time.
GrokNation: This has been a tumultuous time in the world, particularly after a group of terrorist attacks in Europe. We know that you were able to support each other during that difficult moment. Could you tell us more about that?
Marion: Thanks to GrokNation, we lived happy and crazy and hilarious moments, but we were particularly grateful to have each other during the attacks in France and Belgium. On November 13th of last year, our conversation went from "hey, new post on GrokNation" to "there's a mass shooting in Paris." We spent the night together online until 3 am, trying to comfort each other. And when the same happened in Bruxelles on March 22nd, I texted Aurélie during my 2-hour English class to be sure she was okay.
Aurélie: We thought this would not happen again, but unfortunately, it did – it so happened that during the attack in Nice on July 14th, we were sitting next to each other. We spent the rest of the night in the living room, watching TV and Twitter until 2 am when the "mama Paula" (another Crazy Ex-Girlfriend reference!) who I am shut everything off to bring everyone back to sleep. I didn't want her to see the violence of the scene.
GrokNation: How did you happen to be together in real life during the Nice attack?
Marion: I study psychology and my university has many partnerships: I chose to spend my third year in Belgium. I knew I would have someone I could trust there. Aurélie spent June and July looking for an apartment for me and, even today, I can't express how thankful I am for her help. On Wednesday, July 13th, I took my flight and train to meet her.
Aurélie: When Marion arrived, I went to the train station with my best friend to pick her up. We thought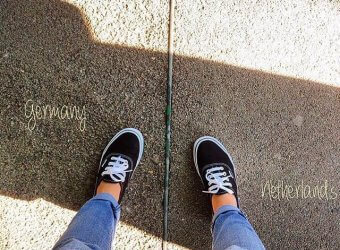 she must be cold — she is from the Southwest of France and it is much colder here. I had cooked a little something to welcome her and we spent time talking, laughing, and making her feel comfortable for the week to come. For seven days we visited some apartments and her university, but mostly we visited my favorite places in Liège or near it. We climbed the Montagne de Bueren, noticed the small theaters, and went to the place that unites the borders of Belgium, Netherlands and Germany. (Mayim was there last year, see the feet photo at left.) Also, we couldn't resist watching CEG and Star Wars together.
As you can see, we did a lot together. It was… one of the most beautiful experiences you can have when you chat with someone for so long and finally meet them. That is the inspiring side of GrokNation, being able to debate with someone on another level, without judgment of any kind.
Marion: When we started talking, we didn't know each other's age or profession, religion or political orientation. We were out of all the stereotypes and prejudices we usually carry around like old blankets to protect us. The Internet can be a scary place, but it also can bring people together when they need it. And this, only using words. Nothing but words.
Aurélie: For all of that, we have to thank you, GrokNation, for having made this possible. Bringing people together in good and bad moments makes us stronger and more open to learn. We are both very happy to be part of this adventure.
Thanks so much to you both for sharing your Groktastic story of friendship with us. May you have many more opportunities to meet up and share celebration together. Have a Grokfriendship you'd like to tell us about? Send it to grokback@groknation.com. ☺